Group seeks to bring full-time opera to Las Vegas Valley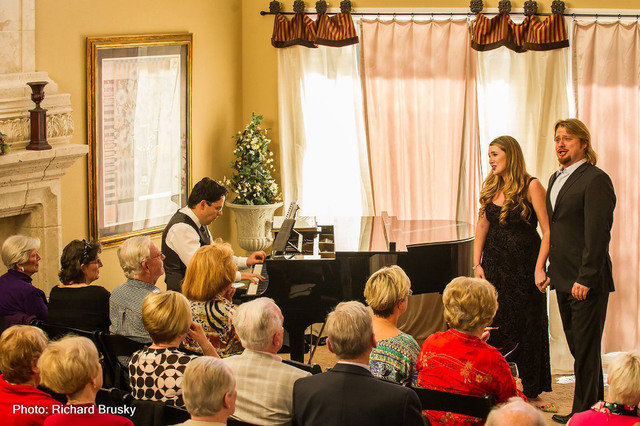 Las Vegas might not be ready for a full-time opera company yet, but when it is, there's a good chance it will be through the efforts of Opera Las Vegas.
"I like to think we are a professional organization that presents opera of the highest quality," said the group's general director, Luana DeVol. "One of the ways we do that is by engaging directors that have an international reputation."
Currently, that director is Henry Price of the Metropolitan Opera, who directed last year's Opera Las Vegas production of "The Barber of Seville" and is directing the group's upcoming production of "Carmen."
"We also hire some of the younger singers from the Metropolitan Opera that we find through Henry Price," DeVol said. "We can't afford to bring out the big stars, but anyone singing at the Met is a world-class singer."
"Our production is drawn from local theater, like Las Vegas Little Theatre, where we get our technical director," DeVol said."We use local talent for supporting roles because we think it's important to help the young talent here."
DeVol isn't exaggerating when she uses the word "young." Some members of the chorus come from Las Vegas Academy, where Jim Sohre, Opera Las Vegas' chorus director, teaches.
Sohre has also been helping to educate the public through special performances, such as Stars of David, which took place May 7 at Temple Sinai and highlighted songs associated with famous Jewish American opera singers and school appearances. He has brought singers to several schools recently for programs he calls "Informances," a combination of information and performance. The recent informances have used the upcoming "Carmen" production as an educational tool.
"I use 'Carmen' as a vehicle, and based around arias and duets, I explain the art of opera," Sohre said. "I explain the genre and what is happening in the pieces."
He has brought the program to over 2,500 people this year.
"At the first one, we had 1,000 middle school kids, and we were told they don't do assemblies very often because the kids get rowdy," Sohre said. "The kids were quiet, attentive and fully engaged. They participated in the Q-and-A session."
Opera Las Vegas doesn't have a building or a headquarters to call its own. It does have a small working board of directors dedicated to the mission of the organization and a track record for creating quality productions. DeVol said it had nearly doubled its audience from 2014 to 2015 and hopes the next challenge will be growing out of its current venue at the Judy Bayley Theatre at UNLV.
"We don't have a physical space, and we're not ready to go into The Smith Center yet," DeVol said. "We don't have the donor base or the fan base yet. I think that's something that will happen somewhere down the line."
"Carmen" is scheduled to be performed at 7:30 p.m. June 10 and 2 p.m. June 12 at the Judy Bayley Theatre at UNLV, 4505 S. Maryland Parkway. Visit operalasvegas.com or pac.unlv.edu or call 702-895-2787.
To reach East Valley View reporter F. Andrew Taylor, email ataylor@viewnews.com or call 702-380-4532.
If you go
Opera Las Vegas plans to present "Carmen" at 7:30 p.m. June 10 and 2 p.m. June 12 at the Judy Bayley Theatre at UNLV, 4505 S. Maryland Parkway.
Tickets are $55, $75 or $95. Visit operalasvegas.com or pac.unlv.edu or call 702-895-2787.