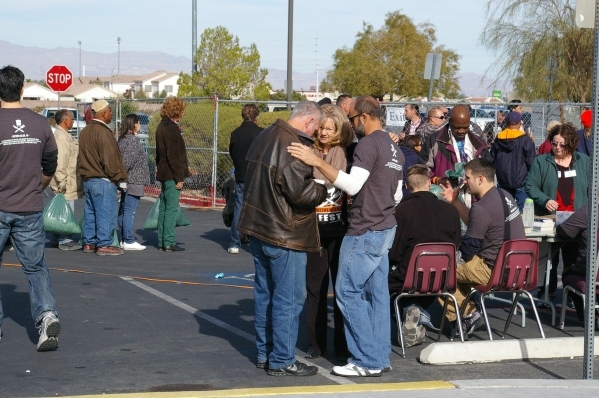 Over the river and through the wood to Grandmother's house we go. But what do you do when you don't have a horse that knows the way, and it's too far to feast with family on Thanksgiving Day?
In Spring Valley and southwest Las Vegas, there are plenty of options.
Not exactly bar food
While the place isn't much like Grandma's, bartender Shane Jacobik said everyone (provided they're 21 or older) is welcome at the Lonely Orphans Potluck, scheduled from 2 to 11 p.m. Nov. 26 at The Phoenix Bar & Lounge, 4213 W. Sahara Ave.
The 2014 and 2015 Best of Las Vegas honoree for best gay bar rolled out the Thanksgiving welcome last year and plans to do it again.
"We're going to make it kind of an annual thing," Jacobik said. "It went really well last year.
He said the bar is open, but the kitchen closes on Thanksgiving, so patrons are invited to bring in food to share.
"People just bring in food, and we set up a big table and kind of potluck it," Jacobik said.
He said the atmosphere is casual and fun.
"It was actually really nice," he said. "We just hung out. We had a lot of food, two full tables."
Visit thephoenixlv.com.
Giving Back event
Another way to celebrate Thanksgiving when you're on your own is by giving. And there's no need to wait until Thanksgiving to get into the action. The Casa de Luz ThanksGiving Back event brings together more than 150 volunteers to assist more than 2,000 people from 1 to 4 p.m. the Sunday before Thanksgiving. The church community center at 2412 Tam Drive sponsors a barbecue lunch, and children's games are offered. Thanksgiving meal baskets are handed out to the less fortunate, and Operation Christmas Child boxes are packed. Coats and hats are distributed, and guests make cards to send to seniors and soldiers.
This year's event is planned for Nov. 22. Visit casadeluzlasvegas.org.
Blessfest
Calvary Chapel Spring Valley, 7175 W. Oquendo Road, taps more than 1,000 volunteers to serve homeless and disadvantaged people during Blessfest, scheduled from 8 a.m. to 1 p.m. Nov. 26, Thanksgiving Day.
Last year, the effort assisted 1,283 people. Church receptionist Rachel Stone said the church buses participants in and accepts walk-ins, and a turkey dinner is just the beginning.
Showers are available in the church's high school locker rooms, and each participant gets a bag of clean clothing. More than 11,000 pieces of clothing were distributed last year. After needs are assessed, guests can get eye exams, medical checkups, legal advice, haircuts and even manicures. And then there's dinner: More than 1,570 pounds of turkey breast were served last year.
Many of the participants expressed their thanks in a video posted on the church's website at ccspringvalley.org/bf.
"I call it Disneyland," Dennis Trevera said. "It's the only place that can really help you out when you need something done, especially because I'm homeless. They were able to get me clothes, so I can go look for a job again."
Michael Staley was a guest at Blessfest in 2013. In 2014, he returned as a volunteer.
"The way God works, you never know what's going to happen," he said. "And I am here today; I'm one of the volunteers. I'm one of the helpers. I'm seeing my friends and people that were homeless with me."
Volunteers and donations are still needed, and a volunteer meeting is scheduled at 6:15 p.m. Nov. 19 in the gym. Visit ccspringvalley.org/bf or call 702-362-9000.
Singles meetup
Members of the singles group from The Crossing: A Christian Church, 7950 W. Windmill Lane, frequently start the day serving at Blessfest and then meet up after for Thanksgiving meals in members' homes.
"It's a healthy place to be in fellowship so you're not alone," said the church's singles ministry director Jeff Porter.
Porter said it's hard enough to be single in Las Vegas. Add to that a desire for a spiritual and healthy atmosphere, and the challenge is amplified.
The dinners are potluck style with each host providing the turkey. Porter said kids are welcome, and generally there's no drinking. Most years, 20 to 50 people participate spread out over two to four homes.
Visit thecrossinglv.com, call 702-947-2080 or email Porter at jeffp@thecrossinglv.com.
— Contact View contributing reporter Ginger Meurer at gmeurer@viewnews.com. Find her on Twitter: @gingermmm.