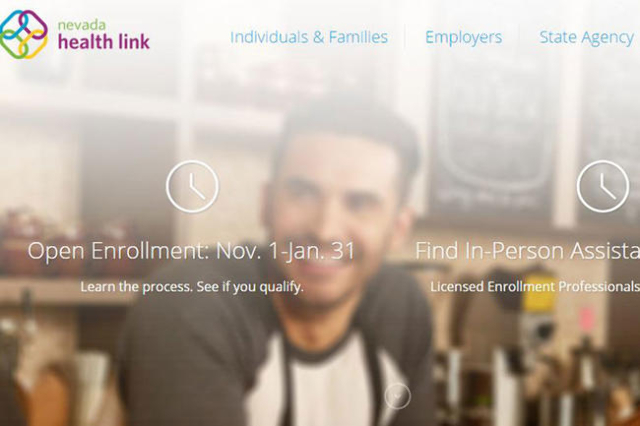 Sign-Up Saturdays: Nevada Health Link is collaborating with licensed insurance brokers and agents to offer Sign-Up Saturdays enrollment events to help close the gap between insured and uninsured residents. The events occur on select Saturdays during the health insurance open enrollment period through Jan. 31. Visit nevadahealthlink.com. Many partnering licensed broker agents will also be open on various Tuesdays and Thursdays during the enrollment period. Nevadans are invited to attend a special enrollment event from 4 to 8 p.m. Jan. 15 at the Henderson Convention Center, 200 S. Water St.
Family Health Fair: Touro University Nevada & The Council of Osteopathic Student Government Presidents is sponsoring a family health fair, planned from 10 a.m. to 2 p.m. Jan. 17 at Touro University Nevada, 874 American Pacific Drive. The event is free. Attendees can learn medical techniques, receive free health screenings, including blood pressure, eye exams, balance testing and more. A mini-med school for kids is planned, and adults can try yoga and Pilates. Call 702-777-3100.
Flu shots still available: The Southern Nevada Health District reported its first flu-related deaths in Clark County for the 2015-16 season of two males, each older than 60. The Health District reminds Southern Nevadans that flu season typically peaks in January and February, and there is still time to receive a flu vaccine. Informational awareness campaign InFLUence Others: Get Vaccinated urges Nevadans to get influenza vaccines and offers tips at its website. According to a recent op-ed by Amerigroup's medical director, Dr. Richard Roberts and Heidi Parker, executive director of Immunize Nevada, the flu affects up to 60 million people each year. The Centers for Disease Control and Prevention now advise that all people 6 months or older receive an annual influenza vaccination. Visit influencenevada.org. For more information, call 702-759-0850 or visit southernnevadahealthdistrict.org or cdc.gov/flu/index.htm.
Neighborhood Health Series: Roseman University of Health Sciences is set to launch its new Neighborhood Health Series Jan. 21 at the university's Summerlin campus, 1 Breakthrough Way. The free, monthly series' aim is to bring the community in to learn, share and collaborate with physicians, researchers and other healthcare practitioners on issues related to health and well-being. The schedule, planned through June, from 4:30 to 6 p.m. includes:
Jan. 21: The ABC's of Medicare, featuring Dr. Catherine Oswald
Feb. 18: Understanding Drug Addiction in Our Families and Community, featuring Dr. Jeffrey Talbot
March 17: Role Reversal, Caring for our Aging Parents, featuring Dr. Lisa Rosenberg
April 14: High Blood Pressure and Cholesterol, A Pharmacists' Perspective, featuring Dr. Ragini Bhakta
May 19: Depression, Research and Treatment, featuring Dr. Jeffrey Talbot
June 16: High Blood Pressure, New Thinking about the J-Curve, Prevention, Treatment and Research, featuring Dr. Bruce Morgenstern
Register for each event at speakers.roseman.edu or call 702-802-2872.
Climb the tower: The Stratosphere, on behalf of The American Lung Association in Nevada, is set to open up the top flights of stairs at its tower for a #TrytheTower practice climb from 7 a.m. to 9 a.m. Jan. 23. The practice climb will allow climbers access to the stairwells at the very top of the tower, levels 101 to 112. The cost is $30, and each climber can receive two coupons for free admission to the tower at a later date, up to a $40 value. The practice climb helps fund the American Lung Association in Nevada's mission of preventing lung disease and promoting lung health while giving climbers a chance to try the tower before Scale the Strat race day Feb. 28 when climbers will tackle all 108 floors and 1,455 steps. Climbers can sign up for the practice climb at action.lung.org/TrytheTower2016 or register onsite the day of the practice climb by the Top of World podium inside Stratosphere Tower on the second level, starting at 6:30 a.m.
Stick a Fork Into Cancer: The American Cancer Society is set to host a week of Stick a Fork Into Cancer Jan. 25-31 in which monies raised will benefit Relay for Life in May. Restaurants/chefs can participate by engaging employees and customers in a percentage of sales campaign. Restaurants may participate for a day or longer. Visit stickaforkincancer.com.
Free STD testing available: Free weekly STD screenings are available at the Gay and Lesbian Center of Southern Nevada and the Richard Steele Boxing Facility. Visit snhd.info/sexual-health-clinic.
Better Breathers Club plans meetings: The American Lung Association in Nevada invites those with lung health disease, their loved ones and caregivers to a Better Breathers Club meetings planned at the following locations and times each month:
Second Tuesdays, noon to 1 p.m. in the conference room at Centennial Hills Hospital, 6900 N. Durango Drive; 702-835-9898.
Last Fridays, 3 to 4 p.m. at Prestige Care at Mira Loma, 2520 Wigwam Parkway; 702-431-6348.
First Thursdays, 1 to 2 p.m. at St. Rose Women's Care and Outreach Center, 2651 Paseo Verde Parkway; 702-616-4910.
First Wednesdays, 6 to 7:30 p.m., United in Hope: Lung Cancer Survivors Support Group, at Kindred Hospital Las Vegas, 2250 E. Flamingo Road; at 702-353-2039 or lysa71@cox.net.
Fibromyalgia group meets second, third Thursdays: The Fibromyalgia Friends Support Group of Southern Nevada is scheduled to meet during lunch and evening sessions the second and third Thursday of the month. Lunch meetings are set from 1 to 3 p.m. at the Fiesta Henderson buffet, 777 W. Lake Mead Parkway. Evening meetings are planned from 6:30 to 8:30 p.m. at the Barbara Greenspun Women's Care Center, 2651 Paseo Verde Parkway, Suite 180. Visit fmfriends.org.
Breast cancer empowerment group set to meet monthly: A free Breast Cancer Empowerment/Support Group is set to meet from 6 to 7:30 p.m. the second Tuesday of the month at Summerlin Hospital Medical Center, 657 N. Town Center Drive. Topics vary and include guest speakers, resources and open discussion with the goal of helping to empower and support women. RSVP by calling 702-233-7155.
Stroke support group planning monthly meetings: The Stroke Support Group is set to meet at various times monthly:
From 3 to 4 p.m. the fourth Thursday of the month at Summerlin Hospital Medical Center, 657 N. Town Center Drive, 702-233-7061.
From 3 to 4 p.m. the second Tuesday of the month at Centennial Hills Hospital, 6900 N. Durango Drive, 702-629-1309.
From 10 a.m. to noon the first Saturday of the month at the South Magna Conference Center, south of the Desert Springs Hospital main entrance, 2075 E. Flamingo Road, 702-369-7560. Recommended parking is off Bruce Street. Lunch is provided.
From 10 to 11:30 a.m. the fourth Wednesday of the month on the fourth floor of Valley Hospital, 620 Shadow Lane. Call 702-388-8441 or 702-388-4619. Light refreshments will be served.
Bloodmobile drives planned across valley: UBS Bloodmobile drives are planned at multiple times and locations around the valley. Call 702-233-9620 or visit unitedbloodservices.org and enter the code, if available. The locations include:
From 9 a.m. to 5 p.m. Jan. 15 at The Orleans, 4500 W. Tropicana Ave. Enter code orleans.
From 10 a.m. to 1 p.m. Jan. 16 at Black Mountain Recreation Center, 599 Greenway Road. Enter code BlackMtn.
From 11 a.m. to 2:30 p.m. Jan. 16 at the Rainbow Library, 3150 N. Buffalo Drive. Enter code RainbowLibrary.
From noon to 3 p.m. Jan. 16 at EMG Cares Foundation, Inc., 3050 E. Centennial Parkway. Enter code EMG.
From 8 a.m. to noon Jan. 17 at St. Elizabeth Ann Seton Catholic Church, 1811 Pueblo Vista Way. Enter code SEAS.
From 9 a.m. to noon Jan. 19 at Vegas Auto Care, 3530 S. Jones Blvd. Enter code VEGASAUTOCARE.
From 3 to 7 p.m. Jan. 20 at Cowan Sunset South High School, 5300 E. Russell Road. Enter code cowansunset.
From 1 to 4 p.m. Jan. 20 at Vegas Auto Care, 3530 S. Jones Blvd. Enter code VEGASAUTOCARE.
American Red Cross blood drives scheduled around the valley: The American Red Cross encourages residents to donate. Blood drives are planned continually across the valley. All blood types are needed, especially O negative, A negative and B negative, on a regular basis. To schedule a donation appointment, download the Red Cross Blood Donor App, visit redcrossblood.org or call 800-733-2767. Recently, Red Cross announced a new RapidPass program, which allows donors to complete pre-donation reading and health history questions online on the day of their donation using a computer at home or work, reducing the time spent at blood drives by approximately 15 minutes.
From 10 a.m. to 4:45 p.m. Jan. 16 at BJ's Restaurant & Brewhouse, 5881 Centennial Center Blvd.
From 8:30 a.m. to 1 p.m. Jan. 20 at Desert Springs Hospital, 2075 E. Flamingo Road.
From 12:30 to 6 p.m. Jan. 20 at Silver Sky Assisted Living, 8220 Silver Sky Drive.
From 3 to 7 p.m. Jan. 21 at ITT Technical Institute, 3825 W. Cheyenne Ave.