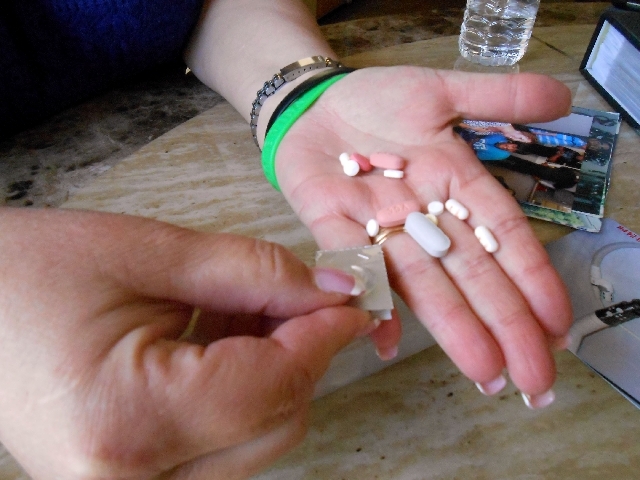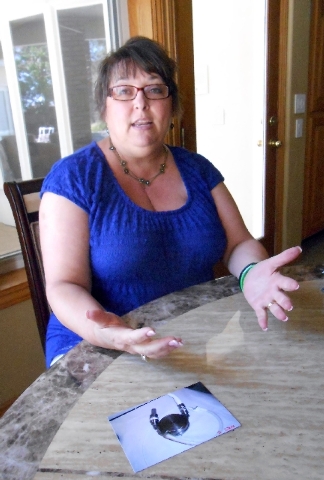 Four years ago, Becky Mintz had a heart attack and didn't realize it. She delayed getting to a hospital, putting further strain on her heart muscle.
Now, she has a donor heart and volunteers her time toward seeing more people sign up to be organ donors.
Mintz, who was 44 at the time of her heart attack, had no major health issues. The first sign of trouble was a migraine headache that came with vomiting. Sudden, intense burning caused her husband, Harold, to call 911. An emergency room doctor at Summerlin Hospital Medical Center determined that two blood clots had traveled to her heart. He told her family that time was of the essence.
"He said I needed an LVAD, and they went, 'What's an LVAD?' " she said of her husband and their daughter, Bailey. "Nobody knows what that is, except from 'Grey's Anatomy.' "
LVAD stands for left ventricular assist device, or an implantable heart pump.
"They later said they didn't know if I was going to make it," she said of her cardiology team. "When they told my husband I had a 50/50 chance, they were being generous."
A medical flight whisked her to Cedars-Sinai Medical Center in Los Angeles. She was rushed to surgery, where an LVAD system was implanted in her. Harold sweated out the seven-hour operation and hurried into her room as soon as he was allowed.
"The horrifying thing is, you see a computer the size of a human being, this monstrosity of computers and machines, (hooked up to her), and she had all these tubes coming out of her," he said.
Becky spent weeks in and out of the hospital, staying in Southern California with her sister. When she finally returned to Las Vegas, her life was restricted. She was connected to her machine by a 20-foot cable, her lifeline. To travel farther, she had to switch to battery power and lug along a wheeled suitcase full of equipment. The LVAD's life span was two years, a temporary solution.
She was not doing well. An infection had set in. Back in the hospital, she was put her on the organ donor waiting list.
"You have a mixed bag of emotions," she said. "You need an organ to live, but you know someone's going to have to die in order for that to happen. I came to the resolve that people die every day … you have to kind of look at it as, they aren't 'dying' for you, they're just leaving a 'gift' for you."
Eleven days later, on Oct. 24, 2008, a heart was located. Her surgery was a success, and she returned to Las Vegas to recover.
In 2010, Mintz vowed to help a cause: getting people to sign up as organ donors so that others might get a second chance at life, just as she had. She began speaking to high school students about becoming donors.
Kate McCullough, public relations coordinator for the Nevada Donor Network, said the waiting list for organs in Nevada is about 547, a number that can change daily. Kidneys are the most commonly donated, she said, and are the only type of transplant program in Nevada. Transplants are done at University Medical Center.
The Nevada Donor Network reports that about 41 percent of Nevadans have signed up as organ donors, which ranks the state 40th in the country.
"That's actually fairly low," McCullough said. "…There are some states that are up there with, like, 89 percent. Obviously, I'd like to see us near the top, but that's going to take some time. The way we get there is more education."
About six months after she began volunteering, Mintz targeted another group, new employees for the Department of Motor Vehicles. Nevada drivers have the option to sign up as donors, which is noted on their driver's license.
Mintz had responded "yes" years ago on her license.
"It's question No. 7 on the form, and you put down 'yes' or 'no,' " she said. "If people don't put anything down, then it's just in limbo. You want them to make a decision. Say 'yes' or no' so we know what you want. … I like being the ambassador for them."
As of June, there were 840,152 Nevada licenses and ID cards with the organ donor designation, the DMV reports. Dianna Arnold is a trainer at DMV and applauded Mintz's presentation to new employees.
"It gives them a whole new light on (donating their organs)," she said. "They get very emotional when they hear Becky's story, to know what she went through."
Mintz has also spoken at a conference for the labs where tissue matching is done to determine if a body organ is a match.
"They only see us on paper, so this was a new perspective for them," she said.
About the time she began volunteering, Mintz learned that her donor was an 18-year-old man, Eddie Perea, who had had a dirt bike accident. She met the family, a clan of nearly 20 people, all eager to learn how she was doing. Both families now participate together in a Donate Life walk held annually at California State University, Fullerton.
Mintz started a support group, Vegas VADS and Heart Transplants, which meets about once a month. Members share stories of issues associated with dealing with hospitals out of state and other issues.
"There's so much misconception about it, even some people who say, 'Why bother? It doesn't work. They (recipients) die.' Yeah, well, maybe you only get however long you get, but it's still better than nothing," Mintz said.
For more information, visit donatelifenevada.org.
Contact Summerlin/Summerlin South View reporter Jan Hogan at jhogan@viewnews.com or 702-387-2949.
Find out more
For more information, visit donatelifenevada.org.