Here's how 1.2M meals a week get to Clark County schoolchildren
September 22, 2016 - 5:02 am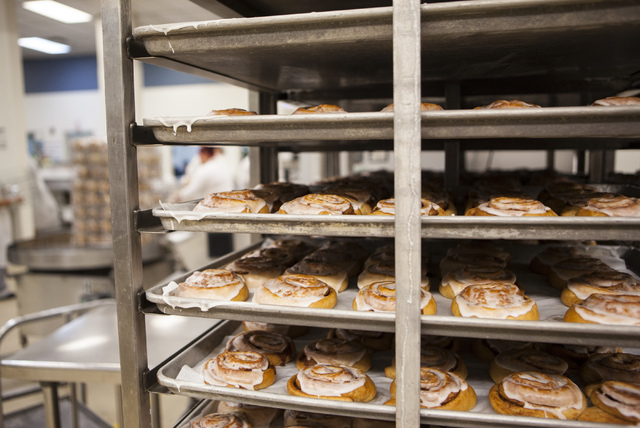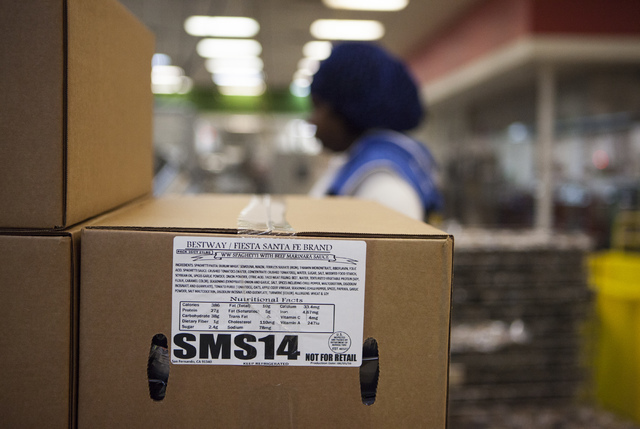 They are the questions that every parent ponders: What to make for dinner? What can be made that will satisfy every family member and add enough variety and nutrition?
Clark County School District registered dietician Lory Hayon wonders the same thing, except the questions are amplified by the thousands of mouths she must feed a day — adding up to 1.2 million meals per week.
"It's a tough job," Hayon said. "We need to look at the nutritional guidelines and create items that pass both a taste and appearance test … Let's put it this way: if parents came to our school and tasted the food, they would reach for the salt shaker. We're really limited with how much sodium we can use."
Inside the school district's Food Service facility, 240,000 meals are transported per day. The loading action starts at 4 a.m., and by 2 p.m., workers have made 300 deliveries.
"We move more than 1 million pounds of product every day," said Michael W. Malich, coordinator of warehouse and delivery for the facility.
At the facility, full-time employees work inside a 75,000 square-foot freezer in minus 3-degree temperatures.
"The facility costs nothing to the district," Malich added. "We're self-funded."
Malich said since the facility is operated as an enterprise fund, the department does not draw funds from the school district's general fund.
Hayon was hired two years ago to offer nutritious items to Clark County students. However, the dietary tipping point came in 2010, when guidelines were initiated to offer students more balanced and nutritional meals, which meant monitoring sodium, saturated fat and calories for each age group.
Prior to 2010, there weren't many restrictions to school meals. Lunch looks a lot different now.
"I know that they were frying foods before," Hayon said. "Now, we have to try to find condiments and low-sodium salsa or something to pair up foods with that give it a little zip."
Meals must contain a 1- to 2-ounce package of meat or a meat alternative; 1 to 2 ounces of whole grain, a half cup of fruit (fresh, dried or fruit cup), a half cup to 1 cup of vegetables (which need to meet all five sub-groups per week — dark green, red-orange, legume, starchy, other), and 1 cup of 1 percent fat milk or fat-free chocolate milk.
Allowable sodium averages between 1230 to 1420 milligrams per meal, depending on the student's grade level. No more than 10 percent of the meal can be saturated fat.
Breakfast has similar guidelines: Meals must include 1 cup of milk, 100 percent fruit or vegetable juice, 1 ounce of whole grain or 1 ounce of meat or a meat alternative (such as sting cheese, a hard-boiled egg or Greek yogurt).
Hayon also introduced "Taste it Tuesday" to allow students to experience a different meal and provide feedback to see what works and what doesn't.
For example, in September, students have the opportunity to judge a veggie burger with potato wedges. School officials walk around the cafeteria asking students questions about the newly introduced item. If students have suggestions, it will be marked.
Last year, the shepherd's pie was ranked poorly because students said it didn't have enough spice or zing, Hayon said. This year she plans to add more seasoning and try serving it with sweet potato instead of mashed potatoes.
The items that make the cut are added to the weekly rotation.
Hayon works with fellow dietician Christina Saheb to come up with meal ideas. For example, the duo recently tried Baja fish tacos with a whole grain tortilla, cabbage, jalapeno-ranch dressing and fish made with whole grain breading.
Hayon got the idea from sampling fish at a trade show.
"Students haven't had fish at school in five years," she said.
To satisfy students' sweet tooths, desserts offered include a whole-grain cookie or cinnamon roll.
Hayon said the district is willing to work with students with dietary restrictions due to medical issues but cannot accommodate students with dietary restrictions due to religious or ethical reasons.
"We just have too many mouths to feed as it is," she said. "But every day there is a meatless option offered, such as the bean and cheese burrito."
However, students looking for vegan options or more variety may be in luck as a salad bar has also been added to 50 middle schools and high schools. Hayon also introduced "Wellness Wednesday" on the lunch calendars to give students facts about health and nutrition.
Starting in October, parents are invited to tour the Food Service facility at 6350 E. Tropical Parkway from 9:30 to 10:30 a.m. the second Monday of every month, excluding holidays.
"Parents don't realize how many students we feed and what kind of logistics we have to jump through," Hayon said. "Making 1.2 million meals a week is not easy, and not everything can be fresh, as much as we'd like to make it fresh."
She encourages parents and students to follow the Food Service department on Facebook, Twitter, Instagram, Pinterest and Snapchat, @CCSDfoodservice, for updates and feedback.
"We strive for a high quality of food," said David Wines, director of food service for the district. "If kids don't like it, then we try it again. We have 326 schools to feed. That's a lot of planning."
Call 702-799-8123 or visit ccsd.net/departments/food-service.
To reach North View reporter Sandy Lopez, email slopez@viewnews.com or call 702-383-4686. Find her on Twitter: @JournalismSandy.
Clark County School District Food Service: By the numbers
240,000 — meals made per day
1.2 million — meals made per week
Minus 3 degrees — the temperature inside the facility's 75,000 square-foot freezer
Over 1 million — pounds of food products moved every day
4 a.m. — when meal loading begins
2 p.m. — when the 300 deliveries are completed