High Roller cabins home to new sky yoga practice on Las Vegas Strip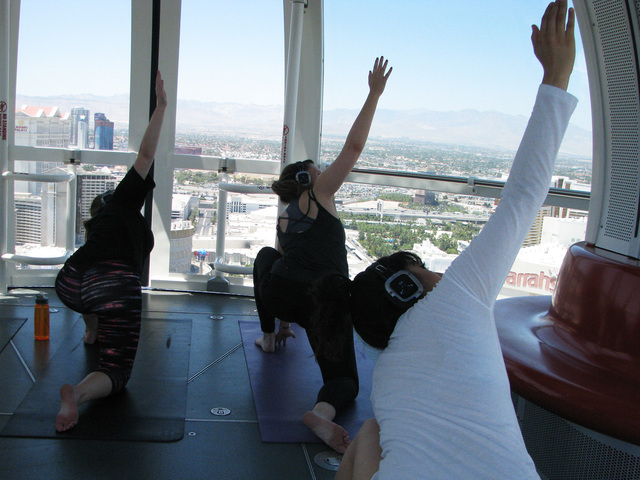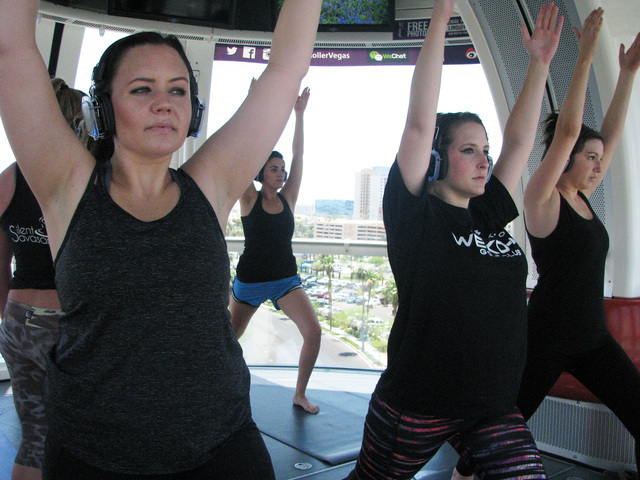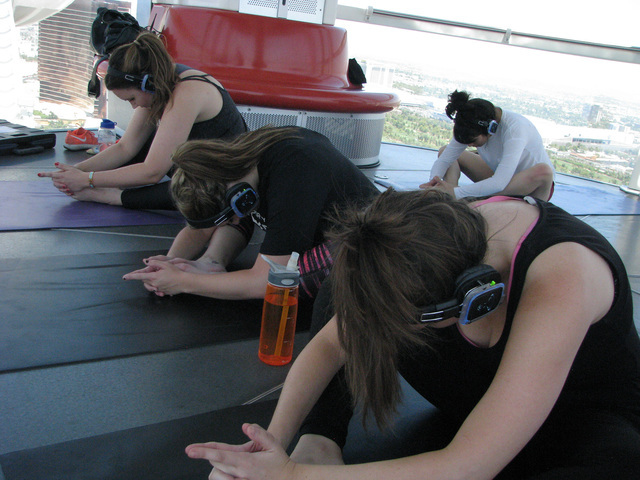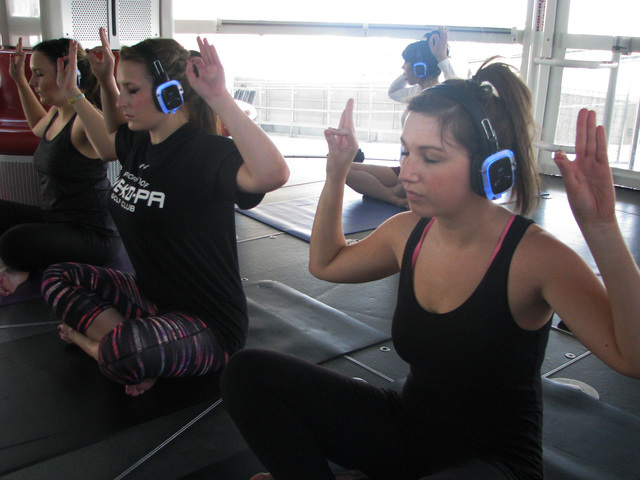 On a bright, sunny afternoon, I found myself surrounded by lovely, fit spandex-clad women, moving like gazelles in slow motion. I was the only man in an intimate space, with soothing music and a melodic voice piped into headphones. I was also the only one regularly losing my balance, falling over and sweating like a creative accountant at a tax audit.
Perhaps 550 feet in the air in a glass ball was not the best place for my first yoga session.
The High Roller at the Linq has begun offering Silent Savasana, a concept created by yoga instructor Dray Gardner last year. Participants wear wireless headphones to hear carefully selected music and the instructor's voice. The class size is limited by the size of the cabins, to six participants and the instructor. Even with that minimal class size, some adjustments need to be made on some of the wider movements to avoid bumping into one of the other students.
"One thing I really like is that the headphones help you really focus on yourself as opposed to what's going on outside," Gardner said. "It really has what I consider that internal effect, where you seem like you're by yourself; you seem like I'm talking to you, as opposed to everybody."
The classes feature most of the elements familiar to terrestrial bound yoga, with comfortable clothing that doesn't impede movement, mats and instructor taking the class gently through its paces. What it adds to the process is the slow, almost imperceptible movement of the cabin, a private setting and a stunning view. It also brings a level of personal attention that isn't possible in a larger setting.
"The class is curated for the space," Gardner said. "The music playlist and the sequence and choice of the yoga is catered to the participants also."
Safety is also a major concern for Gardner. He limits the moves to ones he feels are safe in the space. There are no headstands or handstands in the routine as the walls are close and unyielding, so no moves are included that might cause a participant to fall into a wall.
"It isn't beginners' yoga, and it isn't advanced yoga," Gardner said. "It's yoga set for the people in the space. As long as you can breathe, you can do yoga."
Tai Emery, a member of the Las Vegas Sin of the Legends Football League, recently participated in Silent Savasana and was delighted with the experience.
"It's so soulful," she said. "It's such a beautiful sort of thing. You know what I mean? I feel like you can get lost in the rat race. You can lose your head. I feel like, up there, you can get away from the noise."
A session is $75 with at least four people on the reservation. More private sessions with fewer people can cost more. Participants can purchase five sessions for $325. The sessions take about an hour as the wheel goes around twice, and they are offered from 11:30 a.m. to 5 p.m. seven days a week.
"We're asking guests to book 24 hours in advance," said Lindsay Sanna, senior director of marketing for the High Roller. "That gives the group fluidity to work with their schedule and allows us time to get a great instructor for them."
Visit caesars.com/linq/high-roller.
To reach East Valley View reporter F. Andrew Taylor, email ataylor@viewnews.com or call 702-380-4532.