Highlighting achievements, Aug. 25, 2016 — PHOTOS
August 24, 2016 - 11:30 am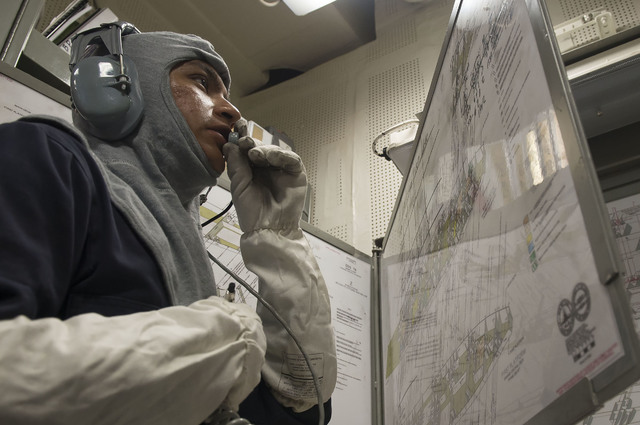 Scholarships awarded: Recently, the Las Vegas Emblem Club No. 114, a nonprofit community service organization, awarded scholarships to three Clark County high school seniors: Joshua Carreras from Arbor View High School, whose legal is Fernando Jonas; Annie Lu, daughter of Travis and Yulien Lu, from Clark High School; and Mitchell Ragan, son of Matthew and Laura Ragan, from Green Valley High School.
Advisory board appointment: City National Bank announced July 6 that longtime Nevada resident Paul Stowell, senior vice president, has been appointed to Touro University Nevada's Advisory Board. Stowell is a 30-year veteran of the banking industry.
Veteran of the Month: The Nevada Department of Veterans Services announced July 8 Nevada's Veteran of the Month is Bruno Moya. He is a U.S. Marine veteran and is working on his master's degree in social work at UNLV.
Student awarded: Musay Taylor of Henderson, a junior at Randolph-Macon Academy, received the Non-fiction Award for his outstanding submission to the 2016 edition of the Academy's literary magazine, Letters. Musay is the son of Selam Taylor of Henderson.
Sunrise Children's Foundation Board of Directors: The new board was announced June 30 and inlcudes: Executive Director Dave Sanberg; Jennifer Bradley, MassMedia Corporate Communications; Kaleo Curtis, The Public Education Foundation; Lindsay Diamond, Ph.D., UNLV; Monica Plaxton Garin, Charleston Insurance Group; James Grimes, Eldorado Resorts Corporation; Tori Klein, UNLV Foundation; J Parker Kurlinski, MD, Neonatologist; Dee Ladd (Ken); Margaret Ann Lynch; Melanie Maviglia, Nevada State Bank; and Michael E. Minden (Emeritus member), Michael E. Minden Diamond Jewelers. Board members include: Courtney Orrock; Alexandria Osborne, Early Head Start Parent; Dwain Rittenhouse, Clinton Nevada, LLC; Bonnie Rosselli, Alphagraphics; Victor Salerno (Emeritus member), American Wagering, Inc.; Lori Soren, U. S. Bank; and Judie Verb, U.S. Bank.
New board of trustees members: Helping Hands of Vegas Valley, a Southern Nevada-based nonprofit agency, recently named three new members to its board of trustees: Eugene Santiago, Betty Campbell and Patti Gerace.
Honor rolls:
— Cori Sutton and Marcus Scott, both of Henderson, have made the spring 2016 dean's list at Central Methodist University in Fayette, Mo.
— Derek Sutliffe of Las Vegas made the spring 2016 dean's list at The College of St. Scholastica in Duluth, Minn.
— Lauren Sutherland of Las Vegas made the spring 2016 dean's list at Wheaton College in Illinois.
— Andreis Castronova of Henderson and Johnathan Khumnark of Las Vegas made the spring 2016 dean's list at the University of Dayton in Ohio.
— Sarah Tabat of Las Vegas made the spring 2016 dean's list at Seton Hall University in South Orange, N.J.
Graduations:
— Caitlin Marks of Las Vegas graduated June 15 from Boston College.
— Alexander Everett Watson of Henderson and Andrew Casey Congleton of Las Vegas graduated from Campbellsville University in Kentucky.