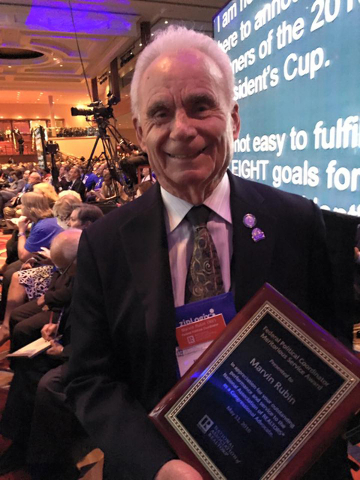 Ph.D. graduate: Erin Beeman Stutelberg of Henderson was awarded a Ph.D. in Education, Curriculum and Instruction: Literacy Education from the University of Minnesota.. She has accepted a faculty position at Salisbury University in Maryland.
Leadership in Training graduates: On May 20 at the Magic Events Center, seniors from Las Vegas High School, East Career & Technical Academy, College of Southern, Nevada HS East, and Nevada State High School celebrated completing the Leadership in Training program, received scholarships and announced their plans to head to college.
Regional principal award: In early May, Sandy Searles Miller Academy for International Studies principal Dr. Anne Grisham was presented the Regional Principal of the Year Award by Magnet Schools of America.
Digital educators: Vegas PBS announced in May that Casey Korder from Parson Elementary School is one of this year's PBS LearningMedia Digital Innovators. In its fourth year, the program recognizes tech-savvy kindergarten through 12th-grade educators who are serving as leaders in education technology and incorporating digital media in classrooms. Representing Nevada, Korder is one of 52 Lead Digital Innovators in the U.S. and its territories. Additional 2016 PBS LearningMedia Digital Innovators include Jeffrey Beauvais of Cortez Elementary School and Denise Snow of Silverado High School.
Stars of Science: In May, students from West Career and Technical Academy and Bishop Gorman High School were the top winners in the Cox 2016 Stars of Science competition, taking home more than $19,000. The academy's Elia Neeley was first in the Applied Science category while Evellyn Goenawan and Yoori Whang tied for first place in the Health Science Category. Bishop Gorman's Austin Dickieson was first in the Natural Science category. Each first-place winner received $1,000 from Cox plus another $1,000 for each teacher and school.
Realtor awarded: Realtor Marvin Rubin with the Meadows Realty Group in Las Vegas was one of two Realtors in the nation to receive the Meritorious Service Award in May from the National Association of Realtors at NAR's mid-year meeting in Washington, D.C. Rubin was recognized for his years of service and diligence in promoting real estate issues and his advocacy work with members of Nevada's congressional delegation.
Graduations:
— Las Vegas native Gia Garganese graduated in May from the Brooks Institute in Southern California.
— U.S. Air Force Airman Christopher S. Lange graduated from basic military training at Joint Base San Antonio-Lackland, San Antonio. Lange is the husband of Cheyenne A. Roberts of Henderson and is a 2012 graduate of Basic High School.
— U.S. Air Force Airman Danielle P. Gilliame graduated from basic military training at Joint Base San Antonio-Lackland, San Antonio. Gilliame is the daughter of Jeffrey R. Gilliame of Las Vegas and Susan M. Gilliame of Eagle Point, Ore.
Honor rolls:
Several local residents made the academic fall 2015 dean's list at Azusa Pacific University in California: Marc Abou Assali, Ciera Cypert, Haley Daykin, Sadie Kendrick, Joshua Toranzo and Daniel Tyus, all of Las Vegas; and Tasha DeWitt, Andrea Driver, Zachary Goldstein and Kimberly Mendoza, all of Henderson.