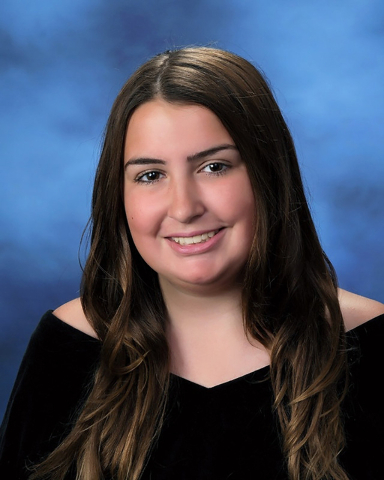 Science fest winners: West Career and Technical Academy and Bishop Gorman students took top honors May 7 at the Las Vegas Science & Technology Festival Expo at Cashman Center. The academy's Elia Neeley was first in the Applied Science category, while Evellyn Goenawan and Yoori Whang tied for first place in the Health Science Category. Bishop Gorman's Austin Dickieson was first in the Natural Science category. Other finalists included Dagmawi Haile, Elida Guerra, Jake Gottschalk and Laura Kohut of WCTA, and Emilie Hong of Bishop Gorman.
Writers contest winners: In mid-May, Vegas PBS announced 18 local winners for the 2016 PBS KIDS Writers Contest. Approximately 1,225 entries were received from students in grades kindergarten through fifth. Each student received a trophy, autographed books and framed enlargements of their work. First-place winners also received free tuition to attend the Southern Nevada Writing Project's summer writing camp.
Presidential Scholar: Northwest Career and Technical Academy student Mackenzie Wooten has been selected by the U.S. Department of Education as one of 160 members of the 52nd class of U.S. Presidential Scholars. Wooten is one of 20 students to be selected for Career and Technical Education, a new category this year.
Scholarship winner: Tabitha Coggins is a recipient of a 2016 Moose International R. Robert Dale Scholarship for $1,000. She is set to graduate from Foothill High School in the spring.
Batteries Included awards: Mayor Carolyn Goodman honored local youth leaders at the 2016 Batteries Included Youth Achievement Awards Gala May 20, at The Smith Center for the Performing Arts. This year's honorees include: Mayor's Award recipient Kolton Blanda, Cimarron-Memorial High School; Leadership Award recipient Unique Hardy, Rancho High School; Art Award recipient Karla Ibarra, Legacy High School; Career Development Award recipient Clara Herrera, Rancho High School; Education Award recipient Sari Blanda, Legacy High School; and Environmental Award recipient Courtney Jones, Las Vegas Academy.
Graduations:
Janny Louie of Las Vegas graduated in December from Harding University in Searcy, Ark.
U.S. Air Force Airman Karel F. Zelaya Alvarez graduated from basic military training at Joint Base San Antonio-Lackland, San Antonio. He is a 2014 graduate of Arbor View High School.
Rudeemart Prajongtat of Las Vegas graduated recently from Duke University in Durham, N.C.
U.S. Air Force Reserve Airman 1st Class Dominique A. Huerta graduated from basic military training at Joint Base San Antonio-Lackland, San Antonio. Huerta is the daughter of Demetrio Huerta of North Las Vegas and a 2015 graduate of Clark High School.
U.S. Air Force Air National Guard Airman 1st Class Fallon Henderson graduated from basic military training at Joint Base San Antonio-Lackland, San Antonio. Henderson is the daughter of Jason Henderson of Lake Havasu City, Ariz., and Jena Romano of Las Vegas. The airman graduated in 2012 from Basic High School.