Home-baked business opens catering event facility
November 12, 2013 - 11:53 am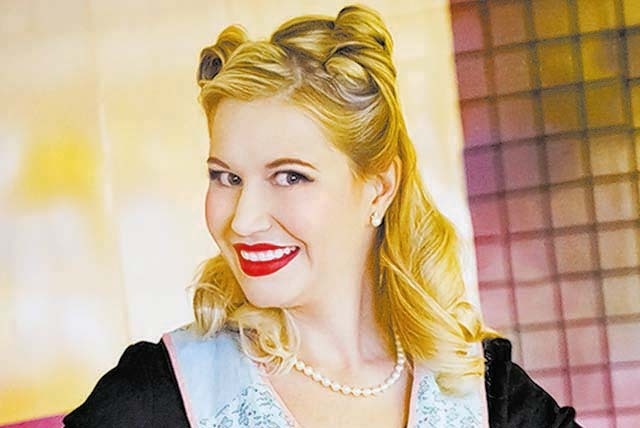 Growing up watching people such as Martha Stewart, Brittney Melnick knew she wanted to become a caterer.
Years later, not only is she seeing her dreams come true with her company, B With A Twist, she is using her business to cater to the needs of various nonprofits.
Melnick wanted to pursue her dreams earlier in life.
"But in college, my path just didn't take me that way," she said.
Instead, she and her husband, Anil, worked for a real estate developer until four years ago.
"I worked in it until the economic downturn happened," Brittney Melnick said.
After she lost her job, she weighed the options of finding another job or pursuing her passion.
"She was unemployed and decided it was a good time as any to take a leap," said Anil Melnick.
Coming up with their theme — traditional American but with a modern twist — was easy.
"People always gravitate toward comfort food," Brittney Melnick said.
They came up with new takes on favorite dishes, such as macaroni and cheese.
"We do tons of variations," she said. "We have a shiitake truffle one or a jalapeno one."
Next was spreading the word about the business.
B With a Twist started doing weddings or small events in people's homes.
"We were word of mouth," Anil Melnick said.
With more people hearing about the business, doors began to open for the company as it took on larger clients.
"We got to the point we started getting employees," he said. "We basically grew and grew and grew."
In 2011, the company doubled its size, and last year it grew by another 50 percent, Anil Melnick said.
"Our employees seem like family," Brittney Melnick said. "We are really grateful for them."
B With a Twist recently moved into its first commercial space at 9272 Tamarus St., Suite 138, near Henderson. Its grand opening celebration was Nov. 3.
"We are able to do events at the space," he said. "We can seat 54 people or do events for 75 standing. We were really grateful and excited to have a headquarters."
Now that the business is more established, the Melnicks want to use their resources to give back.
"We hope to put on quarterly fundraisers for different different nonprofits," Anil Melnick said. "Looking at the bigger picture, my wife and I always wanted to be involved with charity events."
The first one is slated to be a canned food drive dinner for the Salvation Army at 6:30 p.m. Nov. 14.
"I've been a member of the Las Vegas Rotary Club," Anil Melnick said. "We always do a canned food drive every year for the Salvation Army."
Because of the past partnership with the organization, the Melnicks thought this would be a perfect place to start.
They hope to raise $1,000. With that money, they can buy canned goods — at 9 cents a can — to donate to the organization. Anil Melnick estimates about 10,000 cans will be purchased.
The price to attend the dinner is a donation of $25.
"We are supporting the cost of the food," Anil Melnick said. "About 80 percent of the money will go toward the food drive."
The rest of the money is to pay the servers who work the event. Space is limited, and reservations are needed.
Anil Melnick is already thinking about other organizations he would like to reach out to partner with on future events.
"Shade Tree and St. Jude's Ranch are close to my heart," he said. "I haven't reached out yet, but they've been on my mind."
Before the next quarterly fundraiser, B With a Twist also plans to put on a Thanksgiving event for active military members at Nellis Air Force Base.
"Literally hundreds of them wouldn't be able to go home and have Thanksgiving with their families because they have to be back the next day," Anil Melnick said.
Since he was already planning to host his Thanksgiving at B With a Twist, he decided to open the doors to some military members.
"I am sponsoring eight right now," he said. "We can host up to 40."
The business is hoping people will make a $20 donation to cover the cost for the remaining members.
People can donate until Nov. 15.
Brittney Melnick sees the business growing.
"We hope to be Las Vegas' top catering company," she said.
But along the way, they hope to continue to give a helping hand.
For more information, visit bwithatwistcatering.com or call 702-868-1665.
Contact Henderson/Anthem View reporter Michael Lyle at mlyle@viewnews.com or 702-387-5201.