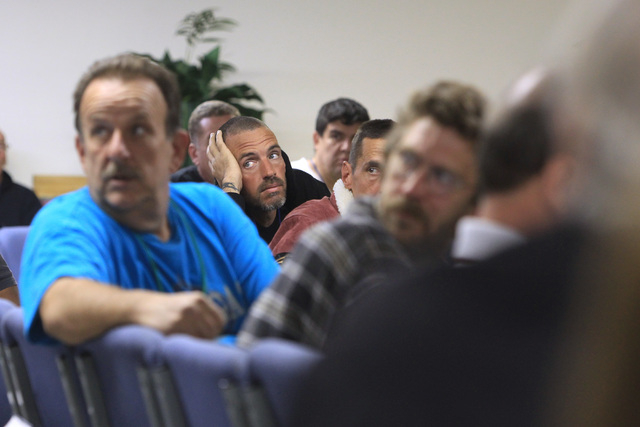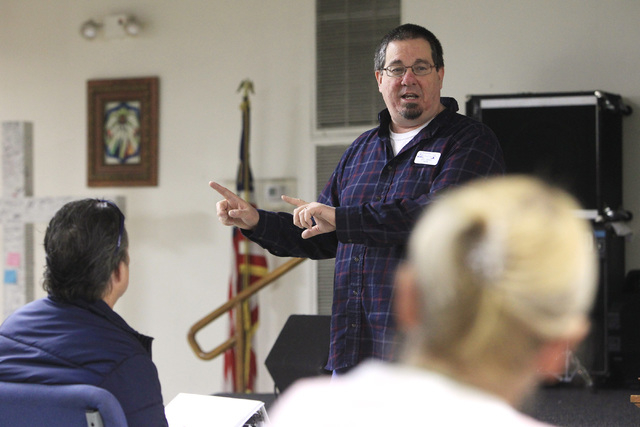 Homelessness is a multifaceted issue, but a big part of the reason many find themselves on the streets is addiction, according to the staff at the Las Vegas Rescue Mission.
The Rescue Mission's recovery program is designed to help break the cycle of addiction and help homeless people find homes, jobs and more complete lives.
"It's designed to get people off the streets, get them on their feet and get them back to a place where they're productive," said John Fogal, director of development for the facility, 480 E. Bonanza Road. "We want them to get back to where they're productive with their work, their relations with other people and make them as independent as possible."
The Rescue Mission provides various programs and services. Fogal said more than 1,000 people a day receive services there. The nondenominational, faith-based recovery program brings in clients from several sources, including referrals from other agencies, but many come in from the streets for a meal or a cot and discover there are other services.
During the program, clients live in a dorm-like setting on the facility's campus. The yearlong program includes four three-month phases.
"In the first phase, they're dealing with detox, neuro rebalancing and physical and mental issues they've been dealing with their whole life," said Dean Perry, senior director of recovery at the Rescue Mission. "We help them stabilize the new emotions they are dealing with."
Each successive phase brings the clients closer to recovery and creating a functioning new life off the streets.
"It's not just recovery from the addiction we're working on," Fogal said. "We help them learn the life skills they need to maintain their recovery and find things that can help them sustain an addiction-free life. We teach them job preparedness, resume building, interview skills, and if they need, we can help them work toward a diploma. If it all works out, they leave clean and sober with skills they didn't have before."
Many in the program are dealing with addictions to drugs, alcohol or gambling. The program doesn't remove the clients from temptation, but it helps them maintain control and make better choices. It does this differently with each client, depending on what he needs.
"I don't believe in a one-size-fits-all solution," Perry said. "Each life represents a different story."
The staff doesn't feel a recovery has been successful until the client not only breaks his addictions but has a relapse prevention plan in place and independent housing and income lined up.
"Independent income can be from a job, disability benefits or a combination," Fogal said. "We're working to break the institutionalization."
In many cases, the challenges aren't only addictions but mental health issues.
"Those issues also weave into this," Fogal said. "For our clients with those issues, it's a matter of learning how to accept learning how to handle their own mental health issues."
The Rescue Mission offers a six- to eight-week introductory program that gives clients a sample of what happens in the recovery program.
"I believe in respect as a way to break institutionalization instead of treating our clients like children," Fogal said. "Part of that is doing everything on a contract basis. The contract shows them their targets and what they need to accomplish while they're here."
For more information, visit vegasrescue.org or call 702-382-1766.
Contact East Valley View reporter F. Andrew Taylor at ataylor@viewnews.com or 702-380-4532.