Hospitals see expansions across the Las Vegas Valley
December 4, 2015 - 4:30 pm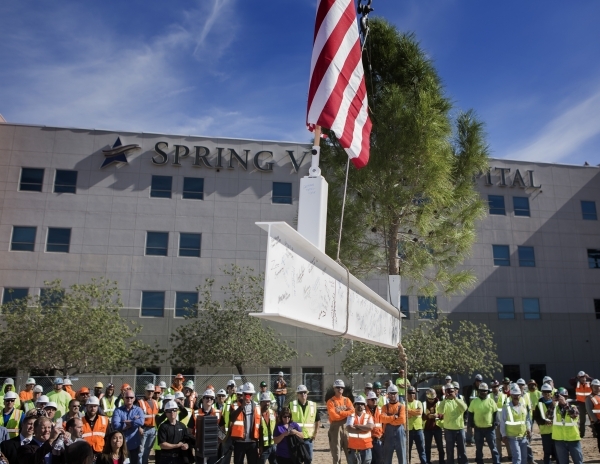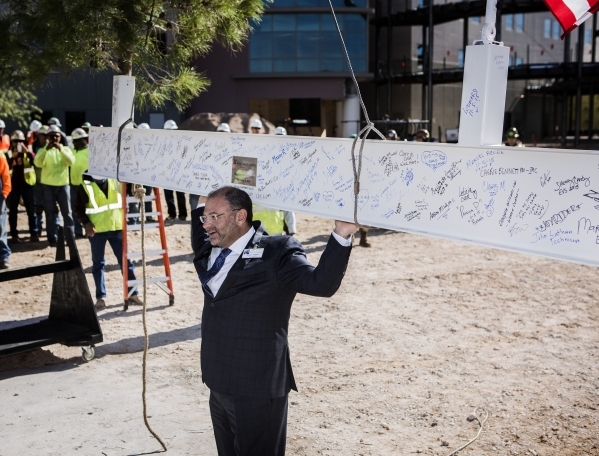 Area hospitals are seeing new buildings being constructed and add-ons — a sign that Las Vegas is either once again growing or trying to catch up. Either way, residents will be happy to know more hospital beds are on the way.
Las Vegas Heals CEO Doug Geinzer said the impact on hospitals from the down economy was subtle at first. Las Vegas Heals is a nonprofit that operates like a chamber of commerce for health care organizations. It employs about 28,000 health care workers.
"As the unemployment rose in Las Vegas, so did our uninsured populations," he said. "So a lot of the people who represented themselves to the hospital were either uninsured or underinsured. At one point, I don't think there was one hospital that was operating in the (black) — they were all losing money."
ST. ROSE DOMINICAN HOSPITALS
St. Rose Dominican Hospitals recently added nearly 100 rooms to its Siena campus, 3001 St. Rose Parkway, the flagship facility of Dignity Health Nevada. It also operates the 147-bed San Martin campus, 8280 W. Warm Springs Road, and the 119-bed de Lima campus, 102 E. Lake Mead Parkway.
The new Siena tower doubled the size of the emergency room and added 96 private, inpatient rooms, bringing the campus' bed total to 326. The 220,000-square-foot project includes 56 emergency bays, six new operating suites, separate entrances for cardiology and cardiovascular services, and expanded space for admitting, nutrition services, radiology, lab, pharmacy, endoscopy suites and other highly utilized outpatient support services.
Visit dignityhealth.org/las-vegas/siena/siena-campus.
Other hospital expansions going on across the Las Vegas Valley include:
SPRING VALLEY HOSPITAL
Spring Valley Hospital Medical Center, 5400 S. Rainbow Blvd., broke ground in June for a four-story tower, which will add as many as 144 beds to the facility, including three labor and delivery suites, two neonatal intensive care beds, and 18 post-partum beds with space to double that number if need be on the first floor. Currently, it has 237 beds.
The second floor will include another 36 medical/surgical inpatient beds. The remaining floors will eventually accommodate 72 more beds, as needed.
The expansion is expected to cost approximately $35.5 million. A cardiac catheterization lab, costing $1.3 million, is also in the works.
Leonard Freehof, Spring Valley Hospital CEO, said a growing population and the economy improving are helping to drive the expansions.
"We've got more jobs so more people with health insurance," he said. "And, you know, … when you have a growing community, you have to have a growing hospital, as well."
Freehof said there is no litmus test for the number of hospital beds a city should have.
"We do planning and forecasting and look at a number of things: the population; the growth rate; different breakdown of ages; we look at ethnicity — and in our case, we … have a track record, so we know what our growth rate has been and can figure out what our needs are going forward. It's a forecast, not exact science."
Freehof said with construction comes the possibility of hitting the dreaded caliche, mineral deposits that defy the abilities of regular digging machines.
The good thing is, with Las Vegas weather, construction can continue year-round, he noted.
"It's a brand new building that we're adding on," Freehof said. "Where you run into the unknown is remodeling an existing building. So, that's not the case here."
The first stage of the expansion is scheduled to be completed in fall 2016.
Visit springvalleyhospital.com.
CENTENNIAL HILLS HOSPITAL
Centennial Hills Hospital Medical Center, 6900 N. Durango Drive, is building out its fourth floor later this year, adding a total of 36 inpatient beds. Its total inpatient bed count will be 226 when the project is completed during the fourth quarter of 2016. The cost for the project is $9.7 million.
Another project for operating room expansion — at a cost of $1.38 million — includes transforming a previously shelled space into 20 private medical/surgical rooms and 16 intermediate medical care rooms.
Hospital officials said the overall project will address current infrastructure to improve efficiency of patient care and visitor and staff convenience. These include additional parking, an additional elevator and other departmental improvements.
Visit centennialhillshospital.com.
MOUNTAINVIEW HOSPITAL
MountainView Hospital, 3100 N. Tenaya Way, is undergoing a $90 million expansion that will increase its capacity in many areas, including its emergency room.
Is it being undertaken to handle today's needs, or is it forecasting for the next decade?
"A lot of it is driven by current capacity," said Kelly Kern, MountainView Hospital chief operating officer. "To say we're able to financially look ahead 10 years, that's pretty far. So I would say it's driven by the demand of the community today. … For us, this is not going to be much of a disruption. We have two big things going on. The medical office building that's going to be south of the hospital — that's a totally isolated property, so impact on the hospital will be very, very little. The vertical expansion, adding the fourth and fifth floor, the building was designed to be able to handle that expansion, so in a sense, it's like a separate external project, as well, even though it's going in on top of the building. There will be some minor disruptions that will affect a patient room or two at a time, plumbing fittings or things like that, but those would be (done) while the rooms are unoccupied. … Most people won't even know what's happening."
He said it was a highly regulated process with HEPA filters and negative airflow ensuring there are no contaminants. He said his most critical concern when it comes time to marry the old and the new parts of the facility is maintaining as sterile an environment as possible.
The second helipad will be one of the final pieces. The medical office building will likely begin construction during the first part of 2016.
Construction at MountainView is expected to take 14 to 16 months to complete and should begin in mid-2016. When the expansion is complete, MountainView will grow from a 340-bed hospital to 400 beds.
Visit mountainview-hospital.com.
HENDERSON HOSPITAL
Henderson Hospital — planned to be the sixth facility in the Valley Health System — is set to open in late 2016 as an anchor for the Union Village development near Galleria Drive and Gibson Road at U.S. Highway 95.
Union Village is touted by its developers as being an "integrated health village." Plans are for the new hospital to have 142 beds for pediatrics, surgery and emergency services. The village also will be anchored by a health center and will offer residential, entertainment and retail space, a senior retirement community, and a civic and cultural arts center in a master-planned community.
The cost for Henderson Hospital is approximately $168 million. The project had to wait for the economy to improve before Valley Health System committed to the project.
Geinzer suggested expansions were slowed down or shelved as the economy struggled to get back on its feet. One in particular was Union Village.
"It surely slowed down because no one wanted to build in a time of uncertainty," he said.
He added that Medicaid expansion increased the number of insured people.
"I think you'll continue to see an area of growth, more modest than it has been in the past just because the general population has started to seek care in an environment that offers a slower cost of care and more specialized care," he said. "A level of health care consumerism where you and I, as patients, are not looking to find, 'Where can I get the best bang for my buck?' "
Visit valleyhealthsystemlv.com.
SOUTHERN HILLS HOSPITAL
Southern Hills Hospital & Medical Center, 9300 W. Sunset Road, currently has 134 beds. Construction started in July on the fifth floor, which was a shell before that, awaiting interior buildout. The floor will add 46 more beds intended for orthopedic, neurological and spine injury patients. The new floor is expected to open it early 2016.
Visit southernhillshospital.com.
— To reach Summerlin Area View reporter Jan Hogan, email jhogan@viewnews.com or call 702-387-2949.