Humanity Thru Art brings together creative types
January 24, 2014 - 11:52 am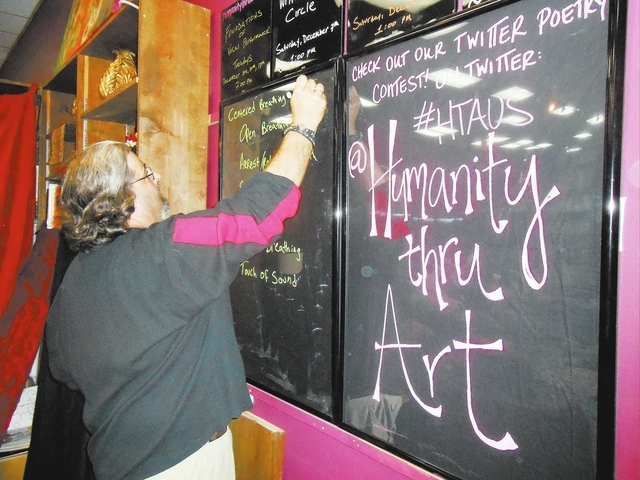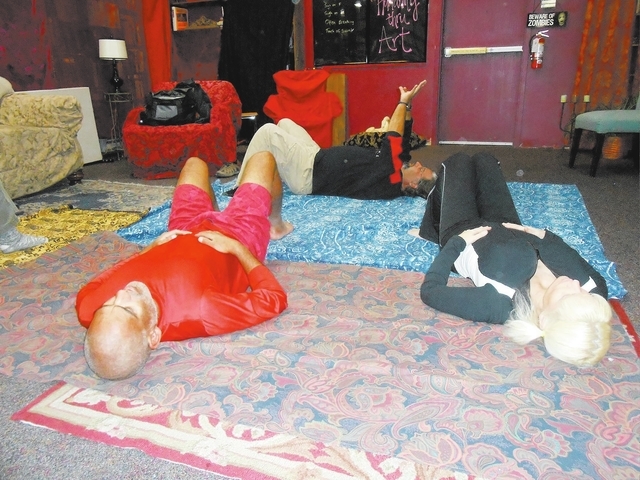 Adam Littman is on a one-man crusade to see the humanities better represented in Las Vegas.
His fledgling organization, Humanity Thru Art, is celebrating its first anniversary. He is the program's founder and artistic director.
According to the project's website, humanitythruart.org, it is "an interdisciplinary arts collective intent on providing various opportunities for exploration and study." Its mission is to nurture "the creative spark that exists within all of us."
Why start it in Las Vegas?
"I'm from the East Coast, and I'm used to a collaboration of artists who support each other and help each other get better at what they do," Littman said. "They're constantly keeping their skills fresh, something that, up until now, did not exist in Las Vegas."
One of the program's free sessions, Foundations of Vocal Performance, was held Dec. 3 at Dead Poet Books, 937 S. Rainbow Blvd.
Sheila Cerami was there to facilitate her breathing during meditation and to "tune out the busy voices in my head," she joked.
Michael White had attended the writing program and thought better breathing techniques could help his readings. Shawna Burris, on the board of the organization, also was there.
The session began with breathing exercises. Everyone got on the floor, lying face up with legs bent so their feet were flat on the floor. Littman told attendees to think of breaths as energy and visualize exhales as "painting the ceiling." More to the point, paying attention to the diaphragm and continual in and out breathing allowed the lungs to function fully. The deep breathing was exhaled by specific placement of the jaw.
"It's the primal voice, our animal voice," Littman said of the sound that resulted.
The distinct guttural hissing filled the air as everyone achieved the desired state. Twenty minutes later, everyone rolled slowly to one side and sat up. Littman told attendees that what they'd just achieved was the natural way one breathes while asleep.
Burris said she could feel the difference and came to a realization.
"That's why your voice is deeper when you first wake up," she said.
The evening progressed with more exercises and then an impromptu reading by White.
Humanity Thru Art also offers a writer's circle and a Shakespeare program. The latter fits in with vocal performance as one needs well-prepared lungs to handle a full complement of the Bard.
Humanity Thru Art almost never came to be.
"Frankly, when I finished my book, I was looking at leaving Las Vegas, mostly because of the dearth of culture in town," Littman said. "There's no common way to meet other people in the arts. Meetup.com is pretty big out here, but other than that, if you don't want to go to a bar or a casino, a club, there really is not a lot of opportunity if you're a humanities person. Mostly, I want there to be programs in my town that I would want to go to, and they weren't here. I believe in what Gandhi said, 'Be the change you want to see.' And I thought about it and said, 'You're uniquely qualified to make that happen. So what's your excuse?', and I couldn't find one."
Littman has been a professional performing and literary artist for more than 34 years. He is a published and produced playwright, poet and theater scholar and had his first publishing contract for a novel when he was 16. He is also an accomplished musician, composer and lyricist. Under his Shakespeare scholar banner, Littman has held workshops and lectures at various conferences and educational institutions across America.
Dead Poet Books hosts the programs. The usually quiet store comes alive when the sessions are in gear. What's it like?
"I love it, listening in, on the Shakespeare especially, because it makes me have a whole new (appreciation for) Shakespeare," said Linda Piediscalzi, store owner. "When I was in high school, we had to read Shakespeare, and it wasn't my favorite thing. But now I love it, listening to them discuss 'What did he mean?' or that this character was a thinly disguised king, whoever, all that. I love everything they do. This past summer Adam had a writer's workshop with two teenage boys. One was a 13-year-old who rode the bus every day from the other end of town and came every day throughout the summer. And he was really, really serious. At the end of the (program), they had a showcase, and the boys were amazing. They wrote short stories, they wrote poems, just amazing."
She said she opened her store to Littman because the arts was "something I believe in. … Everybody who moves here asks, 'Where's the culture?' Well, it's here. You just have to look for it. It's not in your face like it is in Berkeley or L.A. or New York or Chicago. It's little pockets here and there."
For a schedule of events, visit humanitythruart.org.
Contact Summerlin/Summerlin South View reporter Jan Hogan at jhogan@viewnews.com or 702-387-2949.
Humanity Thru Art
For a schedule of events, visit humanitythruart.org.