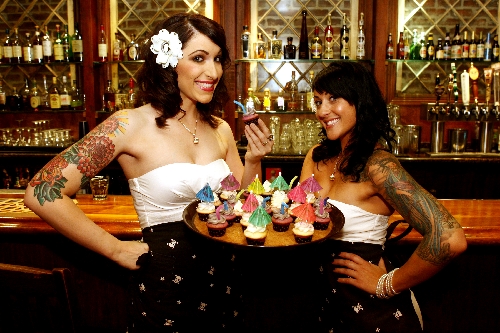 A night out with friends can often lead to interesting conversations, memorable moments and plans to open a new business.
At least that's how a night with Taryn Mumpower and Robyn Holt, owners of Pick Your Poison Bake Shop, turned out .
"We were drinking downtown one night and had this conversation about starting a business and not wanting to work for anybody," Mumpower said. "Robyn mentioned that cupcakes needed a face-lift because they're so ordinary, and we wanted to do something different."
The difference is a delivery-only bakery that specializes in soda-inspired and alcohol-infused cupcakes that have grabbed the attention of downtown Las Vegas business owners and at a national level as finalists on the Food Network's "Cupcake Wars."
The business, which the women operate out of a banquet hall space in the southwest area, opened in June 2011. In less than a year, Mumpower and Holt have acquired clients such as The Griffin bar, 511 Fremont St., where Holt is a bartender; Artifice, 1025 First St.; and weekly deliveries to the Marquee Nightclub at the Cosmopolitan, 3708 Las Vegas Blvd. South.
Pick Your Poison Bake Shop flavors range from Shirley Temple, a cherry and lemon-lime cake with grenadine frosting, to Guinness, which comes with a malt frosting, and champagne-infused mimosa. The cupcakes come available in "shots," sizes at $30 for two dozen, or "cocktail" sizes at $30 per dozen.
They haven't hit the one-year mark, but the "baketenders" believe they've reached initial goals for the business.
"I think we've surpassed our goals in the beginning," Mumpower said. "We said, 'Let's conquer Las Vegas,' and we've just been getting bigger and bigger ever since."
But it wasn't all a piece of cake for Mumpower and Holt's self-financed shop. Mumpower, who comes from a culinary background with training at Le Cordon Bleu Las Vegas, described the women's first baking attempt as a "disaster" and said the two weren't close friends until their business venture began.
"Between Taryn and I, our relationship has really changed," Holt said. "We kind of became business partners and friends at the same time. We went from not knowing how to make a cupcake to working with Marquee and Hyde (at the Bellagio). It's been really exciting."
Holt, who holds a master's in business administration degree from Johnson & Wales University, said operating Pick Your Poison Bake Shop has been a lesson in business, baking and competition. Holt said in the beginning, she typically handled the marketing aspect of the business while Mumpower baked orders. But the business has evolved, and the pair has shared its strengths with one another.
"I feel more confident now than I did in the beginning," Holt said. "There are a lot of times where we can't do things together. I'm more confident in baking, and I definitely learned how to be in the kitchen alone. At the same time, I have confidence in Taryn to go on meetings by herself."
Mumpower said the women bake an average 500 cupcakes per day, with weekends being their busiest times. Both women said having a delivery-only service poses challenges — something that adds to their consideration of opening a brick-and-mortar site in the near future.
"There's a lot of competition, and since we don't have a brick and mortar, we have to work that much harder to get our name out there," Holt said. "We hope to attain our goals, and I think we will."
For more information, call 741-1382 or visit pickyourpoisonlv.com.
Contact Paradise/Downtown View reporter Lisa Carter at lcarter@viewnews.com or 383-4686.