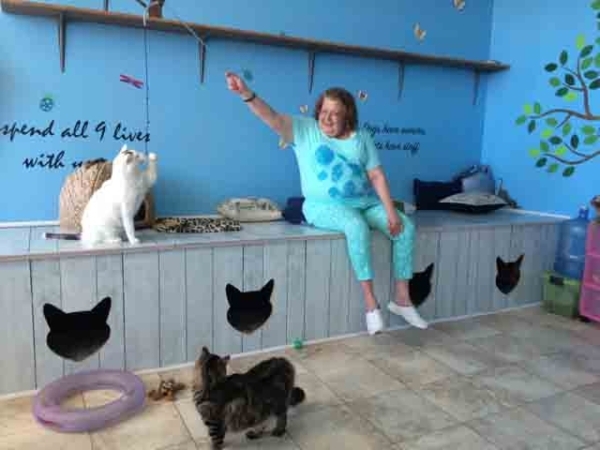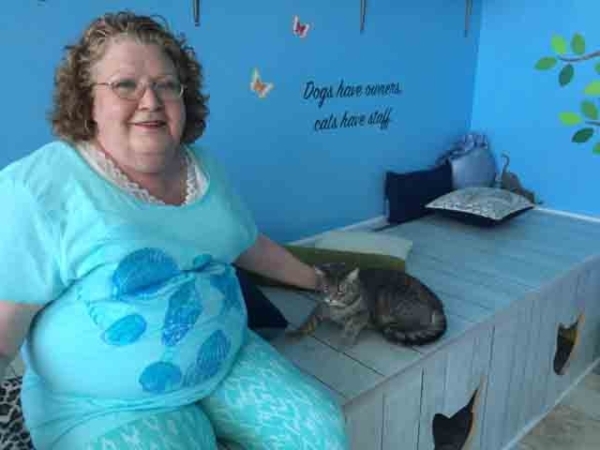 Patty Kreckman was in a domestic violence situation when her husband gave her an ultimatum — him or the cat. She chose the cat and moved out.
Kreckman said that her stress level was "out of bounds" and that she was "recovering from cancer at the time" but found solace in her animal. Now divorced, Kreckman has surrounded herself with animals. She is the house sitter for animal rescue Hearts Alive Village, 1750 S. Rainbow Blvd., and is surrounded by eight cats and a dog awaiting adoption.
Kreckman said her foster animals can read her emotions and respond to her.
"They know when something's wrong," she said. "If you're upset, if you're crying, they come over and sit in your lap. They're purring and … it's just so calming. I say that cat tails are Valium. You pet them from their head, down their back and to their tail. It does so much for you because you feel that love. Even if the whole world is crappy, you come home, and if you've got animals, you know you're loved. You don't feel alone."
Kreckman decided to adopt one of the cats, which she bottle-fed as a newborn kitten. She named him Magic.
Many people claim a strong bond with their pet. Research supports that connection. For example, biological responses were tracked in a 1988 study by Vormbrock JK and Grossberg JM called Cardiovascular Effects of Human-Pet Dog Interactions. It showed that petting animals, such as dogs or cats, lowered the blood pressure of both male and female subjects. In fact, even talking to a pet lowered one's the blood pressure, though not as much as direct petting.
At UNLV, anthropology professor Peter Gray has done work on the relationship between humans and animals.
He teaches a popular online class on the anthropology of animals at UNLV and has been involved in several human-pet projects, including a paper expected to appear in early 2016.
Gray reported that adoptive dog owners reported higher attachment to those dogs than what were labeled "step" dogs — a boyfriend or girlfriend moving into a household in which there was already a dog.
"That parallels some of the human parenting literature with respect to biological and step parenting differences," he said. "There's a tendency that we're seeing more and more, and that's people viewing their pets as family members."
The latest paper, due out in early 2016, speaks to the role of pet dogs and cats and dating. It ties into the concept of hormonal changes and cardiovascular influences seen during short-term interaction between people and pets, particularly dogs.
Most recently, Brian Hare, evolutionary anthropologist at Duke University, has found that when we lock eyes with our dogs, the "love hormone" oxytocin is released.
So, is your dog greeting you at the door so enthusiastically because he's happy to see you, or is he desperate to be fed?
"Part of the discussion is anthropomorphism," Gray said. "We're very good at projecting human characteristics on all kinds of things, including cute, furry, childlike creatures. It also says something if you look at children's toys — the big heads, big eyes, even in cartoon characters where Mickey Mouse evolved from a rodent to a big-headed, big-eyed, friendlier creature."
There are debates over studies that looked at how dogs respond to people who pretend to cry, he said.
"Is the dog coming over because it's trying to reduce the stress it experiences, or is it trying to reduce our pain?" Gray said. "It's hard to know what's in the dog's head. It's part of the interpretive challenge we face with an animal that can't fill out a questionnaire."
A 2001 survey conducted by the American Pet Products Manufacturers Association showed that 94 percent of those surveyed indicated that companionship, love, and company are the top benefits of owning a dog.
Studies also show that animals can affect human emotions and well-being. For example, a yearlong study done in 1999 looked at the influence of companion animals on the physical and psychological health of older people. Published in the Journal of the American Geriatrics Society, it indicated increased mental and physical well-being in seniors who had pets. Pets were seen as a coping mechanism for stress, the study found, helping owners maintain physical movement.
This year, WalletHub compared the creature-friendliness of the 100 largest U.S. cities across 16 key metrics, citing Las Vegas as No. 7. It also ranked fifth for most dog parks per capita.
As for Kreckman, she said the rescue animals provide her with unconditional love and more happy moments in her day than she can count.
"When I was sick and couldn't get out of bed," said Kreckman, "they don't care how ugly you look or even if you're smelly."
— To reach Summerlin Area View reporter Jan Hogan, email jhogan@viewnews.com or call 702-387-2949