Island Pacific market offers Filipino goods, fresh fish and specialty items in southwest Las Vegas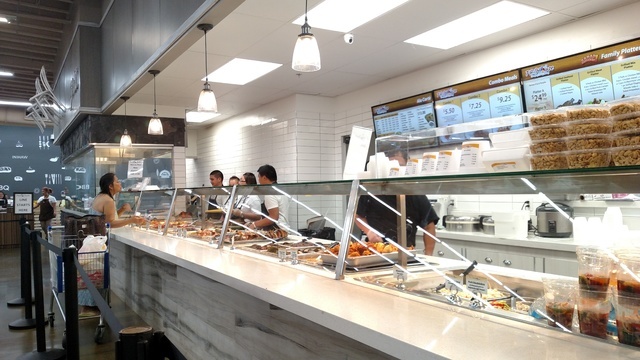 Niño Jeff Lim wanted to bring competition to the Filipino goods market in Las Vegas, so he opened his own store, Island Pacific Supermarket, at 8650 W. Tropicana Ave.
The 39-year-old president and CEO of Island Pacific brought the 18th location of the California-based store to southwest Las Vegas to serve the growing Filipino community here.
"It just made sense for us to go introduce competition in Las Vegas," Lim said. "I just didn't think it was right that there are several thousand Filipino families, but there's one Filipino market."
In early May, Island Pacific had a soft opening. Since then, store manager Robert Gamboa said he's seen steady streams of customers.
"It's quite busy compared with other branches," he said. "This is the most modern Island Pacific we have so far."
Inside the store, a bakery and restaurant serve Filipino specialties. At Philhouse restaurant, customers can pick from grilled seafood, barbecue chicken, and even order a halo-halo — a smoothie-like drink with crushed ice and mixed fruit — to go with it.
With 160 employees at the store, it serves an average of 1,200 customers a day. Gamboa said the only complaint from customers so far has been that the store is too small.
"We're really doing our best to maintain our sales on the same level," he said.
Lim started the company in 2000 with the goal of creating a one-stop shop for Filipino food. He said he's had his eye on the Las Vegas market for a while because of the presence of the Filipino community. He wanted to introduce another source for Filipino goods to Las Vegas, where he's seen the Filipino community grow over the years. And the store's traffic shows it.
"The numbers are great; it's more than double our projection," Lim said.
Sal Mendoza, Community Reinvestment Act officer of City National Bank, approved Lim's community development loan for the store.
In order for a company to receive the loan, it has to show a contribution to the community, including creating and maintaining jobs. Lim's supermarket did just that, Mendoza said.
"It's a nice supermarket. It's in tune with the Filipino community," Mendoza said. "Their sales have exceeded projections."
On a recent Wednesday morning, Christie Stull stood in line at the restaurant, ordering her favorite Filipino foods. "It reminds me so much of home," she said.
Ever since the store opened, Stull said she's shopped at the supermarket once a week to fulfill her "Filipino needs." She said the convenience of the store keeps her coming back.
"This is really good food, almost like homemade," she said, adding that Filipino food can take a while to prepare, so it's easier to drive to the market, which is 1½ miles from her house, and buy premade food.
In the seafood aisle, customers can choose from live blue crabs to jumbo white shrimp.
The store, which is open from 7 a.m. to 10 p.m. daily, has about 5,000 items, including groceries, bakery goods and the restaurant. About 90 percent of the customer base is Filipino, Gamboa said.
On the weekends, Gamboa said the line to pick up food at the take-out style restaurant can stretch down to the checkout stations.
The most popular item in the bakery is hot pandesal, a doughy bread, best served with coffee. It sells for $3.50 a dozen.
Lim is looking to expand the company's presence in Las Vegas. He said the next potential store could be at 467 E. Silverado Ranch Blvd., once paperwork is filled out.
"We went in there knowing that it would be successful," he said. "There's definitely more to come."
Visit islandpacificmarket.com.
Contact View intern reporter Melissa Gomez at mgomez@reviewjournal.com or 702-383-0278. Follow her on Twitter: @melissagomez004.
Island Pacific Supermarket
Address: 8650 W. Tropicana Ave.
Hours: 7 a.m. to 10 p.m. daily
Information: Visit islandpacificmarket.com.