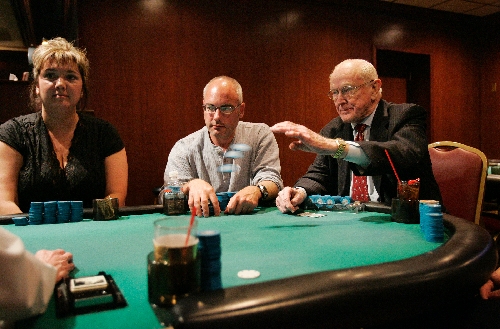 The Jackie Gaughan Plaza outside the El Cortez, 600 Fremont St., is only a year old, but its namesake has been a staple in the Las Vegas gaming industry for much longer.
John D. "Jackie" Gaughan, 91, is considered by many people a Las Vegas gaming pioneer, especially to Alex Epstein, El Cortez executive manager, who has known the legendary casino operator since she was a young girl.
"He instituted gaming and offered a good gamble, good food and good drink," Epstein said. "That's what his legacy is, and it's a legacy that lives on in a lot of properties (downtown)."
Gaughan purchased the El Cortez in 1963. He ran the hotel's operations until 2008, when he sold his remaining stake. Epstein's father, Kenny Epstein, took over the El Cortez in 2009. Gaughan continues to live at the El Cortez and can be seen playing poker and dining with customers in the hotel daily.
"I think his accessibility is something that is not always found," Epstein said. "It's common for people to ask for pictures with him in the elevator. He's really loved and adored here."
Gaughan's involvement in Las Vegas dates to World War II, when he was stationed at Las Vegas Air Force Base. After graduating from Creighton University and serving in the military, the Nebraska native moved his family to Las Vegas in the 1950s. It was then that he began investing in casinos, purchasing a 3 percent stake in the Boulder Club. He bought the Las Vegas Club in 1961, the Western in 1970 and the Gold Spike in 1985, in addition to the El Cortez.
Gaughan was a partner in the opening of the Union Plaza in 1971, which was renamed Jackie Gaughan's Plaza in the 1990s, and invested in the Golden Nugget, the Royal Inn, the Flamingo and the Showboat, among others. His son, Michael Gaughan, 68, followed in his footsteps, working as owner of the El Cortez in 1965 and opening the Royal Inn in 1972. He owns the South Point and the McCarran International Airport slot concession.
Gaughan's casino industry investments extend beyond his family. Epstein said Gaughan served as a mentor to Steve Wynn and to Mike Nolan, El Cortez general manager.
"I started with Jackie right when I turned 21," Nolan said. "He put me in the cage on the graveyard shift … and at 6 (a.m.), we would walk every casino. He was the only owner in Vegas who really knew slots, and it was just an amazing experience being around Jackie."
Nolan first met Gaughan as a teenager when the casino owner served on the Eagle Scout Board of Review. Working with Eagle Scouts was one of several ways in which Gaughan devoted time to the community. He founded the Boys & Girls Clubs of Las Vegas in 2002 — renamed the John D. "Jackie" Gaughan Boys & Girls Club in 2003 — on the University of Nevada, Las Vegas campus. He was recognized as Bishop Gorman High School's first Knight of the Gael in 1983 and supports several UNLV organizations. Gaughan also served as the Las Vegas Chamber of Commerce president and director of the Convention and Visitors Authority, among other positions.
Nolan said Gaughan is known not only for his philanthropy in the community but also for lending a helping hand to hotel guests.
"Jackie's car always smelled like gas because he carried gas cans and jumper cables in his car," Nolan said. "He never kicked anyone out of the hotel unless they wanted to leave. No one could say they got the short end of the stick with Jackie. It's always about the community with him."
Epstein said because of Gaughan's involvement with the El Cortez, downtown and the community, naming the plaza for him was a no-brainer.
"When he was turning 90 years old, we thought it was perfect to name (the plaza) after him," Epstein said. "It's really becoming a centerpiece downtown."
Epstein said the Jackie Gaughan Plaza has been home to events such as the monthly Vegas StrEATS Festival, Project Dinner Table, the Neon Museum's Boneyard Bash, Las Vegas Mayor Carolyn Goodman and Oscar Goodman's 40th anniversary party and various private events. Epstein said that with thousands of people visiting the plaza each month, it has exposed people to the growth downtown.
Epstein hopes that whoever visits the Jackie Gaughan Plaza might get a taste of the story behind the man who played a large role in one of Las Vegas' oldest hotels.
"He had such an impact on not only the gaming industry but on the staffing and creating gaming careers at the El Cortez," Epstein said. "He's a friend to his customers and has made quite on impact on many people's lives."
Contact Paradise/Downtown View reporter Lisa Carter at lcarter@viewnews.com or 383-4686.