Joint recruitment effort aims for elite firefighter candidates
October 6, 2014 - 10:30 am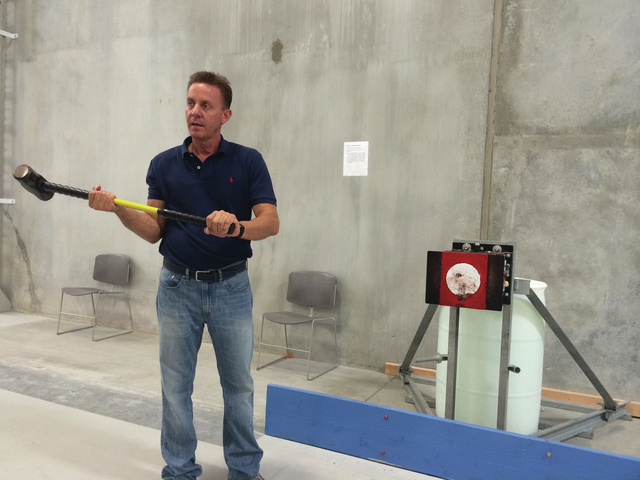 Applying to become a fireman in the valley became a little simpler this year, but the window for applying is closing soon.
In an effort to reduce costs and streamline the hiring process, six local governments have launched an inter-agency regional recruitment drive for residents interested in becoming firefighters. The regional recruitment drive includes Las Vegas Fire & Rescue and the Clark County, North Las Vegas, Henderson, Boulder City and Pahrump fire departments.
"The Las Vegas Valley is nationally recognized as being among the best when it comes to emergency response and fire services, and this new process will allow us to continue to find top recruits," said Fire & Rescue Chief William McDonald. "Working together we can streamline processes and make better use of tax dollars."
Previously, each entity recruited separately and may do so again if the experiment proves unwieldy. This means prospective firefighters can take tests once, and the departments will hire from the best of the candidates, based on the test results and the applicants' preference for employment location.
Applications are set to be accepted only online at snvfirerecruitment.com from Oct. 27 to Nov. 26. The city of Las Vegas is hosting the website and will forward applications to partnering agencies. The website includes information about the written exam and the Candidate Physical Ability Test.
"If you plan on being a part of this brother and sisterhood, you'd better get ready mentally and physically now," said Cedric Williams, public information/community liaison officer for the North Las Vegas Fire Department. "I think the CPAT is a good start, but if you're not prepared to run the stairs of the Stratosphere 10 times, if you're not prepared to commit to the service and the process, this may not be for you."
CPAT includes typical firefighting activities, including carrying equipment, dragging hoses, ladder raising, forced entry techniques, ceiling breaching and a rescue drag, in which a dummy is pulled. Williams said he wasn't joking about the Stratosphere. Firefighters train by climbing the 1,455 steps in the facility.
"Becoming a firefighter is a highly competitive process," said county Fire Chief Bertral Washington. "This is an exciting initiative because it saves time, taxpayer money and is expected to result in a large, diverse group of strong candidates to choose from when our department has openings."
Each entity has different criteria, needs and hiring times. When in hiring mode for firefighters, the departments will look to the applications received during the recruitment effort.
Outreach sessions are scheduled to provide information to interested applicants. The events are planned for:
— 6-8 p.m. Oct. 8 at the Las Vegas City Hall Council Chambers, 495 S. Main St.
— 6-8 p.m. Oct. 21 at North Las Vegas City Hall, 2250 Las Vegas Blvd. North.
— 2:30-4:30 p.m. Oct. 17 at the West Flamingo Senior Center, 6255 W. Flamingo Road.
— 2-4 p.m. Oct 29 at the Sunset Park office conference room, 2601 E. Sunset Road.
— 2-4 p.m. Nov. 7 at the Mountain Crest Community Center, 4701 N. Durango Drive.
— 2-4 p.m. Nov. 12 at the Robert E. "Bob" Price Recreation Center, 2050 Bonnie Lane.
Topics at the sessions will include recruitment dates, the application process, employment requirements, the testing process, test-taking tips and available positions.
At a recent outreach session, representatives from the valley fire departments spoke of their experiences and the camaraderie and satisfaction the job provides.Williams added that it was a great job but not an easy one.
"Being good isn't good enough," Williams said. "You have to be amazing. It's that kind of job."
Contact East Valley View reporter F. Andrew Taylor at ataylor@viewnews.com or 702-380-4532.