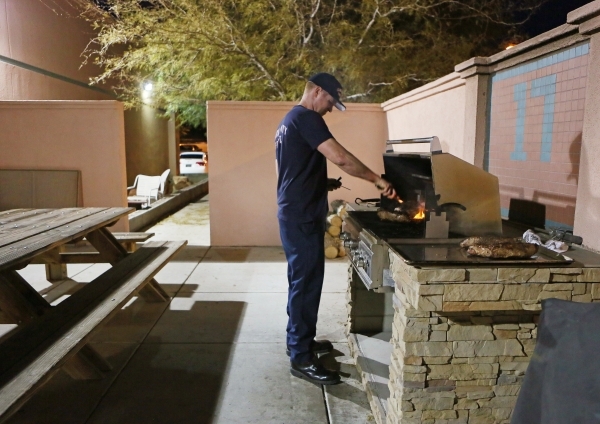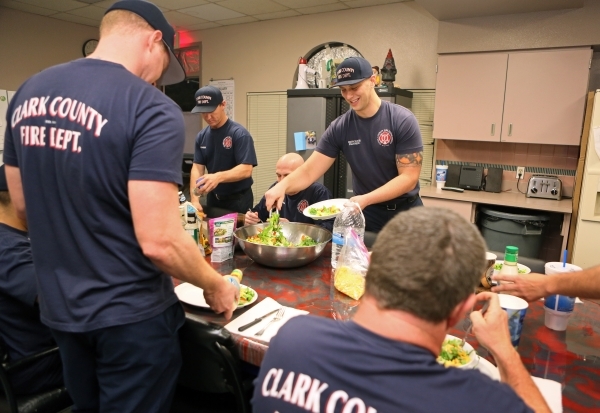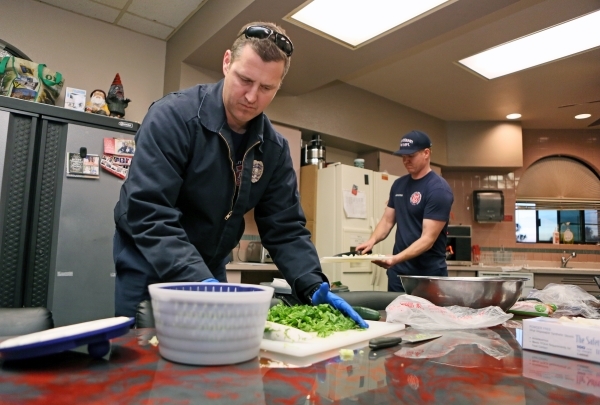 In between the equipment maintenance, training and, of course, dropping everything to rush out and put out a fire, Clark County Firefighters have another job: Cooking healthy meals for a dozen or so of their coworkers.
"Everyone rotates on and off," said Capt. Steven Petcoff of Station 17, 575 E. Flamingo Road. "There are, of course, some crews whose cooking you really look forward to, but mostly everyone here is a pretty good cook."
The crews are scheduled for a 24-hour day, and at Station 17, that means three meals prepared daily.
"It's breakfast, lunch and dinner," said firefighter Frank Marin, who was on the cooking crew that day. "I like making chile verde or chilaquiles. Today, we're preparing half chicken and vegetables for dinner. We try to make a lot of different things and eat pretty healthy here."
Marin doesn't do much cooking at home, but before he was hired, a friend who was already working as a firefighter let him know that cooking was part of the job, so he learned a few reliable recipes before he came on.
"We pay for our own food," said firefighter and paramedic Chris Cornell. "It's a little different at each station. Here, everyone chips in $15 a day for food. There are other crews that do $20."
Crew members go grocery shopping nearly every day. They don't plan the meals days in advance in case they need to make an adjustment to the menu because of someone's food allergy or other concerns.
"If you can imagine it, we've probably made it at some time," Petcoff said. "What we cook depends on what we find at the store and what's on sale and what looks good."
Cooking and eating together not only keeps the crews on hand at the station, it enhances camaraderie.
"We all sit down together and talk about our day and the work," Marin said. "That's probably just as important as anything as far as mealtime goes."
There are times when the crew members on cooking duty need to go out on a call, and another crew will pick up where they left off. There are other times when everyone has to go on a call, and all they can do is turn off the stove and hope they can get back to cooking.
Does that happen a lot?
"Probably most of the time," Petcoff said.
— To reach East Valley View reporter F. Andrew Taylor, email ataylor@viewnews.com or call 702-380-4532.