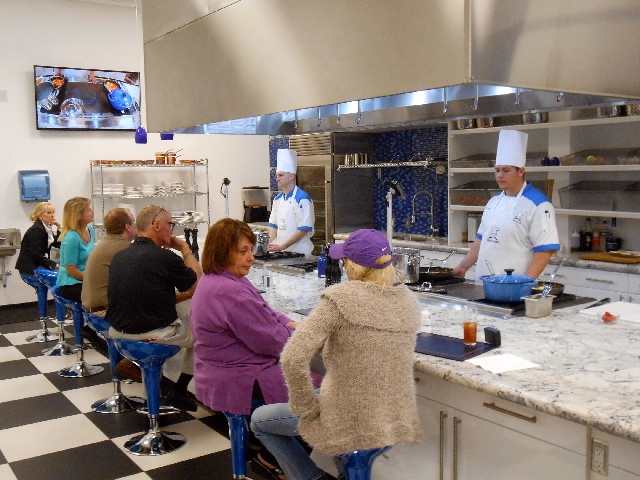 For any foodie who has ever dreamed of baking in a $2,000 oven or cooking in a $600 pan, the newly opened Cooking Experience by Mise En Place offers the chance to cook like a pro.
The $800,000 kitchen, which opened March 1 at 9500 S. Eastern Ave., Suite 170, offers classes ranging from demonstrations to instructional sessions.
"I've always enjoyed cooking," owner Marcus Fortunato said. "It's a hobby that became a business. I thought if I'm going to do it, I'd better do it right. The customers can see that."
Fortunato, a designer and programmer for local gaming companies, said he planned the Cooking Experience for three years. For three months before opening, he and his crew trained in the new kitchen, tested recipes and gathered ingredients locally. The ingredients, Fortunato said, are the key to the classroom experience.
"If we started a class by saying, 'We had this lobster flown in from Maine this morning,' people wouldn't be able to re-create that dish at home," he said. "All our ingredients are purchased in Las Vegas."
That approach is even carried over to the wine pairings.
"We choose wine that is $30 or less," he said. "I want people to go home and understand that a $19 bottle of wine, when paired well, can be phenomenal."
Classes range from $25 to $100 per person and are offered Thursdays through Sundays. Each class features a different theme or genre. The more popular classes, such as the Italian lunch demonstration, is repeated only once a month. The course offerings also include children's classes.
Chef and instructor Cody Hinckley, who previously worked at Charlie Palmer Steak Bar at the Four Seasons, said teaching has been a nice change of pace from back-of-the-house life at a restaurant.
"It's like night and day," he said. "I love it. I'm always finding ways to relate to the students, making it fun for them. You have to put a little style in it."
Hinckley compared it to a live version of the Food Network. The kitchen is dotted with cameras that display an up-close view of the action on large television screens.
"The word 'experience' really describes our classes perfectly," Fortunato said. "Instead of just instruction, people can see the food, smell the food. They can touch, feel and use what may not normally be accessible."
Classes were designed for students of all skill levels. Chef and instructor Dave Lachowski said veteran food enthusiasts can venture away from the "everyday menu."
"We want to get people to try new things and get past preconceived notions," he said. "During one of our first classes, we cooked escargot. I thought there would be at least one or two people that wouldn't try it, but everyone loved it."
Despite the adventurous ingredients, the chefs said the techniques are what count.
"We don't teach recipes. We teach techniques," Fortunato said. "If you don't like quail, it's still a bird. The same technique used to cook quail can be applied to chicken."
Fortunato, who spent years in Parisian culinary schools as a vacation, said the business is "really just a hobby."
"Making money is not my priority," he said. "Just seeing the classes full of students excited about what they're learning is rewarding enough."
For more information, call 702-754-4400 or visit miseenplacenv.com.
Contact Paradise/Downtown View reporter Nolan Lister at nlister@viewnews.com or 702-383-0492.