Las Vegas Book Briefs for April 17-23, 2014
April 16, 2014 - 10:56 am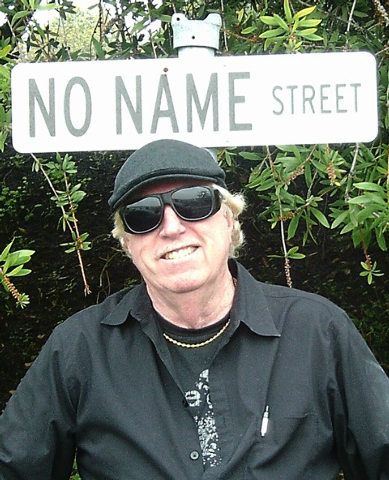 WHITNEY LIBRARY TO WELCOME PERFORMANCE POET LEE MALLORY
Performance poet Lee Mallory is scheduled to read, discuss the challenges of creativity and sign copies of his book "Now and Then" at 6:30 p.m. April 22 at the Whitney Library, 5175 E. Tropicana Ave. The event is for mature audiences. For more information, visit lvccld.org.
ELIAS GHANEM CHAIR IN CREATIVE WRITING TO SPEAK AT UNLV APRIL 17
Robert Coover, author of the William Faulkner First Novel Award-winning "The Origin of the Brunists," is scheduled to speak at 7 p.m. April 17 in the Greenspun Hall Auditorium at UNLV, 4505 S. Maryland Parkway. As the 2014 Elias Ghanem Chair in Creative Writing, Coover is planning to work closely with graduate students in the UNLV Creative Writing Program. For more information, visit blackmountaininstitute.org.
READ SERIES TO FEATURE SYLVIA HOLMAN
Readers can meet Sylvia Holman, author of the memoir "Being Black, Looking White…My World," from 2:30 to 4:30 p.m. April 23 in the lobby of the Paseo Verde Library, 280 S. Green Valley Parkway, as part of the READ Local Author Series. For more information, visit mypubliclibrary.org.
SPEED DATE A BOOK AT TEEN LIBRARY EVENT
Readers 12 to 17 can share a recent read at a Book Speed Dating event set from 4 to 5 p.m. April 24 at the Gibson Library, 100 W. Lake Mead Parkway. For more information, visit mypubliclibrary.org.
AUTHOR TO DISCUSS BOXING BOOK AT MOB MUSEUM
Author Richard O. Davies is scheduled to discuss his book "The Main Event: Boxing in Nevada From the Mining Camps to the Las Vegas Strip" at 1 p.m. April 26 in the courtroom at the National Museum of Organized Crime & Law Enforcement, The Mob Museum, 300 Stewart Ave. The event is free to museum members or with paid museum admission. For more information, visit themobmuseum.org.
SIGNING SET FOR 'LA BELLA MAFIA'
Bella Capo and Morgan St. James are set to sign copies of "La Bella Mafia," Capo's memoir of her life wrapped up in the world of organized crime, at noon April 26 at the 567 N. Stephanie St. Barnes & Noble. Barnes & Noble is slated to make donations to S.A.F.E House, a Henderson-based shelter for victims of domestic violence, for everything sold in the store April 26 and 27 when the code Book Fair is mentioned at the checkout. Support will also be given online when customers enter the code 11342565. UNITED WAY PLANS FLIP THROUGH SUMMER BOOK DRIVE
The United Way of Southern Nevada plans a Flip Through Summer Book Drive. Donors can host school or workplace drives and drop books off at the United Way office, 5830 W. Flamingo Road. The drive is slated to culminate with a Flip Through Summer Book Swap scheduled from 9 a.m. to noon May 31 at Lorenzi Park. To volunteer for the event, visit uwsn.org/volunteer.
'ZODACCIA' AUTHOR TO SIGN BOOKS
Justin Hill, local author of "Zodaccia Realms of Chaos," is slated to sign books at 1 p.m. April 26 at the 2191 N. Rainbow Blvd. Barnes & Noble.
UNLV PROFESSOR'S VERSE DRAMA TO DEBUT
A debut performance of "O, Heart," a verse drama by local poet Claudia Keelan, is scheduled for 7 p.m. April 24 in the UNLV Student Union Theatre, 4505 S. Maryland Parkway. Keelan, whose books include "Refinery" and "Utopic," is a creative writing and English professor at UNLV and the editor of Interim magazine.
For more information, visit blackmountaininstitute.org.
MEMOIR-WRITING WORKSHOPS SLATED
An ongoing series of free four-week memoir-writing workshops is scheduled at noon Wednesdays and at 10 a.m. Fridays at the Las Vegas FamilySearch Library, 509 S. Ninth St. Four-week sessions are set to begin the first week of every month.
For more information, call 702-382-9695.
DISTRICT LAUNCHES CARD CAMPAIGN
The Las Vegas-Clark County Library District plans to team with Shark Reef Aquarium to encourage library card signings during a campaign scheduled April 1-30. Patrons who sign up for a card or like the library on Facebook will be entered for a chance to win four tickets to the reef's Animal Encounters, where they can feed aquatic animals behind the scenes. Library card holders can also get $3 off adult admission and $2 off children's admission to Shark Reef during the campaign. For more information, visit lvccld.org.
MATCHED TRILOGY AUTHOR SIGNING SLATED
Ally Condie is scheduled to sign the second book in her Matched Trilogy, "Crossed," at 7 p.m. May 2 at the 2191 N. Rainbow Blvd. Barnes & Noble.
SAVE A DIFFERENT DATE FOR VEGAS VALLEY BOOK FESTIVAL
Readers accustomed to attending the Vegas Valley Book Festival the first weekend in November won't have to wait as long this year. This year's main festival and the Vegas Valley Children's Book Festival are slated for Oct. 16-18. For more information on the festival or to apply to be a volunteer or visiting author, visit vegasvalleybookfestival.org. Festival organizers are slated to collect author submission forms through April 15.
The Vegas Valley Comic Book Festival (vegasvalleycomicbookfestival.org) is scheduled to remain on the first weekend in November at the Clark County Library.
SHOWGIRL-TURNED-AUTHOR TO SIGN NEW BOOK
Local showgirl-turned-author Vicki Pettersson is scheduled to sign book three in her Celestial Blues series, "The Given," at 7 p.m. May 27 at the 2191 N. Rainbow Blvd. Barnes & Noble.
BARNES & NOBLE TO HOST WRITING GROUP
The 2191 N. Rainbow Blvd. Barnes & Noble hosts a writing critique group at 5:15 p.m. the fourth Monday of each month. The group is limited to the first 20 participants per meeting. Sign up at meetup.com/las-vegas-creative-writing-class.
ALIANTE LIBRARY TO HOST WRITERS CLUB
The Aliante Library Writers Club is scheduled to meet from 5:30 to 7:30 p.m. the first Tuesday of each month at the Aliante Library, 2400 W. Deer Springs Road. For more information, contact facilitator Glory Wade at glorywadewriter@gmail.com.
SHARE POEMS AT HUMAN EXPERIENCE
Polish up a poem or two and try them out at Human Experience, a free spoken word event, from 7 to 9 p.m. Mondays in The Beat Coffeehouse inside Emergency Arts, 520 Fremont St. For more information, visit lasvegaspoets.org.
ART CENTER HOSTS POETS CORNER
The West Las Vegas Arts Center, 947 W. Lake Mead Blvd., hosts poets corner readings with Keith Brantley at 7 p.m. the first and third Friday of each month. For more information, contact the center at 702-229-4800.
FREE READ TO ME PROGRAM OFFERED
Celebrity storytellers Oscar Goodman, Rita Rudner, Clint Holmes, Terry Fator, Carrot Top, The Scintas and others have donated their talents to the Clark County Education Association Community Foundation's Read To Me program. Children can view more than 15 videos of celebrities reading books on the website at readtomelv.com. Stories also can be accessed by calling 702-240-2665. Both databases are frequently updated with fresh stories. Parents and teachers can download lesson plans for each book on the website.
DOWNLOAD BOOKS AND MORE FROM YOUR PUBLIC LIBRARY
Virtual Branch websites make it easy to browse, check out and download digital books and more to a home computer for free. All patrons need is a valid library card and an Internet-connected PC. Virtual Branch download websites feature a digital catalog of downloadable audio books, e-books, music and video titles. Each site is meant to look and feel like the library's main site, and it has many easy-to-use features similar to an online store. Digital book downloads are borrowed just like print materials. Once patrons select the title or author they want, they follow the steps to check out and then download the title to their home computer. Patrons can transfer most titles to portable media players, such as MP3 players, PDAs, Kindles or smart phones. Each title that is downloaded has a designated lending period. When the title expires, it is automatically returned to the Virtual Branch, so there are no late fees. For more information, visit search.overdrive.com.
ZINE LIBRARY OPEN IN EMERGENCY ARTS
Grab a cup of coffee and check out the independently crafted magazines at the Las Vegas Zine Library inside The Beat Coffeehouse in Emergency Arts, 520 Fremont St. The library is more of a collection on display for reference and on-site reading than a checkout repository. Contributions of zines are appreciated. For more information, visit lvzinelibrary.blogspot.com.
HENDERSON WRITERS GROUP MEETINGS SET
The Henderson Writers Group meets from 6:30 to 8:45 p.m. Mondays in room C-2 at Community Lutheran Church, 3720 E. Tropicana Ave. Meetings are typically canceled on holidays. For more information, visit hendersonwritersgroup.
FREE STORYCORPS TOOLKIT HELPS COLLECT MEMORIES
The national StoryCorps' Memory Loss Initiative encourages people with memory loss to share their stories with loved ones and future generations. To make that task easier, a free step-by-step toolkit is available to download at storycorps.org/mli. The Commemorate toolkit offers an individual reminiscence program that family members can initiate or memory loss care facilities can add to activities. The initiative has collected more than 1,800 interviews with 180 partner organizations. For more information, visit storycorps.org or call 646-723-7027.
ACCESS RECORDED BOOK PROGRAMS ONLINE
Too busy to get out to book programs? The Las Vegas-Clark County Library District has started posting videos and podcasts of many of its programs online. Selections available include: "An Afternoon with Tony Curtis," John L. Smith's presentation "Amelia's Long Journey: The Challenge of Writing What You Know," "Batman" movie producer Michael Uslan's presentation at the 2009 Vegas Valley Comic Book Festival, Jami Carpenter's "ABCs of Editing" workshop and Brian Rouff's "Getting Published: A Long Strange Trip." To access the programs, visit lvccld.org, select "Books, Movies & More" and then "Video and Podcasts."
The Black Mountain Institute has offered recordings of its programming since 2006. To access recordings of a gamut of writers from E.L. Doctorow to Alissa Nutting, visit blackmountaininstitute.org and select "multimedia."
Share book news
To list your Las Vegas Valley literary event in View's book briefs, email details to Ginger Meurer at gmeurer@viewnews.com.