Las Vegas book briefs for July 11-15, 2015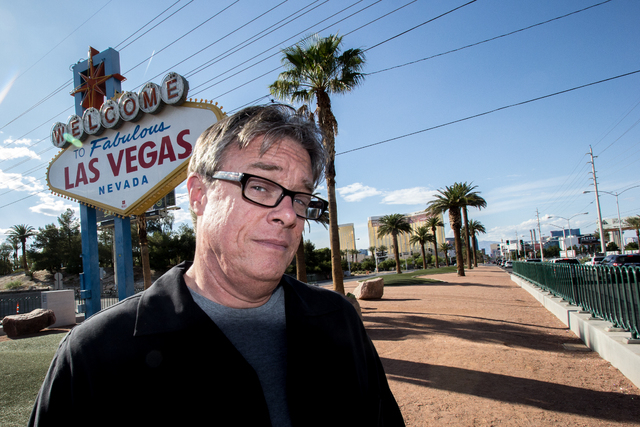 LOCAL AUTHOR TO SIGN BABY NAMES BOOK
Kendra Shaw is set to sign her book "The Bizarre Baby Name Book" from 1 to 3 p.m. July 11 at BooksorBooks, 3460 E. Sunset Road, Suite R.
SIGNING SET FOR SUNDAY ROSE SERIES
R. Jay Berry is slated to sign her Sunday Rose Series books, inspired by events in her grandmother's life, at 1 p.m. July 11 at the 2191 N. Rainbow Blvd. Barnes & Noble.
SIGNING PLANNED FOR DOCTOR'S FIRST BOOK
Desert Author Series — An Afternoon with Dr. Donald Ozello is set for 2:30 p.m. July 12 at the Sahara West Library, 9600 W. Sahara Ave. The local author is set to share his first book, "Running: Maximize Performance and Minimize Injuries," designed to teach athletes strategies to prevent and manage common running injuries. Following the presentation, a meet and greet with books available for purchase is planned. The event is free. Call 702-507-3631.
'GANGSTER SQUAD' AUTHOR TO VISIT
Paul Lieberman, journalist and author of the book "Gangster Squad" is set to speak at 7 p.m. July 14 at The Mob Museum, 300 Stewart Ave. The presentation is free with paid admission. For more information, visit themobmuseum.org.
WRITE YOUR NOVEL NOW SERIES SLATED
Author Sean Hoade plans a free "Write YOUR Novel Now!" series of three seminars at the Green Valley Library, 2797 N. Green Valley Parkway
. July 11, he plans to lead a novel planning session, July 18 a scene by scene discussion, and July 25 he plans to talk about dialogue. All sessions are slated for 3:30 p.m. For more information, visit mypubliclibrary.org or seanhoade.com.
C.L. GABER TO SPEAK TO WRITERS GROUP
C.L. Gaber, local author of "Ascenders" and co-author of the Jex Malone series, is scheduled to speak about how to create a new world for fictional work during a meeting of the Las Vegas Writers Group scheduled for 7 p.m. July 16 at the Tap House, 5589 W. Charleston Blvd. A $5 meeting fee is charged. Visit meetup.com/las-vegas-writers.
CLARK COUNTY POET LAUREATE TO HOST WORKSHOPS
Clark County's new poet laureate, Bruce Isaacson, plans to conduct a series of three free workshops on the subject of beatnik poetics at 2 p.m. July 18, Aug. 15 and Sept. 12 at the Winchester Cultural Center, 3130 McLeod Drive. Registration is required at poetlaureateclarkcounty@cox.net.
Isaacson studied under Allen Ginsberg and knew other beat poets, such as Gregory Corso and Diane di Prima.
The first workshop is set to focus on precursors to the beats, starting with the Bible, French poets, Walt Whitman and others.
Isaacson also plans to lead a series of open readings at the center at 6:30 p.m. Fridays, except for the third Friday.
For more information, visit clarkcountdnv.gov.
ROMANCE WRITERS TO WELCOME VICKI-ANN BUSH
A meeting of the Las Vegas Romance Writers is scheduled from 10 a.m. to noon July 18 at the Green Valley Library, 2797 N. Green Valley Parkway. The event is set to feature a presentation on crossing over from one genre to another by local author Vicki-Ann Bush. Visit lvrwa.org.
'BACK IN TWO WEEKS' AUTHOR PLANS SIGNING
JG Debs plans to sign copies of her memoir "Back in Two Weeks" from 1 to 3 p.m. July 19 at BooksorBooks, 3460 E. Sunset Road, Suite R. For more information, visit booksorbooks.com.
STORE TO OFFER FREE MEMOIR WRITING WORKSHOP
"Confessions of a Do-Gooder Gone Bad" author Ann K. Howley plans to conduct a free memoir writing workshop at 1 p.m. July 19 at the 2191 N. Rainbow Blvd. Barnes & Noble.
CRYSTAL BOOKMARK AWARD NOMINATIONS REQUESTED
The public is invited to submit nominates for the 2015 Vegas Valley Book Festival Crystal Bookmark Awards through 5 p.m. Sept. 24. The annual awards honor a Southern Nevada individual and an organization for advancing the cause of literature in the Las Vegas Valley. Nominations can be submitted online at http://vegasvalleybookfestival.org/crystal-bookmark-nomination-form/ or forms may be requested by phone at 702-229-5902.
MOVIEMAKER 'WILD BILL' WELLMAN'S SON TO READ FROM BOOK
A reading and book signing with William Wellman Jr., author of "Wild Bill Wellman: Hollywood Rebel," is scheduled from 7 to 8:30 p.m. July 24 at The Writer's Block, 1020 Fremont St, No. 100. The biography focuses on Wellman, a director whose 82 movies, included "Wings," winner of the first Academy Award for best picture. Written by his son, the book draws on Wellman's unpublished letters, diaries and unfinished memoir. For more on the book, visit williamwellmanjr.com.
POETRY TO BE FEATURED AT 5/5+
Poets are invited to share original work for five minutes followed by attendees offering comments for five minutes during 5/5+, a workshop series put on by Nick Marco, Lana Hanson and Lee Mallory, scheduled every two weeks at BooksorBooks, 3460 E. Sunset Road, Suite R. The next session is planned from 3 to 5 p.m. July 18. Call 702-754-5971, email jtjmarco@live.com, raisewomenup@gmail.com or leewmallory3@gmail.com or search for 5/5+ on Facebook.
SUMMER READING PROGRAMS OFFERED
Summer reading programs are underway in libraries across the valley. For details on Las Vegas-Clark County Library District programs, visit lvccld.org. For more on Henderson Libraries, visit mypubliclibrary.com. Visit nlvld.org.
LEE MALLORY HEADS UP SEVENS LIVE!
Poet Lee Mallory plans to present Sevens Live!, a new poetry, music and comedy showcase, from 7 to 9 p.m. Mondays inside the Cantina at the Silver Sevens, 4100 Paradise Road. Admission is free with a one-drink minimum. Call 702-733-7300.
SHARE POEMS AT HUMAN EXPERIENCE
Polish up a poem or two and try them out at Human Experience, a free spoken word event scheduled from 7 to 11:30 p.m. Mondays at The Center, 401 S. Maryland Parkway. Participants 18 or older are welcome. Visit facebook.com/humanexperiencelasvegas.
ALIANTE LIBRARY TO HOST WRITERS CLUB
The Aliante Library Writers Club is scheduled to meet from 5:30 to 7:30 p.m. the first and third Tuesday of each month at the Aliante Library, 2400 W. Deer Springs Way. Email facilitator Glory Wade at glorywadewriter@gmail.com.
ARTS CENTER TO HOST POETS CORNER
The West Las Vegas Arts Center, 947 W. Lake Mead Blvd., plans to host poets corner readings with Keith Brantley at 7 p.m. the first and third Friday of each month. Call 702-229-4800.
SCIENCE FICTION AND FANTASY GROUP UNDERWAY IN LIBRARY
Readers, writers and editors of science fiction and fantasy are invited to check out a new group scheduled to meet at 2 p.m. Saturdays in meeting room two at the Green Valley Library, 2797 N. Green Valley Parkway. Call 702-334-0204.
UNLV WRITERS WELCOME ALL TO NEON LIT
Neon Lit, a public reading featuring writers from UNLV's Master of Fine Arts and Ph.D. writing programs, is scheduled the fourth Friday of most months at The Writer's Block, 1020 Fremont St., No. 100. Visit neonlit.org.
BARNES & NOBLE TO HOST WRITING GROUP
The 2191 N. Rainbow Blvd. Barnes & Noble plans to host a writing critique group at 5:15 p.m. the fourth Monday of each month. The group is limited to the first 20 participants per meeting. Sign up at meetup.com/las-vegas-creative-writing-class.
HENDERSON WRITERS GROUP MEETINGS SET
The Henderson Writers Group plans to meet from 6:30 to 8:45 p.m. Mondays in Room C-2 at Community Lutheran Church, 3720 E. Tropicana Ave. Meetings are typically canceled on holidays. Visit hendersonwritersgroup.
MEMOIR-WRITING WORKSHOPS SLATED
An ongoing series of free four-week memoir-writing workshops is scheduled at noon Wednesdays and 10 a.m. Fridays at the Las Vegas FamilySearch Library, 509 S. Ninth St. Four-week sessions are set to begin the first week of every month. Call 702-382-9695.
VEGAS VALLEY BOOK FESTIVAL ANNOUNCES KEYNOTES
Brad Meltzer and Colum McCann have been selected to be keynote speakers for this year's Vegas Valley Book Festival, Oct. 15-17.
Meltzer, author of "The Inner Circle," "The Book of Fate" and seven other best-selling thrillers, is set to open the festival Oct. 7 at the Clark County Library, 1401 E. Flamingo Road.
McCann is the author of two story collections and six novels, including the National Book Award-winning "Let the Great World Spin."
Other festival events are set to include vendor booths, panel discussions, readings and workshops for adults, teens and children. All events are free. Volunteers are needed. For more information, visit vegasvalleybookfestival.org.
ACCESS RECORDED BOOK PROGRAMS ONLINE
Too busy to get out to book programs? The Las Vegas-Clark County Library District posts videos and podcasts of many of its programs online. Selections available include: "An Afternoon with Tony Curtis," John L. Smith's presentation "Amelia's Long Journey: The Challenge of Writing What You Know," "Batman" movie producer Michael Uslan's presentation at the 2009 Vegas Valley Comic Book Festival, Jami Carpenter's "ABCs of Editing" workshop and Brian Rouff's "Getting Published: A Long Strange Trip." To access the programs, visit lvccld.org, select "Books, Movies & More" and then "Video and Podcasts."
The Black Mountain Institute has offered recordings of its programming since 2006. To access recordings of a gamut of writers from E.L. Doctorow to Alissa Nutting, visit blackmountaininstitute.org and select "multimedia."
LIBRARY CAN BENEFIT FROM AMAZON PURCHASES
At no cost to participants, purchases made at amazon.com can help the Las Vegas-Clark County Library District. The district benefits not only when customers buy books but also movies, CDs, electronics, appliances and more. To start, visit wowbrary.org/lasvegas, and the online retailer will donate roughly 7.5 percent of your purchases to the district.
Email ask@lvccld.org or call the Virtual Library section at 702-507-6300.
CLARK COUNTY NAMES FIRST POET LAUREATE
The Clark County Commission named Bruce Isaacson as the first Clark County poet laureate. His term started June 1 and is set to last two years. A committee of poets and writers also selected Jessica "Jes Flo" Washington as alternate poet laureate during the term. Isaacson, 59, has lived in Las Vegas since 1995. He studied at Brooklyn College unde Allen Ginsberg, who guided his studies and his Master of Fine Arts thesis. Isaacson was also mentored by poet Robert Haas' workshop at the University of California, Berkeley. Isaacson is known in the San Francisco Bay Area as an organizer and poet in the Café Babar readings in the 1980s and 1990s for Zeitgeist Press, which he founded with two other poets in 1986. He remains publisher and co-editor of Zeitgeist, which has more than 100 titles, including notable Las Vegas books. In 1992, he became involved in poetry and translation at the Writers Union in Leningrad, Russia. Starting in 1997, he participated in readings in Las Vegas at Café Espresso Roma and Enigma Garden. His work has appeared in a number of Las Vegas publications, including Red Rock Review, which he also edited. He now runs a Las Vegas-based employment agency, real estate and consulting business.
Share Your News
Information about Las Vegas book events can be sent to gmeurer@viewnews.com. Space is limited and notice is required at lest two weeks in advance.