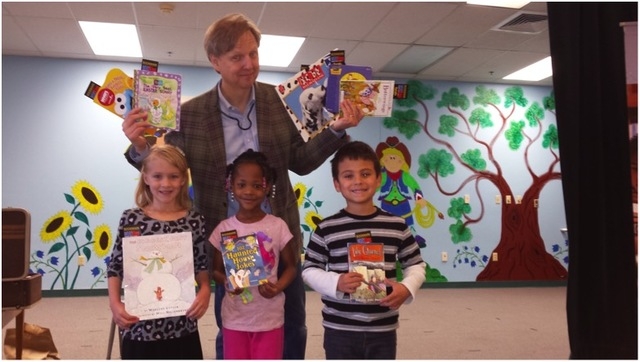 THE CENTER TO HOST BOOK RELEASE PARTY
A book release party for Las Vegas author Jeremy Wallace's new book, "Taking the Scenic Route to Manhood," is scheduled from 6 to 9 p.m. March 12 at The Center, 401 S. Maryland Parkway. The book follows Wallace's transformation from woman to man and the challenges he faced since childhood. Suggested admission is a $20 donation, which includes a signed copy of the book. Wallace plans to donate 25 percent of the proceeds to The Center. For more on the book, visit takingthescenicroutetomanhood.com.
INSTITUTE FELLOW TO SPEAK ON TYRANNY AND DEMOCRACY
Black Mountain Institute fellow in humanistic studies Waller R. Newell is set to speak on the three faces of tyranny and why democracy isn't always possible at 7:30 p.m. March 12 in the Barrick Museum at UNLV, 4505 S. Maryland Parkway. For more information, visit blackmountaininstitute.org.
SPRING FLING BOOK FAIR TO INCLUDE FREE WORKSHOPS
The Spring Fling Book Fair is set to feature writers signing and free workshops from 10:30 a.m. to 4:30 p.m. March 14 at the Clark County Library, 1401 E. Flamingo Road. Workshop instructors are slated to include Brian Rouff, Roger DeBlanck, Jonathan Sturak, Jami Carpenter, Lauren Stokes and Lee Mallory. Local authors scheduled to attend include "Red Bird Bea" author Vernell Valentine-Allen. For a schedule, visit lvccld.org or call 702-507-3459.
CAC TO LAUNCH BOOK CLUB
The Contemporary Arts Center is slated to launch a new book club for readers who have a passion for art. The first selection, Dave Hickey's "Pirates and Farmers: Essays on Taste," is set to be discussed at 2 p.m. March 14 at The Writer's Block, 1020 Fremont St. For more information, visit tinyurl.com/cacfirst.
MERCEDES YARDLEY TO SPEAK TO WRITERS GROUP
Mercedes Yardley is scheduled to speak on using a blog to build readership during a meeting of the Las Vegas Writers Group scheduled for 7 p.m. March 19 at the Tap House, 5589 W. Charleston Blvd. A $5 meeting fee is charged. Yardley is the author of the short story collection "Beautiful Sorrows" and "Pretty Little Dead Girls: A Novel of Murder and Whimsy." For more information, visit meetup.com/las-vegas-writers.
BLACK MOUNTAIN INSTITUTE PLANS LITERARY EVENTS
Literary events planned by the Black Mountain Institute include Jamaica Kincaid and Caryl Phillips in a discussion titled Crossing the Black Atlantic on how each examines the Caribbean diaspora, the history of the Atlantic slave trade and questions of racial and national identity in their work at 7 p.m. March 19 in the Philip J. Cohen Theatre in the UNLV Student Union, 4505 S. Maryland Parkway; poet, editor, painter and filmmaker Richard Siken speaking at 7 p.m. April 30 in the Greenspun Hall Auditorium; and Easy Rawlins mysteries series author Walter Mosley delivering a Jim Rogers Contrarian Lecture on higher education at 7 p.m. May 7 in the Student Union Ballroom. For more information, visit blackmountaininstitute.org.
HENDERSON BOOKSTORE PLANS SIGNINGS
Local author Vicki-Ann Bush is set to sign her book "The Garden of Two" at 1 p.m. March 14 at the 567 N. Stephanie St. Barnes & Noble. Other store signings slated include Dr. Laurie Betito signing her "Sex Bible for People Over 50" at 1 p.m. March 15 and Buddy Hannah signing his book "Eagle Bear" at 1 p.m. March 21.
AUTHOR TO TEACH WRITERS TO REVISE
Moriah Densley, author of the Rougemont historical romance series, is set to present a program titled How To Revise Like a Pro during a meeting of the Las Vegas Romance Writers scheduled from 10 a.m. to noon March 21 at the Green Valley Library, 2797 N. Green Valley Parkway. For more on the event, visit lvrwa.org.
STORE TO HOST GIRLS GONE SCI-FI
A Girls Gone Sci-Fi event is set for 7 p.m. March 18 at the 2191 N. Rainbow Blvd. Barnes & Noble. Authors Jessica Brody, Claudia Gray, Jessica Khoury and Melissa Landers are slated to participate.
BOOK LAUNCH SET FOR 'TO THEE I SEE'
A book launch for "To Thee I See," Arby L. Hambric's memoir (written with Trish Geran) about going from picking in the fields of Texas to cooking for dignitaries on U.S. Navy ships, is scheduled from 3 to 5 p.m. March 21 at Nevada Partners, 710 W. Lake Mead Blvd. Col. Gerald D. Curry, author of the book's foreword, is scheduled to speak, and guests set to join Hambric in a panel discussion moderated by Cecil Davis include Ralph Turner, Herman L. Grimes, Mitchell Sayles and Ted Rhodes. A White House tribute is set to be delivered by Barry Black. For more information, visit totheeisee.com.
J.D. MCNAMEE PLANS SIGNING
Author J.D. McNamee is set to sign "The Irish Scam: Pulled Off by the Gang-That-Was" at 2 p.m. March 14 at the 8915 W. Charleston Blvd. Barnes & Noble.
ALGEBRA AUTHOR TO SPEAK
Local author Michael Paxinos is scheduled to discuss his book "Algebra 1: Part 1" at 9 a.m. March 24 at the Heritage Park Library, 300 S. Racetrack Road. For more on the book, visit tutorsmarts.com.
WRITING COACH TO OFFER FREE WORKSHOPS
Writing coach Liz Ozi is set to offer free workshops for creative writers from 1 to 3 p.m. Saturdays in March at the Green Valley Library, 2797 N. Green Valley Parkway. Register at mypubliclibrary.com or call 702-207-4261.
PASEO VERDE LIBRARY TO HOST LOCAL AUTHOR SHOWCASE
More than 60 local authors are slated to participate in the annual Local Author Showcase from 9:30 to 11:30 a.m. March 28 at the Paseo Verde Library, 280 S. Green Valley Parkway. A premiere author panel featuring Oscar Goodman and Geoff Schumacher, hosted by Brian Rouff, is set for noon, and a book marketing workshop is scheduled for 3 p.m. For more information, visit mypubliclibrary.com.
BAUMAN TO SHOW RARE COOKBOOKS
Bauman Rare Books is slated to present a display of rare and unusual cookbooks and cocktail and bartender guides through April 12 in the Bauman's gallery in the Grand Canal Shoppes at The Venetian. Highlights of the exhibit include a first edition of Jewish Cookery Book valued at $15,000, a first edition of Julia Child's "Cooking with Master Chefs" valued at $1,200 and a 1865 Louis Pasteur autographed letter requesting a key ingredient for his experiments that would save the French wine industry valued at $9,800. For more information, visit baumanrarebooks.com.
SIGNING SLATED AT BOOKSORBOOKS
Local author Anna Mae Zuccari-Teitelbaum plans a book signing from 3 to 5 p.m. March 28 at BooksOrBooks, 3460 E. Sunset Road. For more information, visit booksorbooks.com.
HIKING AUTHOR PLANS EVENT
"Hiking Las Vegas" author Branch Whitney is set to speak from 6 to 7:30 p.m. April 16 at the Sahara West Library, 9600 W. Sahara Ave. For more information, visit lvccld.org.
ALZHEIMER'S ASSOCIATION TO BENEFIT FROM SIGNING
An author's book signing to benefit the Alzheimer's Association of Las Vegas is set for 11 a.m. to 2 p.m. April 19 at BooksOrBooks, 3460 E. Sunset Road. Authors slated to participate include: Nancy Nelson, author of "Blue.River.Apple."; Gina Morena Wilson, author of "Donald's Story"; Frank Kennerley, author of "My Last Trip with Carol"; Bernita A. Glenn, author of "Behind Every Dark Cloud — A Caregiver's Heart"; Stephen Murrah, author of The Chapel of Eternal Love"; and s.h. Montgomery, author of "Whisper in the Blood." A percentage of book sales will go to the Alzheimer's Association.
SUBMISSIONS, VOLUNTEERS SOUGHT FOR VEGAS VALLEY BOOK FESTIVAL
The 2015 Vegas Valley Book Festival is set for Oct. 15-17. Authors and volunteers interested in participating can register at vegasvalleybookfestival.org/2015-interest-form. Submissions will be taken through March 31. For more information, visit vegasvalleybookfestival.com.
SCIENCE FICTION AND FANTASY GROUP UNDERWAY IN LIBRARY
Readers, writers and editors of science fiction and fantasy are invited to check out a new group scheduled to meet at 2 p.m. Saturdays in meeting room two at the Green Valley Library, 2797 N. Green Valley Parkway. For more information, call 702-334-0204.
BARNES & NOBLE TO HOST WRITING GROUP
The 2191 N. Rainbow Blvd. Barnes & Noble plans to host a writing critique group at 5:15 p.m. the fourth Monday of each month. The group is limited to the first 20 participants per meeting. Sign up at meetup.com/las-vegas-creative-writing-class.
ALIANTE LIBRARY TO HOST WRITERS CLUB
The Aliante Library Writers Club is scheduled to meet from 5:30 to 7:30 p.m. the first and third Tuesday of each month at the Aliante Library, 2400 W. Deer Springs Way. For more information, email facilitator Glory Wade at glorywadewriter@gmail.com.
SHARE POEMS AT HUMAN EXPERIENCE
Polish up a poem or two and try them out at Human Experience, a free spoken word event scheduled from 7 to 9 p.m. Mondays in The Beat Coffeehouse inside Emergency Arts, 520 Fremont St. For more information, visit lasvegaspoets.org.
ARTS CENTER TO HOST POETS CORNER
The West Las Vegas Arts Center, 947 W. Lake Mead Blvd., plans to host poets corner readings with Keith Brantley at 7 p.m. the first and third Friday of each month. For more information, call the center at 702-229-4800.
LIBRARY CAN BENEFIT FROM AMAZON PURCHASES
At no cost to you, purchases made at amazon.com can help the Las Vegas-Clark County Library District. The district benefits not only when you buy books but also movies, CDs, electronics, appliances and more. To start, visit wowbrary.org/lasvegas and the online retailer will donate roughly 7.5 percent of your purchases to the district.
For more information, email ask@lvccld.org or call the Virtual Library section at 702-507-6300.
FREE READ TO ME PROGRAM OFFERED
Celebrity storytellers Oscar Goodman, Rita Rudner, Clint Holmes, Terry Fator, Carrot Top, The Scintas and others have donated their talents to the Clark County Education Association Community Foundation's Read To Me program. Children can view more than 15 videos of celebrities reading books on the website at readtomelv.com. Stories also can be accessed by calling 702-240-2665. Both databases are frequently updated with fresh stories. Parents and teachers can download lesson plans for each book on the website.
HENDERSON WRITERS GROUP MEETINGS SET
The Henderson Writers Group plans to meet from 6:30 to 8:45 p.m. Mondays in Room C-2 at Community Lutheran Church, 3720 E. Tropicana Ave. Meetings are typically canceled on holidays. For more information, visit hendersonwritersgroup.
MEMOIR-WRITING WORKSHOPS SLATED
An ongoing series of free four-week memoir-writing workshops is scheduled at noon Wednesdays and 10 a.m. Fridays at the Las Vegas FamilySearch Library, 509 S. Ninth St. Four-week sessions are set to begin the first week of every month. For more information, call 702-382-9695.
ACCESS RECORDED BOOK PROGRAMS ONLINE
Too busy to get out to book programs? The Las Vegas-Clark County Library District posts videos and podcasts of many of its programs online. Selections available include: "An Afternoon with Tony Curtis," John L. Smith's presentation "Amelia's Long Journey: The Challenge of Writing What You Know," "Batman" movie producer Michael Uslan's presentation at the 2009 Vegas Valley Comic Book Festival, Jami Carpenter's "ABCs of Editing" workshop and Brian Rouff's "Getting Published: A Long Strange Trip." To access the programs, visit lvccld.org, select "Books, Movies & More" and then "Video and Podcasts."
The Black Mountain Institute has offered recordings of its programming since 2006. To access recordings of a gamut of writers from E.L. Doctorow to Alissa Nutting, visit blackmountaininstitute.org and select "multimedia."
NEVADA STATE MUSEUM COLLECTING PHOTOS FOR BOOK ABOUT THE HISTORY OF NORTH LAS VEGAS
The Nevada State Museum is looking for photos for a book about the history of North Las Vegas.
Photos are sought that document regular life and special events, from family barbecues to award ceremonies, or show what the city looked like back in the day. Photographs from the 1930s and 1940s are of particular interest.
Museum professionals are set to scan photographs, and the originals will remain with the donors.
For more information, call Crystal R. Van Dee at 702-822-8751.
STORYTELLING LECTURE SLATED
Art Practice: Memory, Myth and Storytelling, an event featuring Branden Koch of the Milton Avery School of the Arts at Bard College, is scheduled at 7:30 p.m. April 6 in the Barrick Museum Auditorium at UNLV, 4505 Maryland Parkway. For more information, visit unlv.edu.
POETS CAN SEEK FEEDBACK AT 5/5+
Poets are invited to share original work for five minutes followed by attendees offering comments for five minutes during 5/5+, a workshop series put on by Nick Marco, Lana Hanson and Lee Mallory, scheduled every two weeks at BooksorBooks, 3460 E. Sunset Road, Suite R. The next session is planned from 3 to 5 p.m. March 14. For more information, call 702-754-5971, email jtjmarco@live.com, raisewomenup@gmail.com or leewmallory3@gmail.com or search for 5/5+ on Facebook.
FREE CREATIVE WRITING WORKSHOPS PLANNED AT LIBRARY
A free Creative Writing @ Your Library series is scheduled from 10 to 11:30 a.m. on the second and fourth Tuesdays of the month at the Gibson Library, 100 W. Lake Mead Parkway. Writers 18 or older are encouraged to participate and share.
Members of the Henderson Writers' Group are slated to facilitate workshop sessions on a variety of topics, including novels and short stories on March 24, memoirs on April 14, screenwriting on April 28, editing your own work on May 12 and publishing options on May 26.
For more information, visit mypubliclibrary.com.
The Henderson Writers' Group also plans to host its 2015 Las Vegas Writer's Conference April 23-25 at Sam's Town, 5111 Boulder Highway. For more information, visit lasvegaswritersconference.com.
LAS VEGAS COMIC CON SET FOR APRIL 24-26
The inaugural Wizard World Las Vegas Comic Con is scheduled April 24-26 at the Las Vegas Convention Center. The event is set to feature comic artists and writers and an assortment of television and movie actors and fans dressed in costumes. For more information, visit wizardworld.com/home-lasvegas.html.
UNLV WRITERS WELCOME ALL TO NEON LIT
Neon Lit, a public reading featuring writers from UNLV's Master of Fine Arts and Ph.D. writing programs, is scheduled the fourth Friday of most months at The Writer's Block, 1020 Fremont St., No. 100. For more information, visit neonlit.org.
POP-UP POETRY SERIES SLATED
The Las Vegas Poets Organization, in conjunction with Nevada Humanities, plans to present a monthly series in the 18b Las Vegas Arts District every First Friday at the Nevada Humanities offices at Art Square, 1017 S. First St. Each month, featured poets are set to present a reading from their works at 7 p.m. In upcoming months, the organiztion plans to feature poets Jess Flo, Bakeem Lloyd, Elizabeth Quinones Saldana, Madeline Beckwith and more. For more information, visit lasvegaspoets.org.
Share Your News
Information about Las Vegas book events can be sent to gmeurer@viewnews.com. Space is limited and notice is required at lest two weeks in advance.