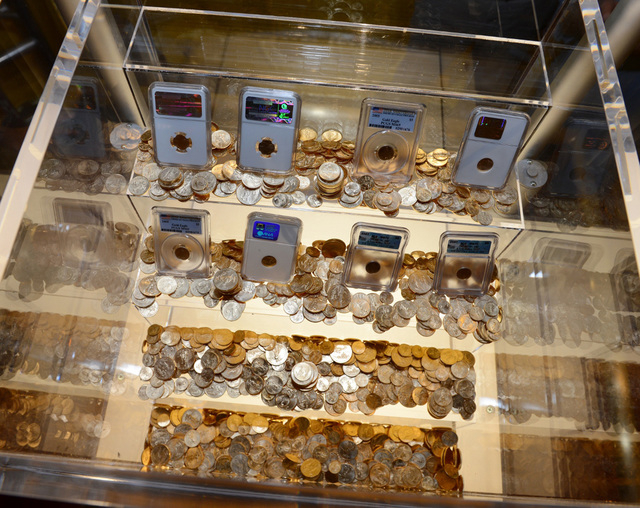 LAS VEGAS WRITERS GROUP TO WELCOME OLIVIA CLARE
Poet and novelist Olivia Clare, a Black Mountain Institute Ph.D. Fellow in Literature at UNLV, is scheduled to speak on elements of style in fiction during a meeting of the Las Vegas Writers Group scheduled for 7 p.m. Nov. 20 at the Tap House, 5589 W. Charleston Blvd. A $5 meeting fee is charged. For more information, visit meetup.com/las-vegas-writers.
KISS BASS PLAYER TO SIGN BUSINESS BOOK
Rock legend Gene Simmons of KISS is set to sign copies of his new motivational business book "ME, Inc.: Build an Army of One, Unleash Your Inner Rock God, Win in Life and Business" at 6 p.m. Nov. 21 at the 2191 N. Rainbow Blvd. Barnes & Noble. For more on the book, visit genesimmons.com.
AUTHORS PLAN SIGNINGS IN HENDERSON
Local author Samantha Hill is set to sign copies of her book "Blooded Crown" at 1 p.m. Nov. 22 at the 567 N. Stephanie St. Barnes & Noble. Also scheduled is Hannah R. Smith, slated to sign her book "Heart and Soul of Srielrian."
NATIONAL NOVEL WRITING MONTH UNDERWAY
National Novel Writing Month (NaNoWriMo) challenges participants all over the world to write 50,000 words of a new novel through Nov. 30.
The Summerlin Library, 1771 Inner Circle Drive, plans to support NaNoWriMo writers by opening the conference room from 10 a.m. to noon all month to allow people to have a quiet place to work. For more on the library, visit lvccld.org.
For more on NaNoWriMo and information on local kickoff parties and writing sessions, visit nanowrimo.org.
POETS CAN SEEK FEEDBACK AT 5/5+
Poets are invited to share original work for five minutes followed by attendees offering comments for five minutes during 5/5+, a workshop series put on by Nick Marco, Lana Hanson and Lee Mallory, scheduled every two weeks at BooksorBooks, 3460 E. Sunset Road, Suite R. The next session is planned from 3 to 5 p.m. Nov. 22. For more information, call 702-754-5971, email jtjmarco@live.com, raisewomenup@gmail.com or leewmallory3@gmail.com or search for 5/5+ on Facebook.
AYAANA HIRSI ALI TO BE HONORED AT GALA
The Dr. Miriam & Sheldon G. Adelson Educational Campus plans to honor global human rights activist, author and politician Ayaan Hirsi Ali with the Pursuit of Excellence Award at the 11th annual In Pursuit of Excellence Gala scheduled at 6 p.m. Nov. 22 at The Venetian, 3355 Las Vegas Blvd. South. The award is the campus' highest recognition. Tickets are $250 or $125 for university students, educators, military personnel, retirees, nonprofit employees and Adelson Educational Campus parents. Proceeds from the event will benefit the school's scholarship program. To purchase tickets or to make a donation, visit adelsoncampus.org or contact Davida Sims at 702-515-8203.
LOCAL AUTHOR PLANS SAFEKEY TOUR
Local author Monica Hatley-Carr is set to take her children's book "I Love the Color Pink: The Adventures of Laci Macasey" on a tour of 13 city of Las Vegas Safekey afternoon recreation programs in an effort to "get kids excited about reading." For more information, visit whoislacimacasey.com.
HENDERSON BLOGGER AMONG WRITERS FEATURED IN 'CLASH OF THE COUPLES'
A story by Henderson resident and humor/lifestyle blogger Kevin "Spike" Zelenka is featured in "Clash of the Couples," a compilation of stories from 46 writers from around the country.
"I can't even express how excited I am to be in this book," Zelenka said. "I know there's at least a story or two in this collection that can relate to every couple. I'm looking forward to seeing who relates to mine." A father of twins, Zelenka founded Vegas Dads (meetup.com/VegasDadsGroup) and writes about his family in his blog doubletroubledaddy.com.
GRAPHIC NOVEL EXHIBIT ON DISPLAY
"BAM! It's a Picture Book: The Art Behind Graphic Novels," an exhibit featuring illustrators such as Matthew Holm, Lincoln Peirce, Mark Crilley, Jarrett J. Krosoczka and Raina Telgemeier, is set to be on display through Nov. 25 in the Historic Fifth Street School, 401 S. Fourth St.
BOOK SPEED-DATING EVENT SLATED
Readers ages 12 to 17 are invited to share their favorite book in two-minute chats with peers at a book speed-dating event scheduled from 4 to 5 p.m. Nov. 20 at the Gibson Library, 100 W. Lake Mead Parkway. For more information, visit mypubliclibrary.org.
AUTHOR TO DISCUSS JFK ASSASSINATION
Walt Brown, author of "Master Chronology of JFK Assassination," plans to discuss little-known facts about the assassination during a book event scheduled on the anniversary of the shooting at 6:30 p.m. Nov. 22 at the National Museum of Organized Crime & Law Enforcement, the Mob Museum, 300 Stewart Ave. The program is free to members or with regular museum admission. For more information, visit themobmuseum.org.
EVENT SET FOR SUPERNATURALLY BLESSED"
Local author Vickie Franks plans to speak and sign copies of her book "Supernaturally Blessed" from 2 to 5 p.m. Nov. 22 at the Centennial Hills Library, 6711 N. Buffalo Drive. For more on the book, visit facebook.com/supernaturalizedministries.
THE SMITH CENTER TO HOST AN EVENING WITH DAVID SEDARIS
National Public Radio humorist and best-selling author David Sedaris is set to speak in celebration of his newest release "Let's Explore Diabetes with Owls" at 7:30 p.m. Nov. 23 in Reynolds Hall at The Smith Center for the Performing Arts, 361 Symphony Park Ave. Tickets start at $46. For more information, visit thesmithcenter.com.
NEVADA WRITERS ELIGIBLE TO APPLY FOR EXCHANGE
Poets & Writers magazine has selected Nevada as the state to draw entries for the 2015 Writers Exchange Award. Nevada writers of fiction and poetry are invited to apply for the exchange — which includes a $500 honorarium, a trip to New York City and a one-month residency at the Jentel Artist Residency Program in Wyoming — by Dec. 1. For details, visit pw.org.
'ZODACCIA' EVENT SLATED
Author Justin Hill is set to sign his book "Zodaccia: Realms of Chaos" at 1 p.m. Nov. 29 at the 567 N. Stephanie St. Barnes & Noble.
FILMMAKER TO SIGN BOOK ABOUT MOTHER TERESA
Filmaker Christina Stevens shares her experiences with Mother Teresa in the book "Love: The Saint and the Seeker." Stevens is set to sign copies of the book from 7 to 9 p.m. Dec. 1 at the 2191 N. Barnes & Noble. For more on the author, visit christinastevens.co.
BARNES & NOBLE TO HOST WRITING GROUP
The 2191 N. Rainbow Blvd. Barnes & Noble plans to host a writing critique group at 5:15 p.m. the fourth Monday of each month. The group is limited to the first 20 participants per meeting. Sign up at meetup.com/las-vegas-creative-writing-class.
ALIANTE LIBRARY TO HOST WRITERS CLUB
The Aliante Library Writers Club is scheduled to meet from 5:30 to 7:30 p.m. the first and third Tuesday of each month at the Aliante Library, 2400 W. Deer Springs Way. For more information, email facilitator Glory Wade at glorywadewriter@gmail.com.
SHARE POEMS AT HUMAN EXPERIENCE
Polish up a poem or two and try them out at Human Experience, a free spoken word event scheduled from 7 to 9 p.m. Mondays in The Beat Coffeehouse inside Emergency Arts, 520 Fremont St. For more information, visit lasvegaspoets.org.
ART CENTER TO HOST POETS CORNER
The West Las Vegas Arts Center, 947 W. Lake Mead Blvd., plans to host poets corner readings with Keith Brantley at 7 p.m. the first and third Friday of each month. For more information, call the center at 702-229-4800.
FREE READ TO ME PROGRAM OFFERED
Celebrity storytellers Oscar Goodman, Rita Rudner, Clint Holmes, Terry Fator, Carrot Top, The Scintas and others have donated their talents to the Clark County Education Association Community Foundation's Read To Me program. Children can view more than 15 videos of celebrities reading books on the website at readtomelv.com. Stories also can be accessed by calling 702-240-2665. Both databases are frequently updated with fresh stories. Parents and teachers can download lesson plans for each book on the website.
ZINE LIBRARY OPEN IN EMERGENCY ARTS
Grab a cup of coffee and check out the independently crafted magazines at the Las Vegas Zine Library inside The Beat Coffeehouse in Emergency Arts, 520 Fremont St. The library is more of a collection on display for reference and on-site reading than a checkout repository. Contributions of zines are appreciated. For more information, visit lvzinelibrary.blogspot.com.
HENDERSON WRITERS GROUP MEETINGS SET
The Henderson Writers Group plans to meet from 6:30 to 8:45 p.m. Mondays in Room C-2 at Community Lutheran Church, 3720 E. Tropicana Ave. Meetings are typically canceled on holidays. For more information, visit hendersonwritersgroup.
POET PLANS MUSIC-INFUSED PERFORMANCE
Local poet Lee Mallory is set to present "Loves and Love Undone," a free poetry performance with Michael Love on drums, at 7 p.m. Dec. 3 at the Wimbledon Tennis Club, 3930 Swenson St. For more information, call 702-735-9532.
ANNIE MEADOWS PLANS SIGNING
Local author, singer, songwriter Annie Meadows is set to speak about her book "The Lonely Little Rabbit: A Christmas Story" and meet with readers from 2 to 4 p.m. Dec. 14 at the 567 N. Stephanie St. Barnes & Noble.
MEMOIR-WRITING WORKSHOPS SLATED
An ongoing series of free four-week memoir-writing workshops is scheduled at noon Wednesdays and 10 a.m. Fridays at the Las Vegas FamilySearch Library, 509 S. Ninth St. Four-week sessions are set to begin the first week of every month. For more information, call 702-382-9695.
FREE STORYCORPS TOOLKIT HELPS COLLECT MEMORIES
The national StoryCorps' Memory Loss Initiative encourages people with memory loss to share their stories with loved ones and future generations. To make that task easier, a free step-by-step toolkit is available to download at storycorps.org/mli. The Commemorate toolkit offers an individual reminiscence program that family members can initiate or memory loss care facilities can add to activities. The initiative has collected more than 1,800 interviews with 180 partner organizations. For more information, visit storycorps.org or call 646-723-7027.
ACCESS RECORDED BOOK PROGRAMS ONLINE
Too busy to get out to book programs? The Las Vegas-Clark County Library District posts videos and podcasts of many of its programs online. Selections available include: "An Afternoon with Tony Curtis," John L. Smith's presentation "Amelia's Long Journey: The Challenge of Writing What You Know," "Batman" movie producer Michael Uslan's presentation at the 2009 Vegas Valley Comic Book Festival, Jami Carpenter's "ABCs of Editing" workshop and Brian Rouff's "Getting Published: A Long Strange Trip." To access the programs, visit lvccld.org, select "Books, Movies & More" and then "Video and Podcasts."
The Black Mountain Institute has offered recordings of its programming since 2006. To access recordings of a gamut of writers from E.L. Doctorow to Alissa Nutting, visit blackmountaininstitute.org and select "multimedia."
WYKED WOMEN WHO WRITE WORKSHOP OFFERED
A Wyked Women Who Write Workshop, featuring "Universal Alien" author Gini Koch, "Defending Hippotigris" author T.L. Smith and "Mirabella & the Faded Phantom" author Sharon Skinner, is scheduled at 1 p.m. Dec. 13 at the 567 N. Stephanie St. Barnes & Noble.
BOOK LAUNCH PLANNED AT TUSCANY GRILL
Anthem author Robert Stern plans to launch his newest book "HOA Wars: What Happens in Vegas Can Happen Anywhere" with a party with hors d'oeuvres and a no-host bar from 5 to 8 p.m. Jan. 28 at Tuscany Grill, 11105 S. Eastern Ave.
AUTHOR JENNIFER DEBS PLANS SESSION
Jennifer Debs plans an author session at 2:30 p.m. March 8 at Summerlin Library, 1771 Inner Circle.
Debs is the author of author of "Back in Two Weeks," about her experiences in the Air Force and being deployed overseas.
For more information, call Marcela Chiarandini at 702-507-3631.