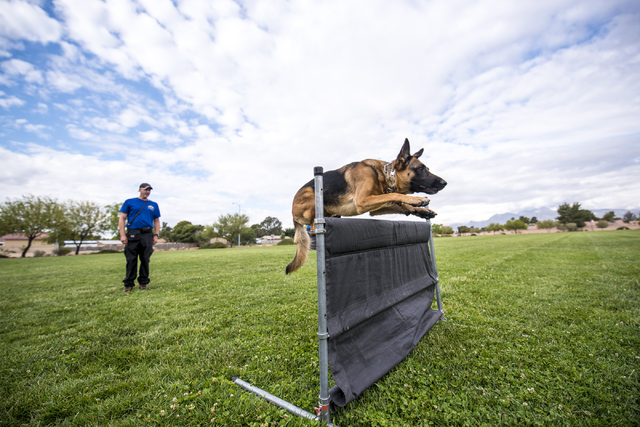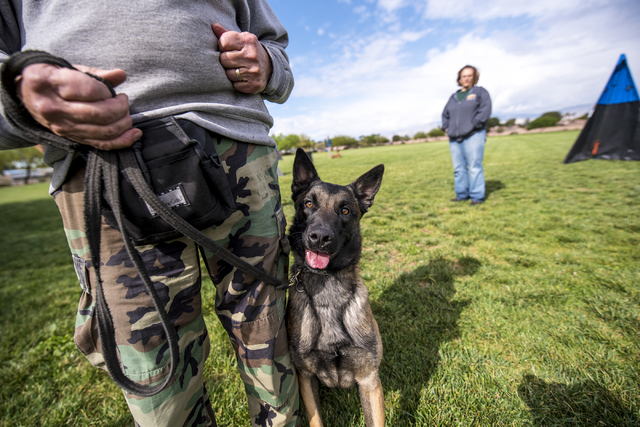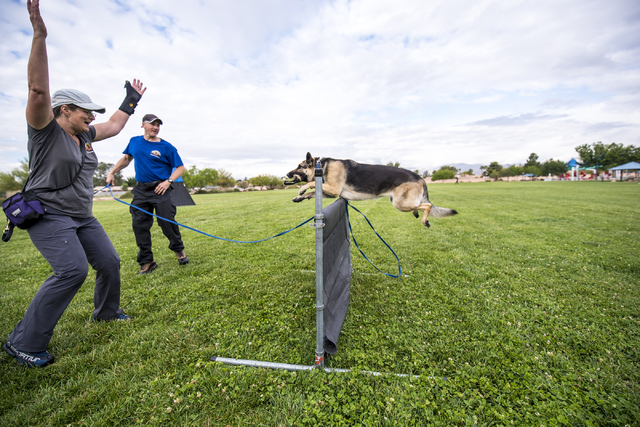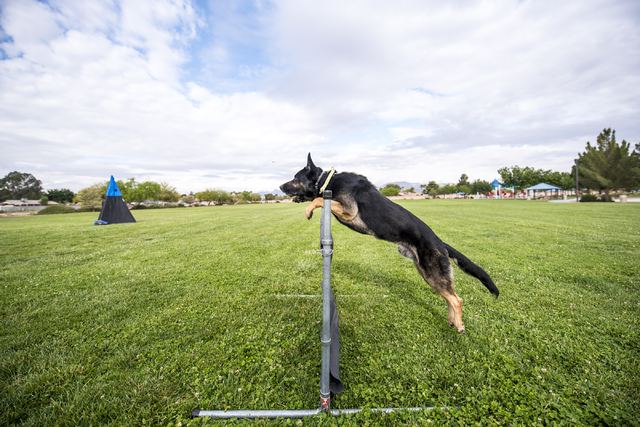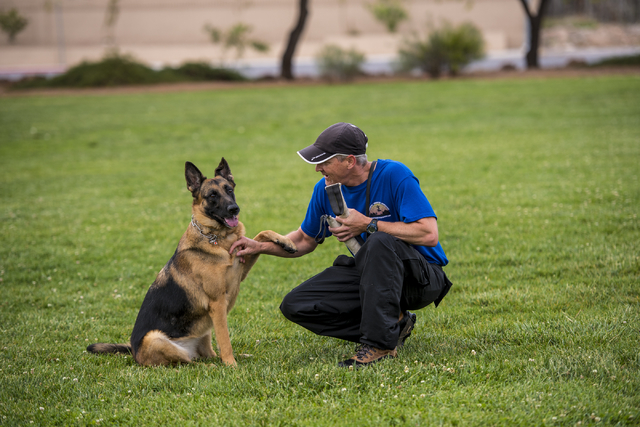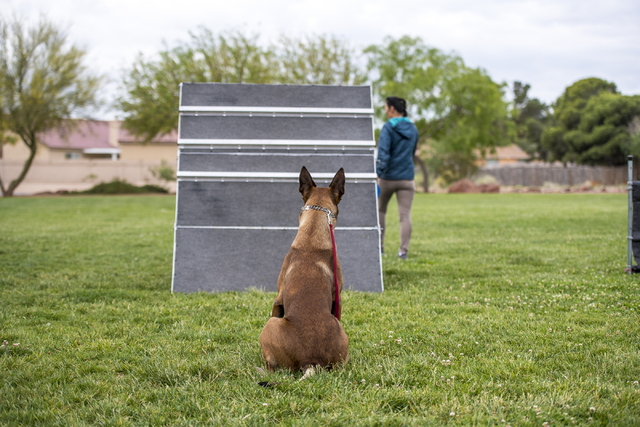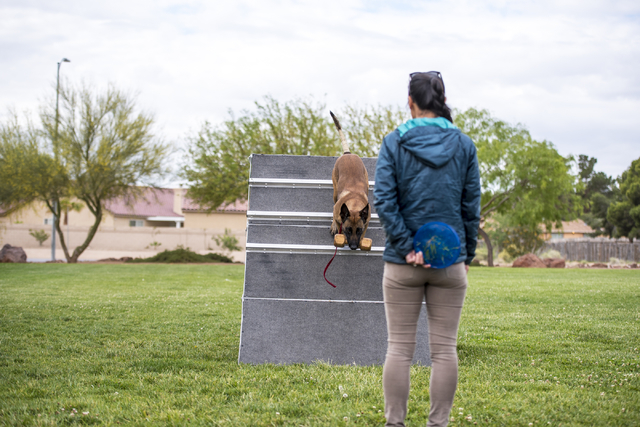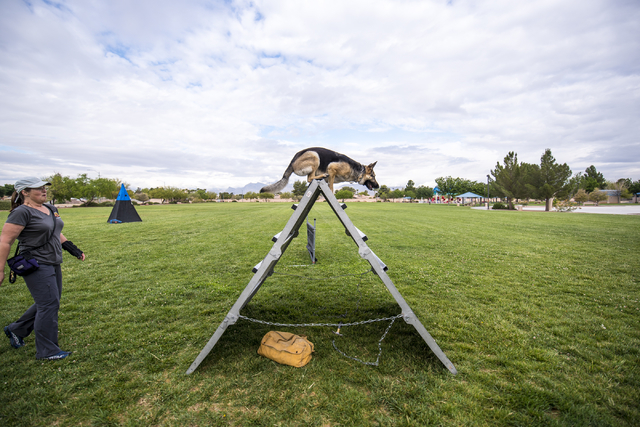 It takes more than a dogged spirit to become a member of the Las Vegas Valley Schutzhund Club.
The dog club originally started as a breed suitability test for German shepherds. The test would determine if the dog displayed the appropriate traits and characteristics of a proper working German shepherd.
"This is one of the longest-running clubs in Las Vegas," said Bill Cassell, training director of the club. "The club started in the late '70s or early '80s. It was originally started as a temperament test done in Germany; now it's a sport. It's highly stylized and quite extensive."
Being a dedicated member of the club is an understatement. The group meets twice a week, every week, for rigorous training sessions, in addition to individual training that members do every day.
Cassell, a Metropolitan Police Department officer, was introduced to the sport 36 years ago. Since he started, he has competed in roughly 40 regional and national trials and has trained between 12 and 14 dogs.
His greatest accomplishment was when one of his now-retired dogs scored a perfect 100 points in a trial under a German judge.
"The difference with training sport dogs versus police dogs is the consequence of failure — either you don't get to go home with a title, or you simply don't get to go home," Cassell said. "The training is similar, but in competition, position is so important."
While there are a couple of current and retired Metro officers, most of the group's members are not.
Jeff Wagner was first introduced to the sport after his brother asked him to train his dog in schutzhund while he was stationed in Afghanistan. He said he quickly fell in love with the sport.
He bought his dog, Koda, in 2012.
"Living in Las Vegas as a single guy is hard," Wagner said. "This keeps me out of trouble."
Others, like Patricia Hanisee, participate to train their dogs to be personal protection dogs.
"Each dog is so unique and has their own strong set of skills," Hanisee said. "It's up to us trainers to recognize them and learn how to work with them."
The Las Vegas club has 14 members to create a family-like setting, Cassell said. Members use motivational training to train their dogs, which mainly includes treats and toys.
There are three phrases to the sport: tracking, obedience and protection.
During the protection training, dogs are transformed from well-mannered pooches to swift-thinking canines ready to attack the aggressor at a moment's notice. Cassell said the tracking aspect of the sport is the area that requires the most focus and drive.
"During the training, if you lose your temper, you can undo everything that you've done," said member Kai Degner, a retired Metro officer. "This is really a team sport."
There are three schutzhund titles ranging from lowest to most advanced: Schutzhund 1, Schutzhund 2 and Schutzhund 3.
Before a dog can compete for Schutzhund 1, it must pass a temperament test called a Begleithundprüfung or BH test. The tests are composed of basic obedience and sureness around strange people, strange dogs, traffic and loud noises. A dog that exhibits excessive fear, distractibility, or aggression cannot pass the B and so cannot go on to schutzhund, according to germanshepherddog.com.
A dog must pass all three phases in one trial to be awarded a schutzhund title. Each phase is judged on a 100-point scale. The minimum passing score is 70 for the tracking and obedience phases and 80 for the protection phase. At any time, the judge may dismiss a dog for showing poor temperament, including fear or aggression.
The FCI, the international umbrella organization for all things dog related, sets the rules for IPO, aka sport schutzhund, titles.
The club doesn't have a contact number or website. For those who are interested in joining the club, Cassell said, "If people are really serious about joining, they'll know how to find us."
To reach North View reporter Sandy Lopez, email slopez@viewnews.com or call 702-383-4686. Find her on Twitter: @JournalismSandy.