Las Vegas council OKs homeless campus plan despite criticism
Updated May 17, 2017 - 9:05 pm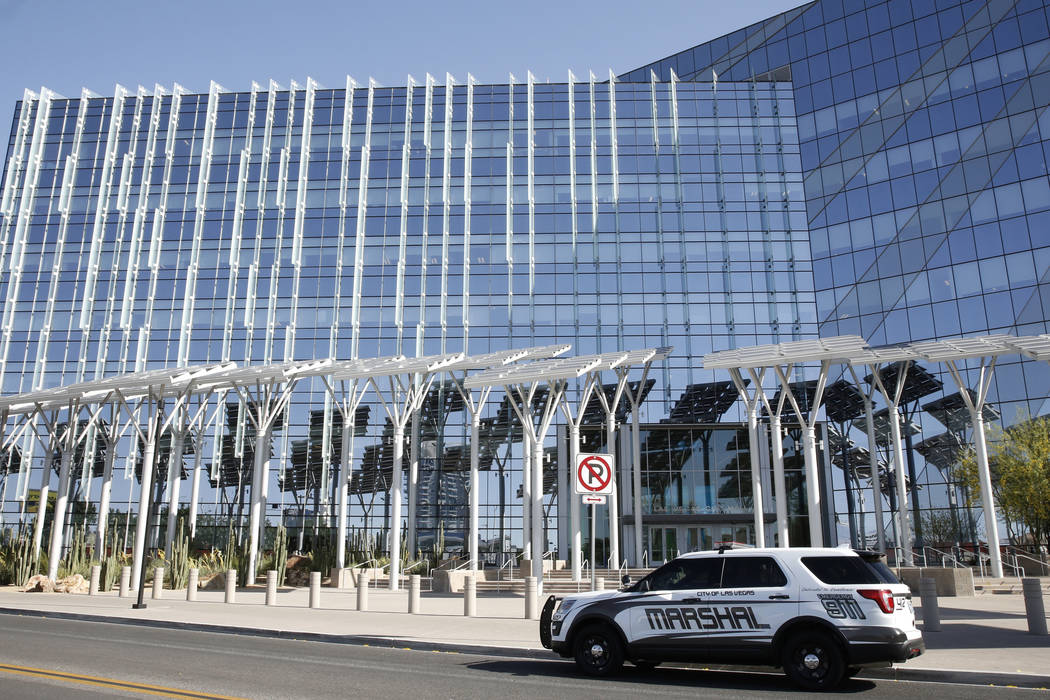 Come March, Las Vegas city officials hope a new courtyard they plan to build off Foremaster Lane will provide local homeless people with a range of services aimed at a path toward stability.
The Las Vegas City Council voted 6-1 Wednesday for a campus-type setting with homeless services, but first had a lengthy discussion and criticism about a lack of planning and a hurried approval process.
"I'm nervous this is a case where local government wants to help so badly that it will do so ineffectively," said Councilman Bob Beers, who cast the dissenting vote.
The city is proposing a courtyard, with an initial phase to open in March 2018 on land the city owns along Foremaster Lane, where many homeless people camp out in tents and makeshift shelters on the sidewalks nearby. That area is dubbed the "Corridor of Hope," because it's near a number of other agencies that work with homeless people.
The courtyard, based on a large-scale project in San Antonio, Texas, aims to provide a safe outdoor area that provides temporary shelter and basic services. It is envisioned as an entry point that can lead to seeking medical care, legal services, finding housing and employment.
Street outreach teams including law enforcement, formerly homeless people and case management workers from local agencies, will encourage homeless people to seek services at the courtyard. Las Vegas ranks in the top 10 cities nationally for unsheltered homeless, in the company on that list of much more populous cities.
Councilman Bob Coffin emphasized that the city's disproportionately high level of homelessness is becoming a public safety issue, and pushed for the council to take action.
City officials this week met with agency leaders who work extensively with the city's homeless population, like The Salvation Army, Catholic Charities of Southern Nevada and Shade Tree.
Deacon Tom Roberts, president and CEO of Catholic Charities, said he wants to be involved in the process, but "corridor service providers have been left out until this point."
The city's plan calls for a temporary area where homeless people will be able to seek shade, use storage containers and temporary restrooms. A permanent setup will be built out from there, adding laundry and shower facilities, a sick room, a pet kennel, an intake office and medical, legal and dental mobile services.
The measure was on the council agenda two weeks ago, but was delayed for additional outreach.
The city has allocated $5.9 million for capital costs and $1.5 million for operations in the next fiscal year budget. A combined $9.9 million in capital costs are forecast for the following two fiscal years, but funding is now only available for operations through May 2019.
The San Antonio model has drawn officials from other major U.S. cities with homeless issues. That project had significant private investment, which isn't part of the Las Vegas initiative. Officials from Las Vegas visited San Antonio to tour their "Haven for Hope" in February.
"We've gotten a little head of our skis on this in our zeal to be aggressive," and some details still must be laid out, said Deputy City Manager Scott Adams, who will become city manager in July.
The city has eyed properties along Foremaster Lane, between Main Street and Las Vegas Boulevard, the city already owns, and other properties of interest. One of those properties of interest is where CARE Complex works closely with homeless people, and hopes to open a medical clinic to cater to their needs, founder Michael Swecker said.
The organization is not amenable to giving up its property, however, Swecker said.
One concern aired Wednesday was that the courtyard would draw homeless people from elsewhere in the valley, when it's sized to accommodate the homeless downtown and in the adjacent neighborhood. Some city officials contend the city's courtyard could serve as a model for satellite locations, but other council members expressed concern the city is moving forward without the other jurisdictions involved.
"Without engaging other local governments, we're sending a clear signal that all of southern Nevada homeless belong on this campus," Barlow said. "And that is the wrong message."
Contact Jamie Munks at jmunks@reviewjournal.com or 702-383-0340. Follow @JamieMunksRJ on Twitter.