Las Vegas healing garden gets a daffodil decoration
February 10, 2018 - 5:40 pm
Updated February 10, 2018 - 11:13 pm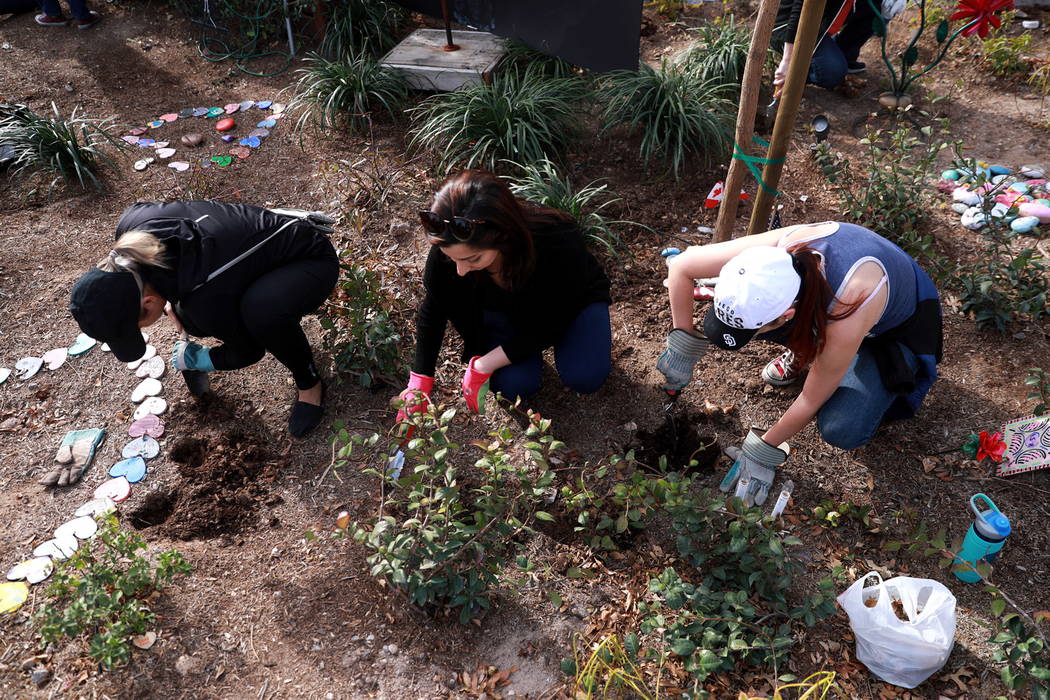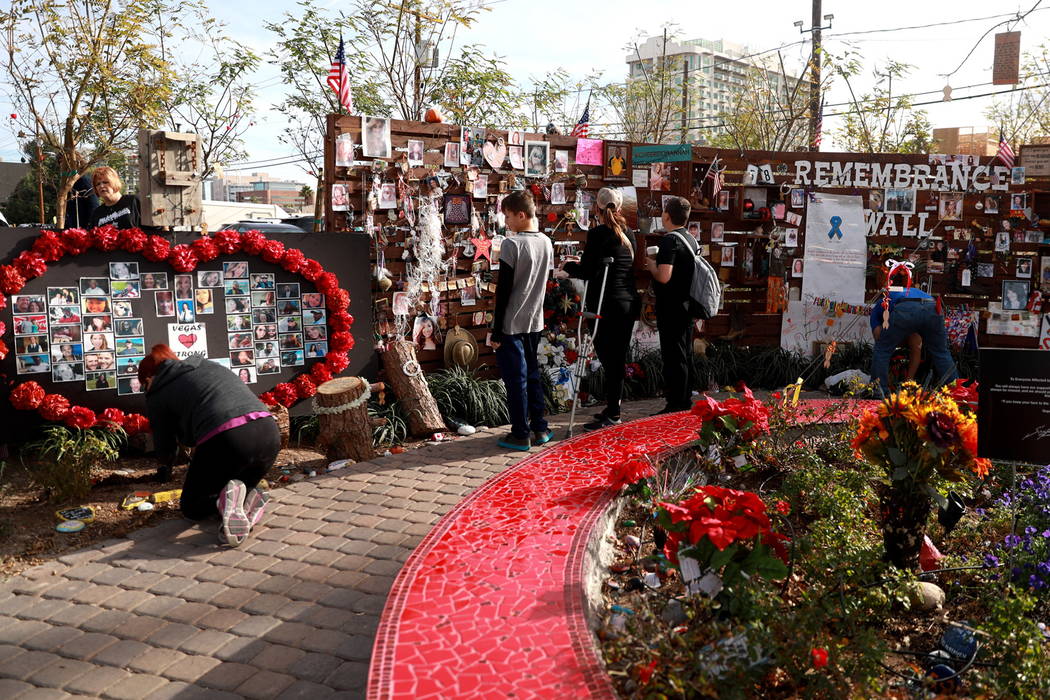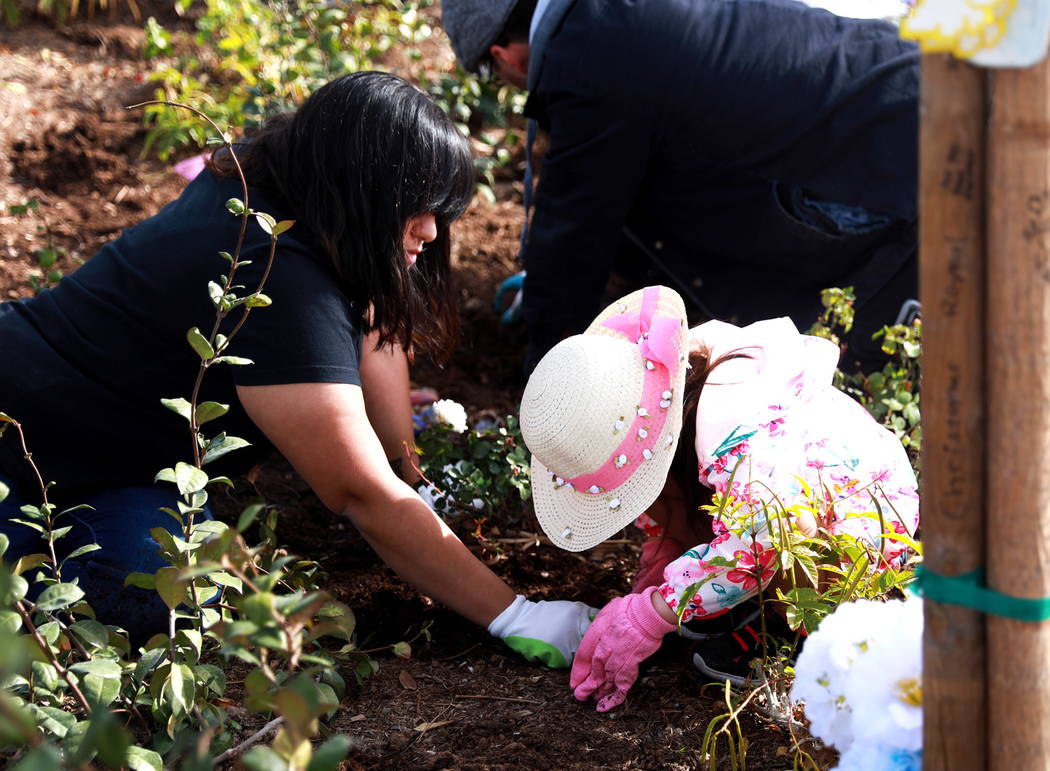 The smell of warm, fresh earth filled the air Saturday morning at the Community Healing Garden as nearly 250 volunteers planted daffodil bulbs. Ten thousand of them.
Volunteers armed with trowels and gloves dug into the task with the same intensity as the hundreds who came out to construct the downtown Las Vegas garden in just four days after the Oct. 1 shooting.
The planting was one in a series of Las Vegas events that has brought together local residents, survivors and families of victims of the Oct. 1 shooting on the Strip to cope and console one another.
Debby Allen, mother of shooting victim Chris Roybal, drove out Friday from Corona, California, with her sister, two nieces and her brother-in-law. She takes part in every event she can.
"We were very close. We had a unique bond," Allen said of her relationship with her son. "We were friends."
Roybal, 28, was a Navy veteran who trained dogs in Afghanistan, loved to sing and had a great sense of humor, Allen said. He died just days before his Oct. 9 birthday.
"I just wanted (the garden) to be beautiful," Allen said. "I wanted anything that represents him to be beautiful. That's who he was to me. He was one of the most beautiful people I've ever known."
The push to plant the perennials started just before Christmas, said Jessica Anderson, volunteer director for the Outside Las Vegas Foundation, which helps manage the garden.
"(Daffodils) tend to be really beautiful and make people smile," Anderson said. Depending on the weather, the flowers should bloom by mid-April, she said.
While the flowers mean different things to different people, Anderson said she hopes people see their symbolism for rebirth and renewal.
For Courtney Abraham, 24, and her mother, Shannon Abraham, 47, this was the first time either had attended an event with other survivors.
Shannon Abraham said she heard about different events in the media but didn't learn about them beforehand. She said she joined Facebook groups for survivors so she could get involved.
Though they had never gardened before, the two wanted to plant as many daffodil bulbs in the ground as possible, Courtney Abraham said. Gardening now might be something they try to do together to cope, she said.
"Something besides just sitting in our houses," her mother added.
Not all 10,000 bulbs could fit in the garden, so Anderson sent volunteers home with the extras to plant in their own yards.
Daniel Rosales wasn't physically able to participate, but he found comfort just sitting with others who understood his pain. He had been at the festival with his wife, who was working as an usher at one of the VIP tents.
Rosales said the shooting dredged up trauma from his childhood.
"I locked myself in the room for a couple of days," Rosales said. "I didn't eat. I didn't drink."
He's still struggling with depression and anxiety, but he said going to counseling has helped. It also helps talking to other people.
"I feel safe because a lot of people that survived are here," Rosales said.
Others brought their children. Some took turns placing painted rocks that had just arrived from Grant Elementary School in Sheboygan, Wisconsin. The school's students also sent a Wisconsin state flag, signed by each pupil.
Victim Stephen Berger, 44, was born and raised in nearby Wauwatosa, Wisconsin, where his service was held in November.
Mack Miller brought his 7-year-old daughter, Charlotte, to help plant. In a patch of dirt behind the Remembrance Wall, Miller showed her how to dig a deep-enough hole for the bulb and how to cover it with dirt.
"There are certain things that are indelible in your memory. Sometimes you don't know why, but they are," Miller said. "So maybe 20 years from now, who knows, maybe these are the things she'll remember."
Contact Madelyn Reese at mreese@reviewjournal.com or 702-383-0497. Follow @MadelynGReese on Twitter.
Healing garden stories
Woman wounded in mass shooting makes healing return to Las Vegas
Las Vegas City Council OKs $50K to maintain healing garden
Fund will maintain Healing Garden created after Las Vegas shooting
Couple honors Las Vegas shooting victims with special stones
Man finds peace helping others at Las Vegas healing garden