Las Vegas homeless program making progress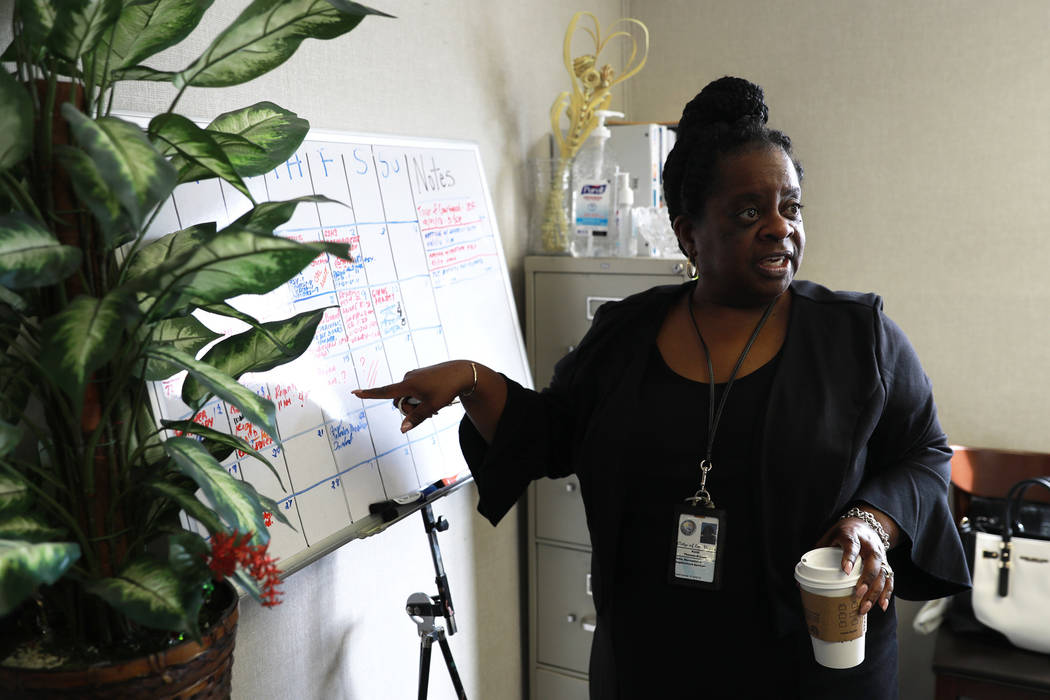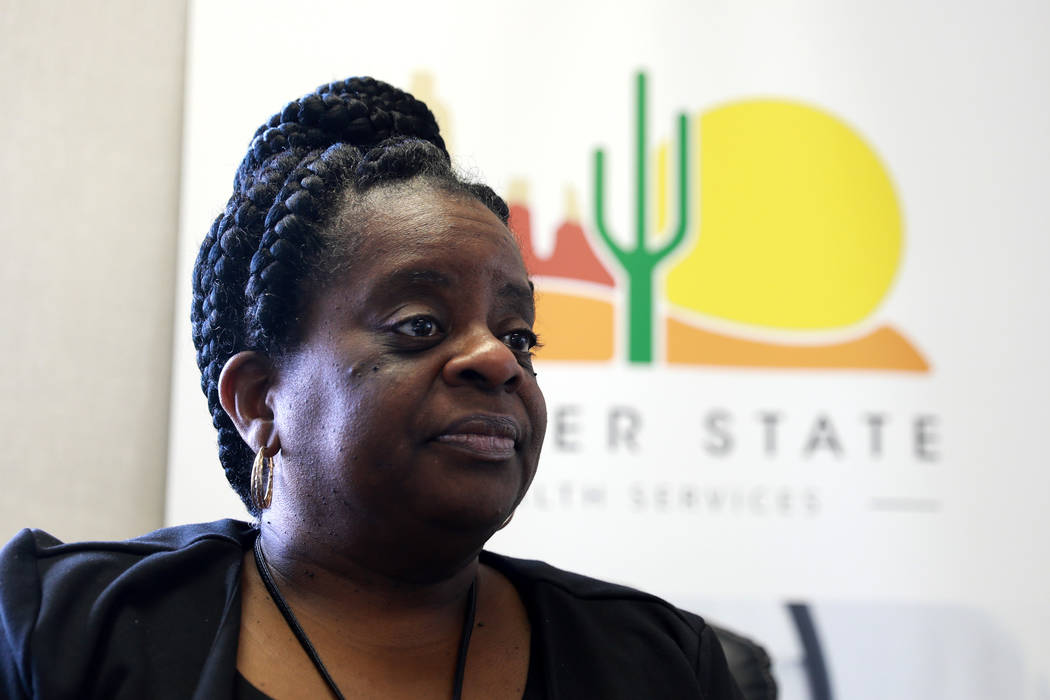 One year to the day after the city of Las Vegas launched a pilot program to help connect homeless people with housing, health care and other services, Kathi Thomas-Gibson is confident the model works.
The proof is in cases like a formerly homeless man named Steve, said Thomas-Gibson, the city's community services manager. Less than a year ago, he was unemployed. Now he's employed, and volunteering at the city's homeless courtyard off Las Vegas Boulevard. Thomas-Gibson wrapped him in a hug on Thursday, after learning he had found an apartment.
"I know this works," Thomas-Gibson said. "We've got a heavy lift, but that's the type of thing that keeps you going."
When the city launched a pilot project last March, Thomas-Gibson set an unofficial goal to get 1,000 people off the streets — into permanent housing or reunited and living with family. Her team reached that goal in January, she said.
The city's courtyard off of Las Vegas Boulevard North is slated to move to a 24/7 operation May 1, with round-the-clock security that will allow for roughly 350 homeless people to safely sleep on mats in an open-air setting.
Recent attacks on homeless people rocked the community and underscored the vulnerability of living on Las Vegas streets. Police arrested a 26-year-old Las Vegas man in February in connection with the shooting deaths of two homeless men.
"This is a safe zone," Thomas-Gibson said. "Here, no one's going to mug you or beat you up."
In the pilot phase, the city has been offering many of the services planned for the full-scale courtyard. Security guards patrol the site while homeless people charge their phones at a makeshift charging station, sit at picnic tables or meet with someone to set up services.
The gates are open from 6 a.m. to 6 p.m., and city staff estimate they serve about 300 people daily. Mobile showers arrive on Tuesdays and Thursdays, and a white board inside an office details the numbers of dental and behavioral health appointments that are set up for each day.
The courtyard is aimed at serving homeless people in the downtown Las Vegas area, the city's urban core. The project is modeled in part after a San Antonio, Texas, campus that connects homeless people with services, a cooperative effort between the city and the county that was touched off with millions of dollars in private funding, something the Las Vegas courtyard project lacks.
"This has to be more than just a governmental operation," Las Vegas City Councilman Bob Coffin said. "We're going to need corporate support and philanthropy."
Unlike most homeless shelters, the city's courtyard won't require that people are sober to enter. And while there will be space for people to sleep on mats, the concept is a resource center, not a traditional shelter.
The center started with three portable bathrooms that were being cleaned three days a week to eight portable bathrooms that each hold 60 gallons of waste and are being cleaned daily, Thomas-Gibson said.
"That's how much waste we're keeping off the street," Thomas-Gibson said.
On Thursday morning, shopping carts filled with belongings were clustered toward the back of the property. When the courtyard is fully operational, people will be able to store things there.
Thomas-Gibson characterizes the courtyard as "an important first step," but not a magic bullet — it needs to work alongside other initiatives, like increasing affordable housing, Thomas-Gibson said.
Thomas-Gibson doesn't speculate why the local homeless population is so large, but said people who use the services at the courtyard attribute their own circumstances to job loss, divorce and other changing life and health circumstances.
"No one says 'we came here because the weather's nice and the casinos are open 24/7,'" Thomas-Gibson said. "The data tells us economics and health — usually mental health — are two big reasons. But there are a multitude of causes for homelessness, and we need a multitude of responses."
Contact Jamie Munks at jmunks@reviewjournal.com or 702-383-0340. Follow @Journo_Jamie_ on Twitter.
Southern Nevada homeless
Las Vegas/Clark County ranked eighth last year among major American metropolitan areas with the largest homeless populations, according to the U.S. Department of Housing and Urban Development's annual report on homelessness. Las Vegas is the smallest city in the top 10, among larger cities like Los Angeles, San Francisco, Seattle and Boston.
A January 2017 point-in-time count in the region found 6,490 homeless people.
Roughly 67 percent of the homeless people in the region are unsheltered.
Related stories
Las Vegas wants operator for planned homeless courtyard
Southern Nevada among nation's highest in homeless population
Las Vegas officials make plea to those helping homeless people