Las Vegas pet rescue group sends dogs to Canada for adoption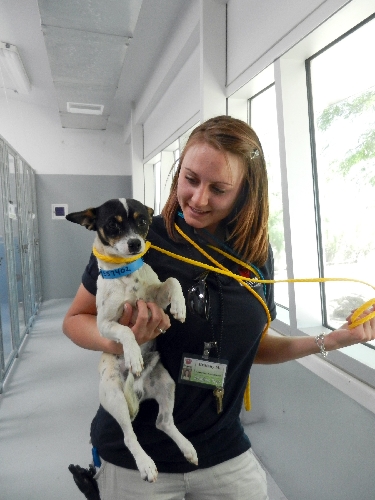 It can be a long trek from being abandoned to finding a forever home. For some dogs, the journey is nearly 1,000 miles long.
Foreclosed Upon Pets Inc. now is shipping small dogs to Vancouver, British Columbia, Canada.
"People in British Columbia said they're almost pre-adopted before they even get there," said Everett Croxson, founder of FUPI .
With the help of Alaska Airlines, the pooches will fly free to Canada on a weekly basis. The first shipment was June 8, when five small dogs were sent — a test run, as Croxson called it.
The dogs were accepted in Canada by representatives of Petcetera, a leading retailer of pet food and supplies. It has 17 pet stores across Canada and a pet adoption arm called PAWS.
"I like to think of them as having dual citizenship," said Holly Williams, Petcetera coordinator in Canada.
Three of the five dogs were adopted within four days of arriving.
To prepare for the test run, four FUPI volunteers met at the Lied Animal S helter (The Animal Foundation), 655 N. Mojave Road, the previous Sunday. They were there to select which dogs would be transported. Criteria included approachability, leash acceptance and their degree of fear of people.
A list of six dogs was made — all sported cute names such as Yoda, Sparky and Doodle — but the dogs were not taken away, as FUPI has nowhere to board the animals. The rescue organization, an all-volunteer effort, is "in desperate need," Croxson said, of donated warehouse space of at least 2,000 square feet. It also is in desperate need of foster parents and cannot accept any more animals until more volunteers step forward.
For the Canadian partnership, alternative dogs were selected in case any of the original six were adopted before they could be moved.
Any of the selected dogs who were not yet spayed or neutered were taken to Black Mountain Animal Hospital, 400 College Drive in Henderson, the following Tuesday to have that procedure done.
Volunteer Lori Estridge voiced concern about the animals' welfare with having them fly so soon after surgery but added, "but it's better to get a little stressed and have a chance for a home."
The dogs who'd had surgery traveled with e-collars — plastic cone-like collars that prevent biting at stitches — an uncomfortable but necessary step.
Originally, six dogs were supposed to go in the first shipment, but there was room for only five. According to the Alaska Airlines schedule, the dogs were in transit about 3½ hours once they were airborne.
There is no quarantine period involved. The dogs have to have their rabies vaccination and be in good health.
Williams also approached Fresno, Calif., for dogs, as Canada has a shortage of small dogs and wanted to begin importing them from American shelters. That program has yet to start. Why aren't there enough small dogs in Canada?
"I guess the spay and neuter your pets programs have worked well," Williams said. "I believe you have more of a crisis with the economy there, and the pets are being displaced."
The plan to transport dogs first was hatched about a year ago when T he Animal Foundation was contacted by Petcetera's PAWS organizers.
The foundation was not set up to handle such a task, so it put out the request to area rescue groups. FUPI stepped up to the plate. Red tape and logistics kept things from moving forward quickly.
To try to get abandoned pets adopted in Las Vegas, FUPI brings animals to First Friday events, held in the downtown A rts D istrict once a month.
It also has adoption events at area PetSmart stores — 5160 S. Fort Apache Road; 286 W. Lake Mead Parkway (near Water Street), in Henderson; 6980 N. 5th St. in North Las Vegas; 9775 W. Charleston Blvd., near Hualapai Way; 6650 N. Durango Drive; 1261 S. Decatur Blvd; and 1321 W. Craig Road — most Saturdays.
The group reports that one to two animals are adopted at each location each week. Before an animal can go home with its new family, a home inspection is done to ensure that the animal is a good fit.
It's not just the dogs who get to fly off to new homes.
One of FUPI's cats recently was adopted by a couple from Germany. They were on vacation and using a laundromat when they wandered over to the PetSmart in the same shopping center.
One of the cats was a Maine C oon named Nemo. The couple were so taken with him that they decided to adopt him on the spot. Estridge joked that she offered to go to Europe to conduct the home visit.
"I told them, 'What happens in Vegas is going home with you,' " she said.
Nemo flew home with the couple and now lives in Frankfurt.
For more information about Foreclosed Upon Pets Inc., visit forecloseduponpets.org.
Contact Summerlin and Summerlin South View reporter Jan Hogan at jhogan@viewnews.com or 387-2949.
Foreclosed Upon Pets Inc.
For more information about Foreclosed Upon Pets Inc., visit forecloseduponpets.org.