The Metropolitan Police Department is boosting its security measures at this year's Life is Beautiful music festival in downtown Las Vegas, but concertgoers might not even notice.
That's because the heightened security detail includes covert operations such as an increase in plainclothes officers inside and outside of the festival grounds, strike teams and snipers, according to Deputy Chief Andy Walsh, who oversees the department's tourist safety division. Before that, he was the captain of the department's
downtown area command, where the three-day music festival shuts down roughly 18 city blocks every September.
"You probably won't see them because they'll be in positions conducting surveillance in higher positions," he said.
Vulnerabilities in the festival's planned security measures came to light last year, when a gunman on the 32nd floor of Mandalay Bay opened fire into a crowd of more than 22,000 concertgoers at the Route 91 Harvest music festival. He killed 58 people and injured hundreds more in the Oct. 1 attack.
The weekend before the gunman carried out his deadly attack, he had booked a room at The Ogden, a high-rise condominium project overlooking Life is Beautiful. The festival site is surrounded by high-rise hotels and residential properties.
"When you talk about the world we live in now and the fact that we have evidence that the gunman was at Life is Beautiful, obviously that changes the vulnerabilities we face as law enforcement," Walsh told the Las Vegas Review-Journal.
A Metropolitan Police Department report issued in January detailed internet searches the shooter made on his laptop in the month before the Oct. 1 attack. Among them was "expected attendance for the Life is Beautiful music festival in downtown Las Vegas." Others included "How tall is Mandalay Bay," Las Vegas Academy of the Arts Performing Arts Center, Discovery Children's Museum, and expected attendance for the Route 91 Harvest festival.
Citing security concerns, Walsh declined to further elaborate on the department's plans but said that festivalgoers should try to enjoy themselves this weekend, knowing that Metro's goal is to prevent any violent crime.
"We've always had good solid plans for big events prior to 1 October," Walsh said, noting that Metro's training and planning for large-scale events is ongoing throughout the year.
Ogden buckles down
During the planning stage for Life is Beautiful, Las Vegas police also worked closely with the Ogden Unit Owners' Association and casinos in the festival's vicinity, Walsh said.
New safety measures have been implemented to enhance security at The Ogden during the festival, including an ongoing Metro presence, a tightened check-in system for new tenants, guests and package deliveries, restricted access to the parking garage and a new resident access system for elevators and amenities.
"The safety of our occupants, including owners, tenants and guests, has been and will always be our top priority," the Ogden Owners' Association said in a statement. "We will work closely with the city of Las Vegas to ensure strict adherence to the city's regulations governing use and occupancy of the units. We will continue to work closely with both Metro and organizers of Life is Beautiful to ensure a well-planned and coordinated security program before and during the festival."
Life is Beautiful declined to comment on security, but the event's official website outlines a new bag policy "meant to enhance safety, security and entrance efficiency for attendees."
Small bags, purses and totes no larger than 6 inches in length, 8 inches in width and 3 inches in height do not have to be clear, otherwise larger backpacks or bags with multiple pockets must be clear. Drawstring bags or other bags with one opening do not have to be clear, according to the guidelines.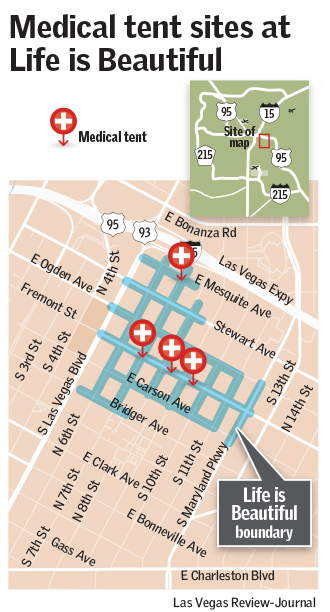 Staying vigilant
Festivalgoers will be patted down before entering and are subject to search anytime after entering the festival grounds, which will have four medical tents set up.
"There are several components to planning," Walsh said. "If all your plans are just prevention, then you bear fruit."
Walsh asked that the public stay vigilant this weekend and that attendees make note of the nearest medical tents and exits. Approximately 55,000 people are expected to attend each day, according to a festival spokeswoman.
"People shouldn't hesitate to say something. Tell us what you see that we may not see," Walsh said. "Let's say there's 50,000 people on the ground, then that's an extra 100,000 eyes."
Contact Rio Lacanlale at rlacanlale@reviewjournal.com or 702-383-0381. Follow @riolacanlale on Twitter.