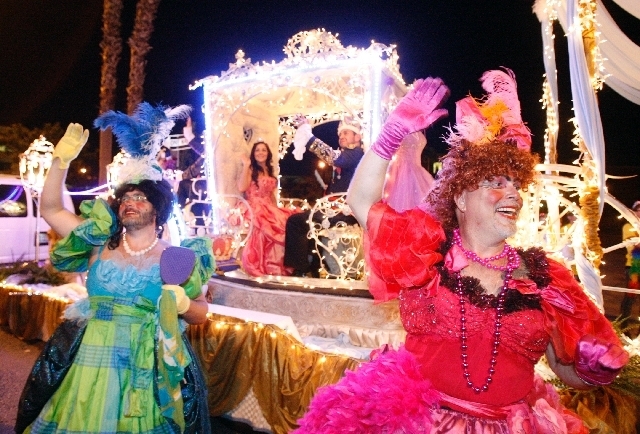 On Sept. 7, the Las Vegas Pride Festival is set to celebrate its 30th anniversary with celebrations spread out across the valley but primarily in the Paradise/downtown area.
The main events are the Pride Night Parade on Sept. 6 and the Las Vegas Pride Festival on Sept. 7. But there are events taking place most days and nights leading up to the big weekend, including a ceremony turning the Strip's Welcome to Las Vegas sign rainbow-colored at 10 a.m. Aug. 30.
"I never thought I would see that happen during my lifetime," said Ernie Yuen, president of the Southern Nevada Association of Pride Inc., which organizes the event. "Then again, four years ago, we had our Pride logo up on the Fremont Street Experience, and I never thought I'd see that again in my lifetime."
The association's website, lasvegaspride.org, states that its mission is to educate the community by invoking, promoting and celebrating lesbian, gay, bisexual and transgender pride. The group also organizes multiple pride events throughout the year.
"It's basically another full-time job for me," said Yuen, who has lived in Las Vegas for 13 years and has been with the association for 11 years. "We're all volunteers."
The association is a member of the Consolidated Association of Pride Inc., which has member organizations in Arizona, California, Hawaii, Mexico, Nevada, New Mexico, Texas and Utah. Yuen said the local organization is small compared to cities with similar populations and that the festival suffers from the same woes as many conventions and special events in Las Vegas do, namely an abundance of things to do.
"It doesn't matter who we bring in as a headliner," Yuen said. "There's always something on the Strip people want to see. The LGBT community always finds a reason to come to Vegas. Unfortunately for us, coming here for gay pride is not one of them."
Yuen said the event caters to the local community, and although he'd like for it to be a bigger draw for out-of-towners, he's pleased with how big it is with locals.
"It's a small-city pride," he said. "It's kind of homey."
The festival is scheduled from noon to 10 p.m. Sept. 7 at the Clark County Amphitheater, 500 S. Grand Central Parkway. Plans include more than 100 exhibitors, performances on stage throughout the event, a food court, bars and a family activity zone with activities for children 12 or younger and their parents. The Pride Night Parade is set for the previous evening.
"It's a crazy, non-traditional city," he said. "Usually a pride parade starts in the morning and ends by lunch and flows into the festival. We can't do that because of the heat and because the city's much prettier at night. She becomes a whole different place after dark."
A parade pre-show at the Parade Main Stage at Fourth Street and Bridger Avenue is scheduled from 7 to 8 p.m. Last year, comedians Joan Rivers, Margaret Cho and Kathy Griffin shared the stage with a large assortment of local performers. Cho and Griffin are performing on the Strip this year, and Yuen doesn't know if they'll be back, but he hopes so.
This is the 15th parade, but Rob Schlegal, who has been an active voice in the LGBT community for nearly 30 years, said the first parade wasn't exactly a big event.
"There was a lesbian group who wanted to ride their motorcycles from Flex, a club on Charleston Boulevard, down to the Fruit Loop (a cluster of gay-friendly establishments on Paradise Road)," said Schlegal. "We wanted to show our support, so we got a limousine and rode down with them."
Schlegal is on the board of the Lambda Business Association, an organization for LGBT and gay-friendly businesses. He is the former publisher of The Bugle, one of the first LGBT-focused publications in the valley.
"The first Pride Festivals were small events held in people's backyards," Schlegal said. "I held the first big one, and I'm thrilled with how big it's gotten."
Following the parade, Yuen said there isn't so much an after-party as there are after-parties.
"Everyone is going to go to their favorite watering hole," Yuen said. "People will go where they're most comfortable. Every gay bar is going to be busy that night."
There is one notable exception to that statement.
"I'll be going home after the parade," Yuen said. "I've got to get up at 6 the next morning to get the festival together."
For more information, visit lasvegaspride.org.
Contact Paradise/Downtown View reporter F. Andrew Taylor at ataylor@viewnews.com or 702-380-4532.