Las Vegas Stratosphere employee celebrates 20th anniversary with resort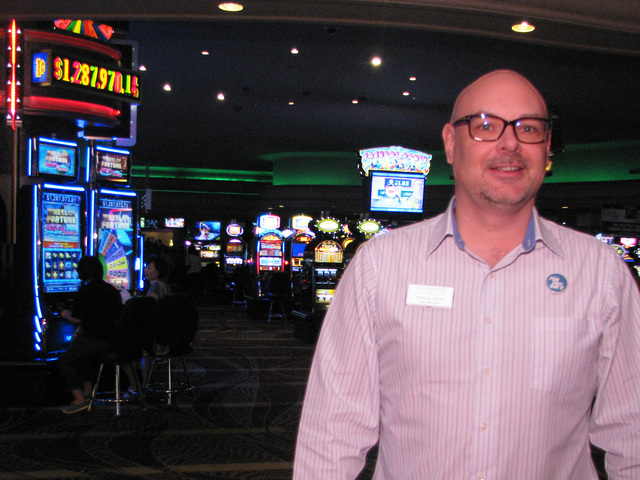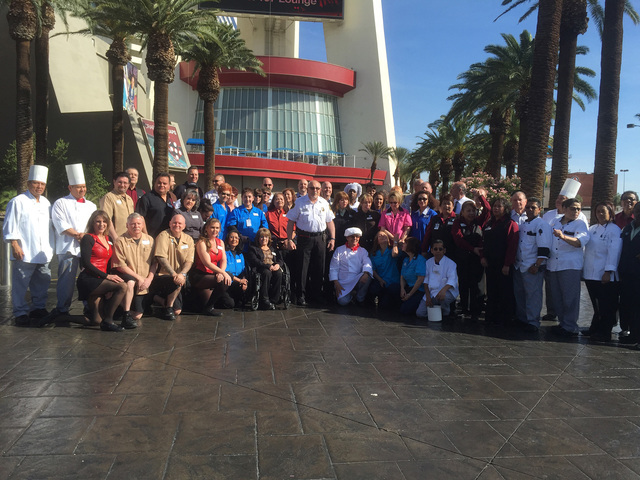 Kimberly Huff started at the bottom on opening day of the Stratosphere 20 years ago and quickly rose to the top. Then, just as quickly, she went back to the bottom. Then she went back up. She was an elevator operator.
Now she really is at the top, starting from an entry-level job to becoming the director of the attractions and retail division for the Stratosphere.
"I … was promoted to what was then called a senior associate, but now we call that position a lead," Huff said. "From there, I went to supervisor, manager and other positions. When the last director left, they promoted me to director."
Huff is one of around 50 employees who was working at the Stratosphere on opening day, April 10, 1996, and are still there. When she first arrived , it was still being built. She was a 19-year-old fresh out of high school and living in Pahrump.
"I knew I wanted to go to college, but I had several obstacles to overcome," Huff said. "I planned to work here for the summer, move to Las Vegas, get into (what was known then as the Community College of Southern Nevada) and get my life on track."
It seemed like a lot to do, but she was told by her boss that the property had a tuition reimbursement program.
"They helped me go to college," Huff said. "I went for childhood education, but by the time things were said and done, I'd already been promoted about seven times. I realized I had an employer that stood behind me and was patient. When I started, I didn't know where I was going. I needed to go somewhere, and I realized this was my answer."
She liked the company and found the attractions exciting to work with. She noted that while directors usually are in charge of just one area, over the years, her position expanded so that she handles three.
"I'm in charge of the 44 shops downstairs, the rides and the people working on the elevator," Huff said. "It's still fun. We've got lots of new, exciting new tenants coming in, and I've got a great staff."
Michael Mann, director of ride engineering, keeps the rides in peak operating condition. He has been with the company for only a year but has spent his professional career in the industry. He works closely with Huff and relies on her to know what is going on.
"She's got an amazing grasp on the institutional history of the place," Mann said. "She's also great with people, so that makes anything I have to do with her really easy."
Huff added she enjoys the location for its spectacular view of the city and the weather.
"I wish more people would come up here to shoot photos or paint when a storm comes through the valley," Huff said. "The sight is spectacular."
It isn't just the weather that's exciting. Huff recalled one night when the neighbors below the Stratosphere flooded the Metropolitan Police Department's phone lines because helicopters were circling the tower and automatic weapon fire could be heard. Flashes of the weapon discharge could be seen inside the restaurant from the street, and at least one window had been shot out.
"They were filming the movie 'Domino,' " Huff said. "It had been in the news that it was going to happen, but I guess a lot of people missed it. The film crew removed one of the 800-pound windows and replaced it with sugar glass. In the movie, it looks like money was blowing all around, but it was just cut up magazines."
Over the 20 years, the Stratosphere has been the set for several films and music videos. The latest film to be shot there, "Sharknado 4," is set to be released July 31. Rumor has it that the SkyJump ride was used in the film for someone to escape from the rampaging sharks more than 1,000 feet in the air and 300 miles from the ocean.
"It's been a lot of years of a lot of really fun stuff," Huff said.
To reach East Valley View reporter F. Andrew Taylor, email ataylor@viewnews.com or call 702-380-4532.