Las Vegas USA Dance club celebrates 10th anniversary
February 19, 2016 - 10:30 am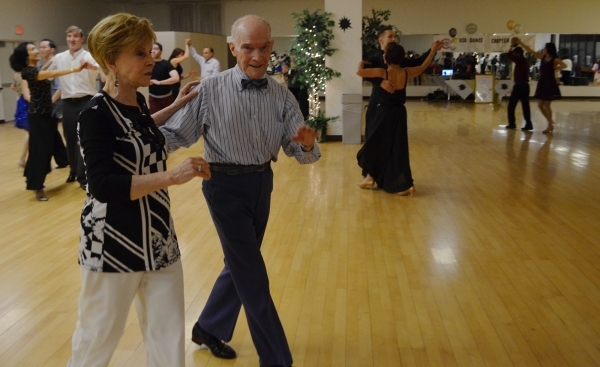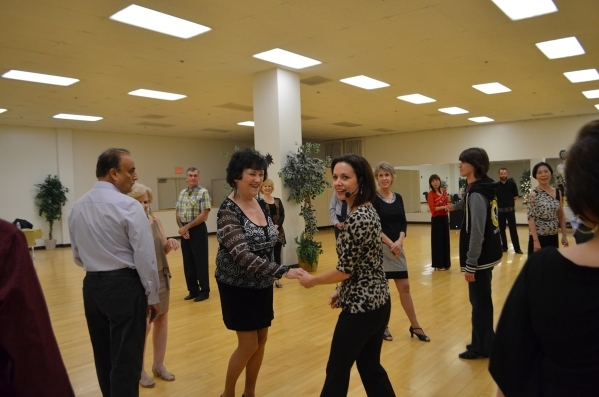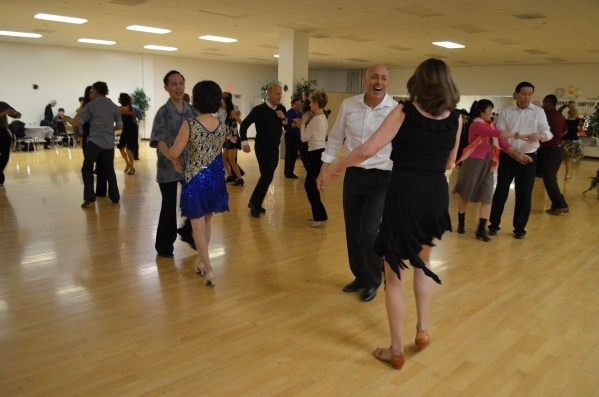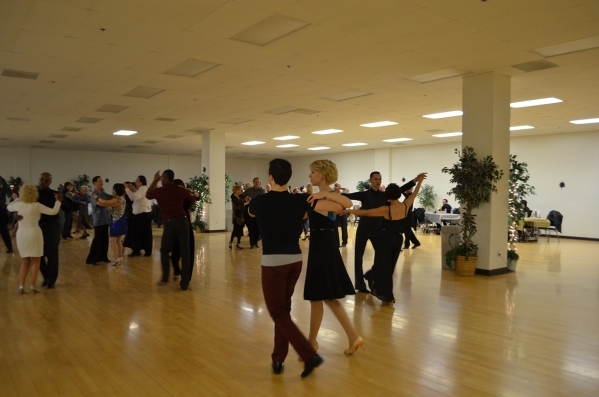 "Five, six, ready, and one, two, three and four, and a left side pass, and one, two, three and four — sugar push. One, two, three and four, and an underarm turn. One, two, three and four and five and six. Yay. Alright, we're ready for a whip," called Anne McNinch as she led a West Coast Swing lesson during a social dance sponsored by the Las Vegas chapter of USA Dance Jan. 23.
The Charleston Heights Arts Center, 800 Brush St., was packed for the group's 10th anniversary.
Shirley Esposito, club secretary, said the numbers were impressive, especially with the center's parking lot being rebuilt.
"Can you imagine how many people come to this when the parking lot isn't ripped up?" she asked. "We have some die-hard people who just love dancing."
"You've got all kinds of dancers," said her husband, club present Bill Esposito, while pointing out instructors, dancers from UNLV and national ballroom competitors. At some events, the pros will put on exhibition dances.
"And then we have beginners, rank beginners," he said. "We have people who are here for the first time ever."
Club webmaster David Burt said members used to meet monthly at dance studios all over town, but with 100 to 120 at every dance, they quickly outgrew most venues.
"Most studios around town can't accommodate that many people for an actual dance. It's not just getting 120 people in; you need the space so they can actually dance," he said.
"We had 155 for our Christmas holiday dance last year," Bill Esposito said.
He serves as the disc jockey, playing a mix of music from modern to lounge hits and country to classics, while Shirley works the door. There's no dress code. All ages are welcome. Shirley said that's part of why alcohol isn't part of the mix.
"We may do sparkling cider for Christmas," she said, adding that "dancing and drinking don't mix; not if you're a real serious dancer. These people will go out and have a nightcap after, but they don't miss drinking to dance … They get high on dancing; that's really what they do."
The group's next dance, with a post-Valentine's Day theme, is set from 7 to 10:15 p.m. Feb. 20. Admission is $5 for members and $10 for nonmembers. Students with valid student ID will be admitted free.
At the Jan. 23 event, members of an after-school ballroom dance club from Jydstrup Elementary School, 5150 Duneville St., took advantage of free student admission to polish their skills.
Fifth-grader Sara Stringham said she's a big fan of ballroom.
"I watch 'Dancing with the Stars,' and I watch 'So You Think You Can Dance,' " she said. "Personally, I like tap dancing better, but whatever."
Angelica Pintorres said her daughter, Jydstrup fourth-grader Jzebelh Pintorres, had to be encouraged to join the ballroom club. "It's something good for her in the future," her mother said.
"She made me sign up, but then I started liking it," Jzebelh said.
Jydstrup art teacher John Delisle said that with the help of his former competitive collegiate dance partner, Gail Michel-Parsons, he launched the after-school club earlier this school year.
"When we started to bring them together, they were worried about the cootie factor," Delisle said of the students. After about a month, they were fine, and now they're preparing for a performance and for the annual Desert Challenge competition at UNLV.
John Sholl is at the other end of the age spectrum.
"I'm probably the oldest one here," the 95-year-old said as he pulled his dancing shoes out of a black bag and swapped them for his street shoes. Dressed in a crisp blue pinstripe shirt and bow tie and sporting just a bit of his native British accent, Sholl had his pick of dance partners.
"The ladies love him," Shirley Esposito said.
Sholl learned to dance in London in the '40s. He goes out dancing two or three times a week and said it's good for your health and much more fun than lifting weights. He loves the foxtrot, the quick-step and the tango.
"I don't do any of the night club dancing, only ballroom," he said.
His wife, who died in 2010, used to dance with him. "I've got a picture of her in my wallet," he added.
Cathy Cawthray dances around three or four times a week. "To me, it's a blast. It's just a lot of fun," she said.
When she first started a few years ago, Cawthray lost 60 pounds and kept it off.
"Now it's become a passion, and I love it," she said. "And I meet a lot of great people."
The dances are set up to help members mingle. While many come with partners, plenty don't. During the half-hour lesson, McNinch frequently called out, "Everyone find a new partner," and gave them a 10-second countdown to comply.
Burt said there are sometimes as many as two women per man.
"It's very good for guys," he said. "If you're a guy, and you want to dance, there's going to be a girl for you to go dance with."
Many of the men like the odds.
"I get some attention," said Matt Sosa. The competitive West Coast Swing dancer began attending USA Dance's monthly events about five years ago as a student at UNLV.
"It's fun," he said. "I like dancing, and I like supporting the community."
Visit usadancelasvegas.com.
— Contact View contributing reporter Ginger Meurer at gmeurer@viewnews.com. Find her on Twitter: @gingermmm.
If you go
The Las Vegas chapter of USA Dance's next dance, with a post-Valentine's Day theme, is set from 7 to 10:15 p.m. Feb. 20 at the Charleston Heights Arts Center, 800 Brush St.
Admission is $5 for members and $10 for nonmembers. Students with valid student ID will be admitted free.
Visit usadancelasvegas.com, or call the center at 702-229-6383.