Las Vegas Young Artists Orchestra founder wants to help talent to stay local
November 13, 2015 - 4:30 pm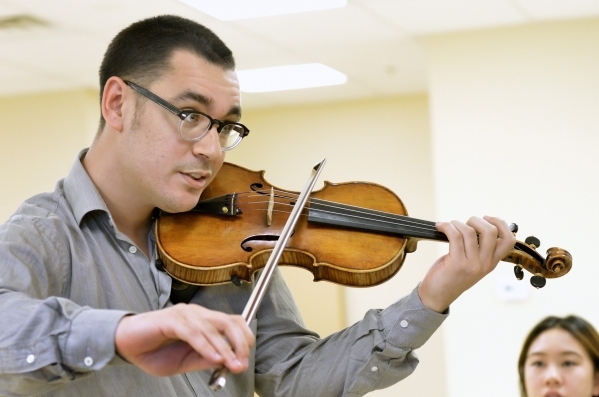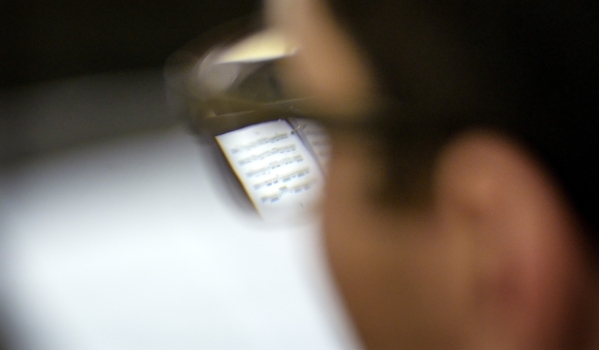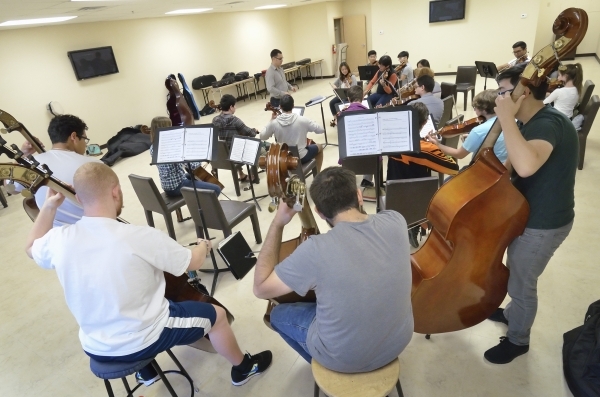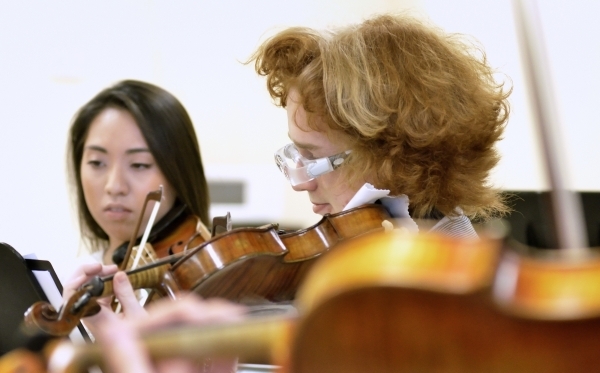 Henderson violist Yunior Lopez used to travel a lot for his music career, but he promised his wife one day that he'd get involved with something local to help him stay put.
Lopez decided that he wanted to help youths pursue music as a career, so he founded the nonprofit Las Vegas Young Artists Orchestra about two months ago. The group, which seeks to raise $30,000 before January, offers training and professional development for members.
"Right now, the orchestra is just strings, but the end goal is to have a full symphony," Lopez said.
He said his organization was needed in the valley because opportunities were lacking for young musicians seeking to take their skills and experience to a higher level.
"It was strange, in a place like Vegas, something high-caliber wasn't happening," said Lopez, who conducted the Academy Symphony Orchestra at the Royal Conservatory of Music in Toronto from 2009 to 2013 and modeled his nonprofit after that group.
Dave Modica, treasurer of Lopez's nonprofit, said his 18-year-old son Kyle went out of state to pursue music education after high school due to a lack of options in the valley. But it's costly to do that, and not every young, aspiring musician can afford it, he said.
"Some of his friends weren't able to leave town to go to great music schools once they got out of high school," he said. "There was this gap that needed to be filled."
Lopez said last November, he conducted a couple of performances for one of the Clark County School District's three high school honor orchestras — the one with members ages 11 through 14. He said many of the students approached him, saying they were frustrated and wanted to challenge themselves.
"They wanted to perform more — to really play at a higher level than what they were used to," Lopez said. "Half of those kids said to me, 'I want to perform every month, not every three months, and not just play one movement.' "
Many youth classical music programs in the valley charge a considerable fee to participate, Lopez and Modica said. They said many also offer only a handful of concerts annually, and it's not uncommon for participants to perform the same small segments of classical works through the season.
Youths in Lopez's 22-member group participate free, and they perform about 10 concerts annually, each time offering a different repertoire. Members, ages 12 through 22, also play full classical pieces.
"For a lot of these students, it was the first time they had to learn whole-scale works," Lopez said.
Viola player Orei Odents, 17, said he preferred playing full compositions — one of the reasons he joined Lopez's orchestra. He also likes being among musicians who are as committed as he is, he said.
"I get to play with people who are just as passionate as I am," said Odents, a senior who also plays with Las Vegas Academy's pop orchestra. "I feel like everyone cares as much as I do, and I haven't experienced that before."
Erika Dalton, a sophomore who was on Las Vegas Academy's orchestra last year, said she joined the Las Vegas Young Artists Orchestra because she opted to take online courses this year to allow her greater flexibility with her schedule. Her decision worked out for the best, she said.
"I love performing," she said. "That's a good part of the reason why I love the orchestra, especially being able to do chamber orchestra. I just feel like it helps all aspects of your playing, and the camaraderie of it all is really nice. It's also fun to be around people who are older because you can learn from them."
The group's first two concerts were Oct. 18 and 25 inside the Jewel Box Theater at the Clark County Library, 1401 E. Flamingo Road. Its next performance is planned at 2 p.m. Nov. 15 at the same venue, featuring solo and chamber music. Tickets are $15 for adults, $10 for seniors and $5 for students.
Harold Weller, founding musical director and conductor laureate for the Las Vegas Philharmonic, heard Lopez's group play at its first two concerts and said he was impressed.
"For a first time out — for any time out — it was an exceptional performance," said Weller, founder of the Foundation to Assist Young Musicians, which also helps youths with music training and career development. "It was one of the finest performances by a young ensemble I've heard in many years, and I think it's worth supporting. These are kids who are experiencing playing full compositions, not just excerpts or arrangements of classics. It requires a lot more concentration — a lot more discipline."
The Las Vegas Young Artists Orchestra rehearses free at the Adelson Clinic for Drug Abuse, 3661 S. Maryland Parkway. Auditions are planned Dec. 13 for strings, wind, brass and percussion musicians. A second audition is set for May 22. The time and place for the auditions have yet to be determined. Most of those who pass the tryouts will start performing with the group at some point in 2016, with some of the string musicians possibly starting as early as January, Lopez said. Applications are available at lvyao.org.
— To reach Henderson View reporter Cassandra Keenan, email ckeenan@viewnews.com or call 702-383-0278. Find her on Twitter: @CassandraKNews.
Las Vegas Young Artists Orchestra
Solo and chamber music performance
2 p.m., Nov. 15, Jewel Box Theater, Clark County Library, 1401 E. Flamingo Road
Tickets: $15, adults; $10, seniors; $5, students
Auditions: Dec. 13, for strings, wind, brass and percussion musicians; next audition, May 22
702-907-4486 or 786-458-6984
Email: yaorchestra@gmail.com
lvyao.org