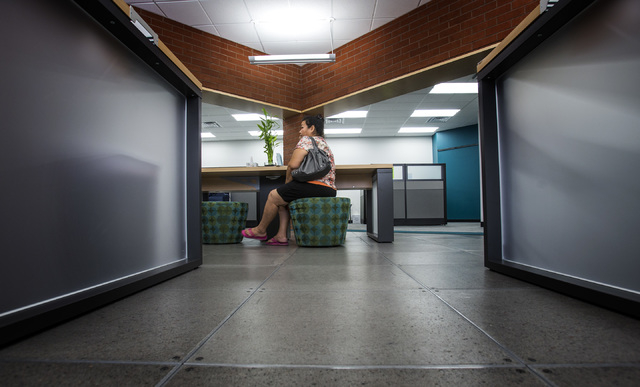 The deadline for open enrollment for health insurance under the Affordable Care Act has been pushed to March 31. To help Las Vegas Valley residents, the Las Vegas-Clark County Library District has scheduled sign-up opportunities at various branches.
The federal government did not ask the library district to host support people. It stepped forward to offer the help.
"What generally happens in almost all government programs — often in these type of situations, federal or state, where a computer is required — they'll say, 'Hey, just go to your local library,' " said Tom Fay, library district deputy director. "So we try to pre-empt that, especially with something as complicated as the Affordable Care Act."
The effort coincides with AARP's programming, which has been holding informational meetings since Oct. 1, seeing anywhere from four to more than 70 attendees. The AARP program held at least 12 public informational meetings at libraries. Those meetings had 433 attendees. Enrollment facilitators helped 1,457 people sign up for care, Fay said.
"We knew it was going to be an evolving process," he said. "Everyone knew it'd be pretty hectic at first, that there would be issues, and some of it would be sorted out as we went."
On Jan. 30, View visited the Rainbow Library, 3150 N. Buffalo Drive, where Randall Downey was the exchange enrollment facilitator. Normally, he said, he sees people by appointment, which can take from 45 minutes to two hours. He helps people build a profile to see if they're eligible for tax credits, then the computer takes into consideration their circumstances to see what plans would work for them. Then they choose from the plans, based on the level of coverage they need, co-pays and other considerations. He helps them compare plans before signing up.
"We get a lot of snowbirds," Downey said. "So, the big question we get is, 'Where can I use that?' "
He said they need to enroll in their home state, wherever they have their permanent residency.
There are three carriers in Southern Nevada — Anthem BlueCross, Health Plan of Nevada (UnitedHealthcare) and Nevada Health Co-op. The last was originally for culinary workers who could not reach the threshold of hours needed for employer coverage. The co-op is now, by law, open to nonculinary workers in Nevada.
This day, no one had signed up for an appointment, so Downey took walk-ins.
"We normally do it by appointment," he said. "I'll normally do seven (appointments) a day; it could be a family or it could be an individual."
This day, Spring Valley resident Sylvia Smith was looking for coverage as she has no insurance, despite being employed full time. She had difficulty with the online sign-up accepting her information, was frustrated and needed information on how to resolve it. She learned of the sign-up help through the library district's website, lvccld.org.
After Downey helped her, she said other places, such as community centers, should host such free assistance.
How did she feel about the Affordable Care Act?
"I'm ecstatic. There are no words to express it," Smith said. "We're living in a country that's highly developed. It's in our best interest for everyone to have health coverage."
Northwest resident Sylvia Garcia also dropped in. She said her employer does not always give her a full-time schedule.
"I'm with culinary, but because I'm on call, I don't get so many hours," Garcia said. "So I need to pay … I called one of the numbers on TV, and they told me to come here today."
Garcia said she appreciated having a place where she could talk face-to-face with someone and was surprised not to see more people there.
North Las Vegas resident Howard Kelly stopped in to "try and put out some fires for my daughter, who is 30."
The daughter is a part-time worker, he said, and he wanted to make sure she wasn't "hit with penalties." Kelly said free preventative care that offered procedures such as mammograms and colonoscopies with no out-of-pocket expenses was a good thing.
"Absolutely. I like the mental health program, too," he said.
Downey said he likes helping people get coverage "but to me, the most gratifying is when people come in saying, 'I think this whole idea is miserable, I'm being forced to buy coverage … why am I being forced to do this?' So I say, 'Well, you're here, so let's take a look and see what you think.' It's always interesting to me, at the end of a session, to see them walk away (with coverage and) paying substantially less for comprehensive coverage.
"They may not have a smile on their face, but they're not as angry as they were when they walked in," he said. "The second most gratifying (thing) is, we get a lot of young families who work for small businesses or are possibly self-employed who could never afford insurance but who were worried about their children. It's always very gratifying to have them exit the room after finding coverage for the entire household."
Contact Summerlin/Summerlin South View reporter Jan Hogan at jhogan@viewnews.com or 702-387-2949.