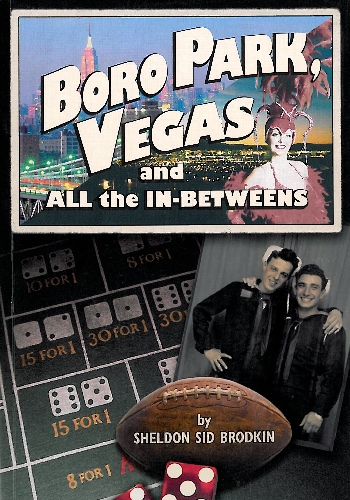 Sheldon Sid Brodkin's "Boro Park, Vegas and All the In-Betweens" began as a biography detailing his friend's life as one of the early "movers and shakers in Las Vegas." Brodkin said his buddy had a fantastic story to tell: star athlete in high school, a place in the professional basketball league, forerunner of the NBA. But after a series of interviews, Brodkin decided to write the story as a novel. For more information about the book, visit wordpress.com/tag/sheldon-sid-brodkin.
Excerpt from "Boro Park, Vegas and All the In-Betweens"
Ben Siegel at 45, was 6 feet tall, and a trim, athletic 185 lbs. He was a handsome man, and the Las Vegas sun had given him a very dark tan. He was a clothes horse, and was impeccably dressed, whether for formal occasions with his Hollywood friends, or for a casual visit with Gaetano and his family.
They were meeting in Ben's large trailer, adjoining the building going up, that later would become known as the Flamingo Hotel. "Gaetano, please come in. Please sit down folks, and get comfortable. The heat is something outside, but it's nice and cool here in my trailer. Gina, it's nice to see you have your mother's looks; my paisan Gaetano is a nice guy, but I wouldn't want a daughter of mine to look like him."
Siegel was a great kidder, and he was waiting for a laugh from Gina, but none was forthcoming.