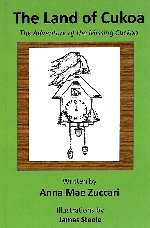 Literary Las Vegas
More than 25 years ago, Henderson resident Anna Mae Zuccari held her wide-eyed 3-year-old granddaughter Ashley up to see the cuckoo clock in the Zuccari family hallway. Ashley giggled as they watched the wooden characters circle. To the preschooler's delight, her grandmother made up a story about a land called Cukoa, "nestled inside a beautiful wooden cuckoo clock." Zuccari recently revisited those stories of the little people in the clock and used them as the basis for the children's book "The Land of Cukoa: The Adventure of the Missing Cuckoo." The book is illustrated by her grandson James Steele, a student at Advanced Technologies Academy.
Excerpt from 'The Land of Cukoa: The Adventure of the Missing Cuckoo'
Then out of nowhere, Valvey appeared. She was the town's misfit, the wicked head vulturette! The villagers, trembling, made a pathway to let her pass. Valvey slinked her way through the crowd, her piercing, crimson eyes focused directly at the Inspector.
Just steps away from him, she cackled. "You think you can retrieve the cuckoo! Wrong, wrong, wrong! You will never find him! I have tucked him far, far away. Hee! Hee! Hee! You will never find him!"
"You Inspector, and yes you, my fellow villagers, are indeed in deep, deep trouble. All of you have scorned me for the last time, and now I am going to get even! Only I alone possess the magical power. I will give you a clue as to what it is, it may be small or it may be large. Wouldn't you like to know! However, I have already said enough."
Valvey continued, "All of you know exactly what is about to take place Sunday at midnight! I don't have to remind you that there is NOTHING you can do to save yourselves!"