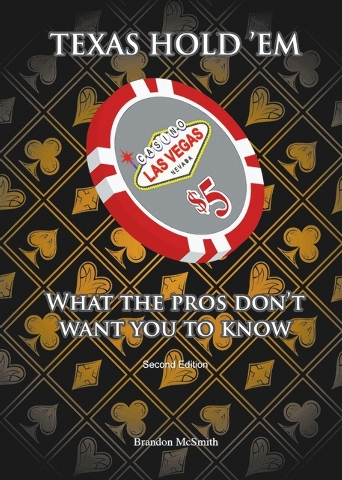 Las Vegas writer Brandon McSmith teaches readers the basics of Texas Hold 'Em from knowing when to fold to knowing when to hold in "Texas Hold 'Em: What the Pros Don't Want You to Know."
"I wish someone would have written a guide like this when I started playing poker," McSmith writes in his book's introduction. "My first year playing in Vegas, I got my butt kicked; I left the game for a while, did my home work, and started winning tournaments. Now it's time to share with you what I've learned the hard way."
Excerpt from 'Texas Hold 'Em: What the Pros Don't Want You to Know'
Part of being a good poker player is recognizing when you're beat and learning how to lay down (or fold) a losing hand.
The single biggest mistake newbie poker players make is falling in love with a hand. I will tell you pocket aces are no good if that straight or flush draw hits. If they catch it and bet at it hard like they have it, then please throw those aces away!
Scenario 1: You're dealt pocket kings and the flop comes ace, 10, 2. You bet and your opponent raises 4x your bet. If you're thinking like a poker player you have to realize he probably caught the ace or possible three of a kind and your kings are probably no good at this point.
Now do you chase or fold? You should probably fold the hand. He could also be bluffing but that gets into advanced strategies which I'm not focusing on in this guide.
One of the hardest concepts to understand is when to lay down a full house. Some day you may face this situation. I'm going to make it as simple as possible. If you're thinking like a poker player you can recognize when to lay down a full house if the board pairs twice.
Scenario 2: You're dealt ace, 9 and the flop comes 9, 9, 10. The turn brings another 10. Your opponent pushes you all in.
If you're thinking like a poker player, you know since the board paired twice he could have a bigger full house if he has that 10. (when looking at full house the best 3 of a kind always indicates the higher full house).
It's hard, but folding your full house in this case would more than likely be a good lay down.