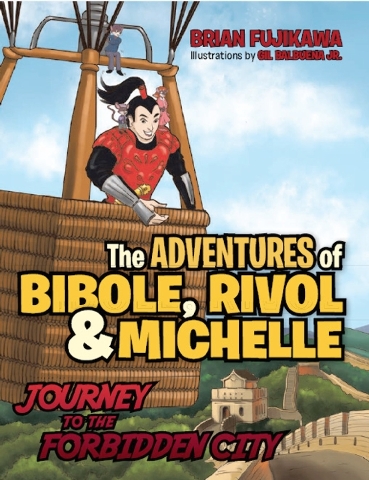 Brian Fujikawa lives in Las Vegas, and his 7-year-old daughter Daisy lives in Baltimore. Though they are three time zones apart, they share a bedtime story ritual. Daisy challenged her dad to come up new stories, and together they created "The Adventures of Bibole, Rivol & Michelle," a series of children's books that follows the adventures of a mouse family. The first two books, "Journey to the Forbidden City" and "The Curse of the Wearmouse," are available through Trafford Publishing.
"Working with her to develop these stories has truly been one of the most rewarding experiences as a parent," Fujikawa said.
Fujikawa works in private security and has worked as a bodyguard for government officials, including the Prime Minister of Saudi Arabia, and has contributed to the construction of more than 20 casinos in the Las Vegas area.
For more information, visit brianfujikawa.com.
Excerpt from 'The Adventures of Bibole, Rivol & Michelle: Journey to the Forbidden City'
People by the thousands were encircling the balloon, expecting to see other humans. When the soldier stepped out and extended his hand and three mice jumped into his palm, the people of China were silent. They couldn't believe their eyes. One of them said, "Where are those people who will save us?"
The soldier replied, "These are they. These mice are the ones that are going to save our city."
There was not a sound. Then soon, one person started to laugh. Then another, then another, until the whole city was laughing because they couldn't believe three mice. How in the world were three mice going to save their city? As they laughed, soldiers from the gates arrive — hundreds of them — and as they did so, one yelled out, "Make way! General Kim Ling is here!"