Literary Las Vegas: C.A. Hartnell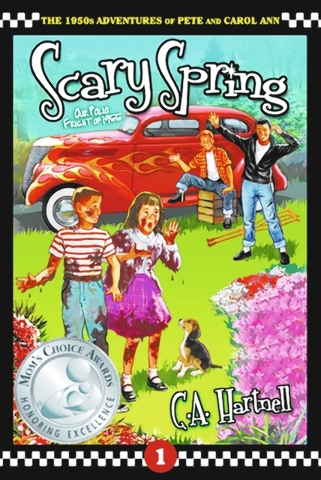 Las Vegas author C.A. Hartnell writes about the early polio vaccine trials, wild weather, patriotism, diners, Route 66, rock 'n' roll and the enduring power of friendship in her young readers fiction series set in the '50s. "Scary Spring," "Sinister Summer," "Ferocious Fall" and "Wild Winter" earned the 2014 Literary Classics Award for Best Chapter Book Series established by Taj Mahal Publishing, a division of Wildflower Press. Hartnell is also the owner of a 1937 chopped-top, flame-painted restored Ford hot rod, which she uses to promote her books.
Excerpt
"Yep," said Pete. "But what are you worried about? You're a winner, Carol Ann. You just won at Dodgeball. You can win at getting a shot."
"That's not true. I'll faint! I'll throw up! I'll flee like … a puppy! Hey, fleeing is a good idea!" My stomach churned. "Puppy, can you teach me to run? I hate shots. I hate Aunt Ruthie's shots. And I'll really hate getting a shot from the school nurse."
Pete looked at me and said, "Aw, gee, the school nurse gives good shots when you hold real still. It's just a little pinch that stings a tiny bit."
Then I thought to myself … polio's worse. It's THE WORST. Polio cripples and kills. Look how it crippled Tim. A shot's not as bad as getting polio. O God, give me courage, I prayed. "What day is the vaccine arriving?" I asked in a resigned voice.