Literary Las Vegas: Forrest Bryant Johnson
August 20, 2012 - 11:49 pm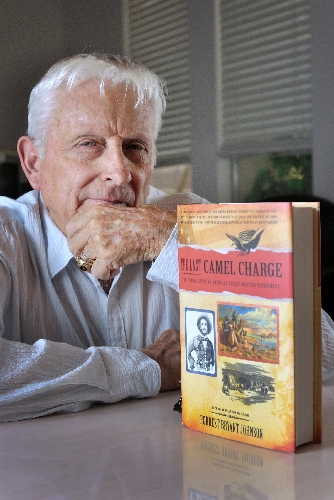 "The Last Camel Charge: The Untold Story of America's Desert Military Experiment" is 30-year Las Vegas resident Forrest Bryant Johnson's eighth book, but it's the first time the historian has tackled an important historical event in Nevada.
The book documents the nearly forgotten history of the U.S. military's experiments using camels as desert mounts.
Johnson's first hint at the history came when he found a historic marker near U.S. Highway 163 signaling that the Camel Corps had crossed the Colorado River at a point nearby.
"Camels in Nevada?" he writes in his book's introduction. "Edward Beale was a naval officer, a hero of he Mexican War. What was a navy man doing in the middle of the Mojave Desert? Where did he get the camels?"
These questions and later discoveries drove Johnson to research the military's then-new weapon: mounts that were stronger than mules and faster than the cavalry's horses.
"For a few years, camels imported by the army played a vital role in the history of the American West," he wrote. "Then, as if in a final charge, the adventure came to an abrupt end."
Johnson, who served nine years in the U.S. Army, rising from private to captain, is also the author of "Phantom Warrior" and "The Hour of Redemption." For more information on the author, visit forrestbryantjohnson.com.
Excerpt from "The Last Camel Charge"
Beale recorded a comparison of mules to camels: "The camels are so quiet and give so little trouble that sometimes we forget they are with us. Certainly there never was anything so patient and enduring and so little troublesome, as this noble animal."
He goes on with his praise: "… so perfectly docile and quiet that they are the admiration of the whole camp. At starting, there were many – a large majority of the men, who scouted with the idea of their going with us, even as far as Fort Davis, but, at this time there is not a man in camp who is not delighted with them."
No doubt the camels were far less trouble and much quieter than the mules, but there were some men who simply resented the animals either because of their odor or because they just could not adjust to the thought that something new and so different had entered their lives.