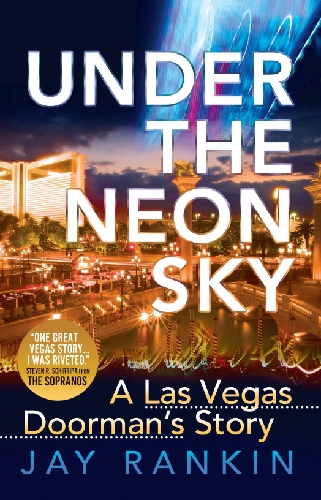 From the deadly crush of the crowd after the infamous 1997 Tyson-Holyfield rematch to the secrets of surviving hotel politics, Jay Rankin tells all in "Under the Neon Sky: A Las Vegas Doorman's Story." Rankin, who went into the job at the MGM Grand with an advanced degree in psychology, described himself as a 40-something, theme-park actor who could open any door and procure anything a visitor may desire. For more information, visit jayslasvegas.com.
Excerpt from Under the Neon Sky
The sound inside the hotel escalates to a jet spiraling to earth. Screams mixed with glass exploding erupt from the lobby.
I see a fast-moving crowd, thousands of people, rushing toward the doors, coming straight at me. I stand paralyzed. My brain won't work. Then my survival instinct sends me hurtling to the side, away from the force of this human tidal wave.
"They're shooting!" a woman shrieks.
"They got guns!"
"God help us!"
Everyone is screaming so loudly, I can't hear the gunshots.