Literary Las Vegas: Jennifer Debs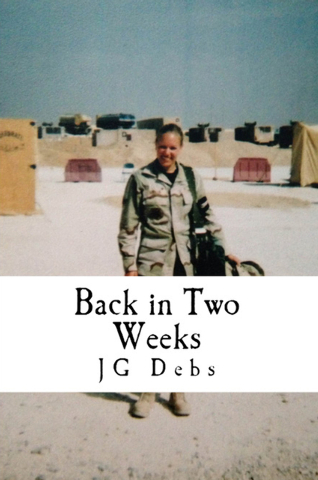 Summerlin author Jennifer Debs said she wrote her memoir of military service, "Back in Two Weeks," "to encourage the younger generation, especially women, to chase a dream no matter how hard it is." Pushed to follow after her brother and join the Air Force to avoid an abusive father and the prospect of living in a friend's basement, Debs made the best of a bad situation, battling asthma as she survived basic training, air traffic technical school and deployment. To watch Debs read an excerpt from the book during the Human Experience open mic at The Beat Coffeeshop, visit http://youtu.be/LdNC2OG1xGs.
Excerpt:
Trembling up the aisle, I did my best "Full Metal Jacket" marching impression and instantly remembered why I hadn't watched the whole movie in the first place. I hated yelling, which brought me to another point: why had I joined? Why had I believed Ryan when he'd said,"Everything is going to be just fine?"
"Why on God's green earth are you walkin' like that, ya dumb air-min?" one of the guys joked, turning my palms sweaty.
I wiped them on my favorite sweater, the dark blue and white striped zip up that Ryan had given me last year, and wondered what he'd gone through on his first day, which made me relax only slightly.
"And what are you supposed to be?" the other one chimed in but I didn't understand the question, and just as I opened my mouth he answered his own question with, "A light house?" which caused both of them to laugh so hard they nearly fell over.
"It was a gift," I said defensively, feeling the same anger well in me when Dad picked on me and I wished they'd just shut up.