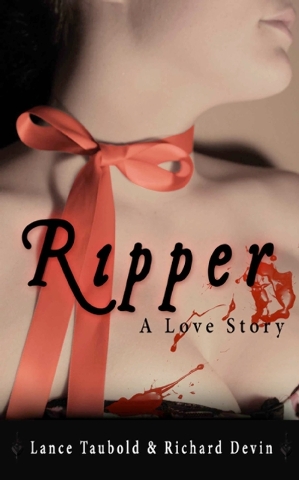 Coren Butler, the daughter of a noble Irish family, secures a prize of a husband in Prince Edward Albert Victor, Queen Victoria's favorite grandson. Handsome, rich and destined to be king, the young Duke of Clarence is also among the suspects as Jack the Ripper's bloody body count spreads terror throughout England.
Henderson writers Lance Taubold and Richard Devin follow Coren's tale in "Ripper: A Love Story," a novel focused on the hunt for one of the world's most notorious killers.
Devin is also a playwright and screenwriter and has published books on acting. Taubold is a magazine writer and Las Vegas performer. His nonfiction book, "On Two Fronts," is due out this fall.
The co-authors of "Ripper: A Love Story" are set to meet with readers from 2:30 to 4:30 p.m. Aug. 8 at the Paseo Verde Library, 280 S. Green Valley Parkway, as part of the READ Local Author Series. They are also set to sign books at 1 p.m. Aug. 10 at the 2191 N. Rainbow Blvd. Barnes & Noble. USA Today bestselling author Heather Graham is slated to join them at both events. For more information, visit 13thirtybooks.com.
Excerpt from 'Ripper: A Love Story'
She'd just been standing admiring herself in a dirty butcher shop window, angling her head so that it caught the light from a nearby gas lamp, when she heard a seductive baritone. "Miss," the voice whispered. She peered around the corner of the building into the darkened alley and saw him standing there, casually learning against the wall, his gloved hand holding a brass knobbed walking stick. There had been something different about him. Too late, she cursed herself. She had found out just how different. He had even admired her new black straw bonnet, which now lay broken and misshapen just inches from her rapidly numbing hand.
As she stared at the bonnet, bought with dear farthings she could ill afford, her eyes began to glaze over. Why had she wasted those farthings on a bloody bonnet? A princely sum to pay. Vanity. It would be the death of her.
It was.
Her sardonic laugh came out as a gurgle. She tried to reach the bonnet, mere inches from her, but her muscles wouldn't respond. Then, as her eyes closed, a final thought struck her, I know him.