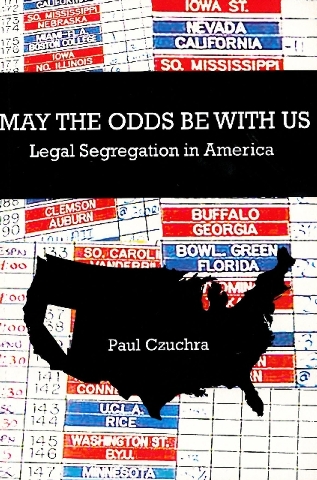 Americans gamble on stocks, commodities, the weather and even on their own lives through insurance policies, and it's legal. State governments across the country sanction many transactions defined as gambling — lotteries, horse race betting over the phone in some states and gaming in casinos on reservations in others. But sports betting is unique. To place a wager on a game, patrons must be in Nevada at a licensed sportsbook. In his book "May the Odds Be With Us: Legal Segregation in America," Las Vegas author Paul Czuchra asserts that limiting sports transactions to one state with strict prohibitions on online or telephone transactions amounts to segregation.
Czuchra studied in the master's and doctoral political science programs at the University of Chicago and began his 30-year career in the sportsbook industry at the Castaways in Las Vegas. He writes that over the years he has worked with many of the most respected Las Vegas oddsmakers and handicappers. He is also the author of the novel "The Oddsmakers."
Excerpt from 'May the Odds Be With Us: Legal Segregation in America'
Federal laws address sports transactions as part of a big picture. They expand on state and local prohibitions. According to Federal laws, sports wagers are more than a bet between a player and a bookmaker. The reasons extend from the connections to organized crime to the evils of gambling in general, to the alleged corruption of the integrity of the game, to the corruption of "wholesomeness" of the individuals who participate in the games, to the patent rights of corporate sports monopolies. Federal legislation also added online wagers to the prohibition.