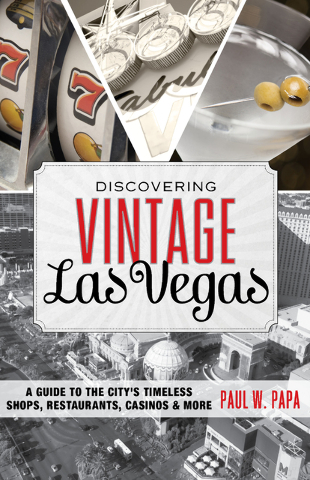 As Paul W. Papa tells it, he grew tired of shoveling himself out of 6-foot snowdrifts in Laramie, Wyo., so he strapped a snow shovel to the front of his vehicle and drove south until someone asked him what it was. Eventually, he landed in Las Vegas. He swiftly used his love of storytelling to share tales of his new home with books such as, "It Happened in Las Vegas," "Haunted Las Vegas" and "Discovering Vintage Las Vegas: A Guide to the City's Timeless Shops, Restaurants, Casinos & More." The guide leads locals and tourists through the past and present at sites such as Frankie's Tiki Room, the Gamblers General Store, Freed's Bakery, the Guardian Angel Cathedral and more.
Excerpt:
Patrons of a bar on Fremont Street, drinks in hand, took to the roof of a small brick building to watch the blasts. At the time in Las Vegas there was little that would impede visibility between the bar and the blast site. This made the little store one of the best seats on the house. The activity became so popular the place was christened Atomic Liquors in 1952 by its owner.
Atomic Liquors got its start way back in 1921 when Helen, age four, and Stella, age two, stepped off a train in Las Vegas with their mother, Virginia. Not one to shy away from work, Virginia took a job as a cook for the Union Pacific Railroad and later as a caretaker to John Busteed, an elderly Nevada judge. Virginia worked for Busteed up until he died, inheriting, as part of Busteed's estate, a piece of property on Fremont Street between 9th and 10th streets. Virginia used Busteed's gift to open a gas station and an auto court, which she appropriately named Virginia's Auto Court.