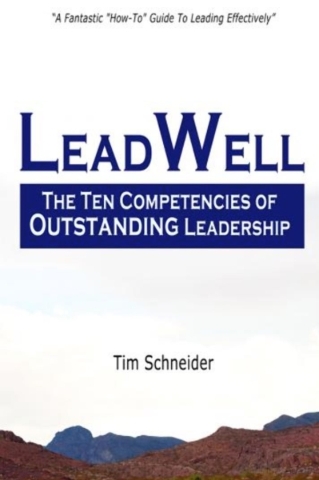 Las Vegas-based executive coach and corporate trainer Tim Schneider channeled his more than 20 years of experience teaching leadership into the book "Lead Well: The Ten Competencies of Outstanding Leadership." Schneider, president of Soaring Eagle Enterprises Inc., addresses topics such as communication skills, morale, providing feedback, emotional intelligence, delegation, team development, ethics, courage, taking risks, relationships, embracing innovation and strategic planning. Visit soaringeagleent.com.
Excerpt:
Nothing will damage leadership credibility more than a lack of a consistent approach. Effective leaders must be able to successfully execute all of the needed skills all of the time. It is not just when you think about them or when you are having a good day but everyday and with every interaction.
The easiest path to consistency is through repetition reinforced by feedback. Repetition creates comfort and consistency with the skill while feedback provided by peers or other trusted sources lets you know how you are doing and where you could improve. View this as a continuous cycle of applying a skill, gaining comfort and seeking feedback. Follow that with applying a skill, tuning a skill, gaining comfort and seeking more feedback.