Literary Las Vegas: Vince Antonucci
April 27, 2016 - 11:40 am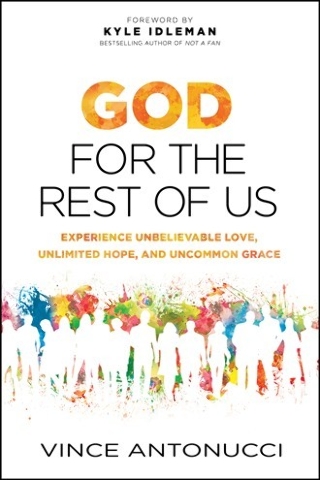 God for the Prostitutes. God for the Shame Filled. God for the Addicts. God for Dysfunctional Families. God for the Doubters. God for the Tattooed. God for the Atheists. God for the Worriers. God for Sin City. God for the Pimp. God for Those Who Have Been Turned Off by Church. God for the Forgotten. God for the Broken. The chapter titles of Vince Antonucci's book "God for the Rest of Us" read like poetry — inclusionary poetry.
Antonucci is the founder of Verve, an innovative Las Vegas church that strives to welcome all and love the sinner even if it doesn't love the sin. In his book, Antonucci talks about why he and his supporters defied the "Who Will Jesus Destroy" evangelists on Fremont Street by handing out fliers that asserted, "The truth is that God loves … homosexuals, gamblers, strippers, abortionists, prostitutes, addicts, and you." He also shares the reasons he thinks those with sin are most in need of God's love and why God is so eager to bring sinners back into the fold. In addition to his work with the church, Antonucci leads mission trips around the country and performs stand-up comedy. Visit vinceantonucci.com.
Excerpt:
You might think of being in a gang, dancing topless, or doing (or selling) drugs as a rejection of God's love, but I believe the people who do those things are searching for it. I think you are too. And so am I. That's why I wrote this book. Because we underestimate the scope and the power of God's love. We think there are people's lives to whom it doesn't apply. We might even include ourselves in that list. And we don't grasp how powerful God's love can be when it's applied to a person's life, so some of us may never let it take hold of us.