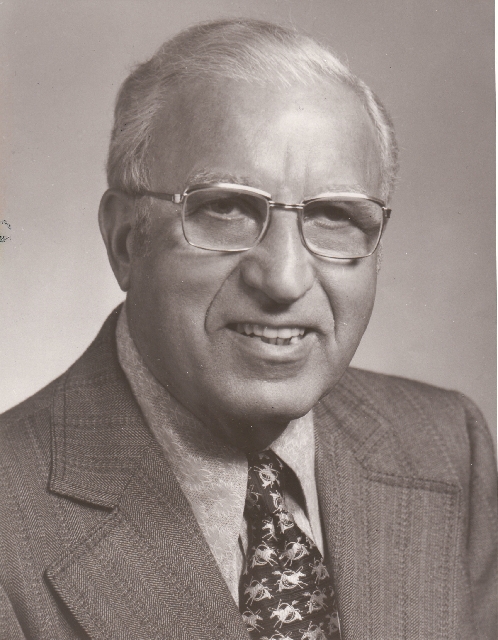 For three decades, the Nathan Adelson Hospice –– now on the campus of MountainView Hospital, 3150 N. Tenaya Way –– has made end-of-life care the standard by which others follow. It will celebrate its 35th anniversary this year and is named for a man whose family was well-known in the Las Vegas Valley.
"We've served 50,000 patients since it opened," said Carole Fisher, hospice CEO. "What a wonderful tribute to him."
Nathan Adelson is no relation to casino magnate Sheldon Adelson but rather headed the largest hospital in Las Vegas. Developer Irwin Molasky was well acquainted with Nathan Adelson and said he was a man of honor and integrity.
"He was like a father to me," Molasky said.
Born in Omaha, Neb., and raised in Los Angeles, Adelson ran a successful supermarket operation there, but he was keenly interested in son Merv's projects as a developer in Las Vegas. Merv Adelson's business partner was Molasky.
Merv Adelson and Molasky had just completed building Nevada's largest medical facility at the time, Sunrise Hospital & Medical Center, and were finding it difficult to secure a competent administrator for it. Tapping the elder Adelson to take over the job was not a hard sell, Molasky said. He was already a part of the endeavor.
Nathan Adelson and his wife, Pearl, moved to Las Vegas in 1961.
He not only proved the ideal fit for overseeing the hospital's day-to-day operations, he also brought a personable approach to the job.
"He knew every doctor and every nurse by their first name," Molasky said.
The elder Adelson made regular visits to the wards, paying particular attention to the care and comfort of the terminally ill. "Mr. A," as he was called, knew the name of every doctor, nurse, technician and employee at Sunrise, 3186 S. Maryland Parkway.
Always looking for a better way to do things, he insisted on securing the most sophisticated equipment and encouraged doctors to keep up with the latest techniques. Soon, he'd elevated patient care beyond the national hospital standards of the day.
Laughter was often a part of Adelson's life. He was known as a fun guy and a joker.
"He would get away with saying things that other people would get slapped for," Molasky said.
But he had his serious side, which included doing his civic duty. Adelson's involvement included serving as a director on the Board of the Federation of American Hospitals and being an active member of numerous civic and religious groups. He sat on the boards of organizations such as Child Haven, the United Way and the Las Vegas Symphony. He was a member of Temple Beth Am and the Masons in Los Angeles and Temple Beth Sholom and Nate Mack B'nai B'rith Lodge in Las Vegas.
In the 1970s, Nathan Adelson was diagnosed with stomach cancer. It was a time when medical convention did not consider anything beyond extreme measures.
"At that time, it was, 'you're cured or you die,' " Molasky said. "There were no drug cocktails like today, which help you function."
The extreme measures failed to extend his life, and Adelson died in 1978.
His battle with cancer and the way it stripped him of his dignity left a mark on his family. They were determined to see that others did not face death without complete care.
Two years later, Merv Adelson and Molasky, along with others, set up the hospice dedicated to easing suffering and improving the quality of life even in the face of death. It opened in 1983.
Just like Nathan Adelson insisted that Sunrise patients were best served with new techniques, the hospice utilizes components to round out care, such as Reiki/energy work, aromatherapy, pet therapy and reflexology.
Today, Nathan Adelson Hospice is the largest nonprofit hospice in Southern Nevada. The state-of-the-art facility at MountainView has 38 beds. The hospice's main facility is at 4141 Swenson St.
Contact Summerlin/Summerlin South View reporter Jan Hogan at hogan@viewnews.com or 702-387-2949.
Naming Las Vegas
The history behind the naming of various streets, parks, schools, public facilities and other landmarks in the Las Vegas Valley will continue to be explored in a series of feature stories appearing in View editions published on the first Tuesday of every month.
If you're curious about how or why something got its name, post a comment on our Facebook page, facebook.com/viewnewspapers, or email sblust@viewnews.com.
Thanks for reading View.