Neon by night, museum puts signs in a new light
December 27, 2013 - 3:53 pm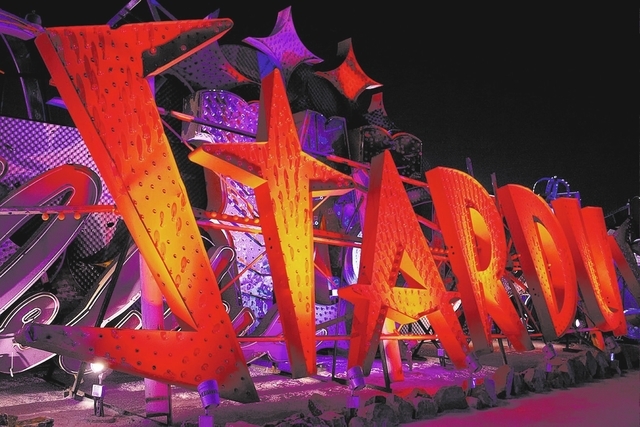 Not every tour of the Neon Museum, 770 Las Vegas Blvd. North, includes a fellow tour group member such as Marlin Hoesley but you might get lucky.
"I've lived here 47 years," Hoesley said. "I came here on active duty in the Navy on the 31st of July 1966. I think I saw just about every one of these signs when it was still up."
Hoesley had memories associated with many of the signs and was able to expand on information given by the tour guide. He was a regular visitor to the Moulin Rouge during one of its brief attempts at reopening and knew Benny Binion, whose surname stretched 15 feet across one of the signs.
"When I was exalted ruler of the Las Vegas Elks, the lodge was in the building that is now the Las Vegas Natural History Museum," he said. "We owned the property all the way from there to (U.S. Highway 95), including the land the Neon Museum is on now."
The Neon Museum opened for regular night tours in May and offers at least four daily. The open-air exhibition of retired signs in various states of repair has offered tours since 2008. Signs range from iconic pieces from classic Las Vegas casinos to lesser known ones from barely remembered businesses. At least one sign sparked a long-forgotten memory for Hoesley.
"When I saw that sign from Karls C-B Sales, it reminded me that I had my CB installed by them, and the wiring short-circuited and burned my carpet," he said. "They wouldn't make good on it, and I wound up having to take them to small claims court. I hadn't thought about that in years."
For other visitors, the tour is more about the art and style of the signs, but few go away unimpressed.
The tours are an hour long, and photography for personal use is allowed, but photography for commercial use is highly regulated. As restoration of the signs is expensive, many of them are on display in a worn and decayed state, with faded paint and broken lighting. That doesn't seem to dissuade visitors who come from around the world for a look at the historic artifacts.
Because of the broken glass, rusty metal and darkness, the night tours are recommended for visitors 12 or older. The nonprofit that runs the museum can afford to restore only a few of the signs to full working and lighted conditions, but dramatic external lighting illuminates the rest.
The museum has day tours, night tours and special events, but executive director Danielle Kelly said the night tours are some of its busiest.
"We don't have a general admission," she said. "All of our tours are guided. They're limited to 20 people, so it's a very intimate experience."
Kelly said the museum had approximately 54,000 visitors in its first year after the opening of its visitor center in October 2012.
"We're thrilled with our numbers for our first year," she said. "This year, we plan to expand our education, engagement and programs."
Those programs include special one-night events, such as an upcoming free stargazing night and monthlong celebrations of culture, such as February's Black History Month, when the museum is set to highlight the work of Paul Revere Williams, the creator of many works of classic googie architecture, a style typified by strong curves and geometric shapes and a dramatic use of steel and glass. Williams designed the building that serves as the museum's lobby, the restored and relocated lobby of the La Concha Motel.
"Renovations are in the works in our storage lot to provide additional space for educational programs and photo shoots," Kelly said. "Some signs will be visible that haven't been available previously."
One of the signs Kelly is looking forward to having on display is from the Sands. The style of the sign is from the Rat Pack era, although the sign is a later replacement. Her favorite signs vary over the year.
"Right now, my favorite is the king from the Coin Castle," Kelly said. "He looks like Santa Claus."
Hoesley said he enjoyed his first visit to the museum and that it wouldn't be his last.
"I still shoot with old-fashioned film, and I ran out of it out there," Hoesley said. "I'll have to come back."
Day tours are $18 or $12 for Nevada residents, students, active military personnel, veterans and seniors with a valid I.D. Night tours are $25 or $22 for Nevada residents, students, active military personnel, veterans and seniors with a valid ID. For more information, visit neonmuseum.org or call 702-387-6366.
UPCOMING NEON MUSEUM EVENTS
A Golden Hour Photo Tour limited to 12 people is scheduled from 4 to 5 p.m. Jan. 2. The timing is designed to allow twilight and after-dark noncommercial photography. Tour admission is $75 or $60 for Nevada residents, students, active military personnel, veterans and seniors with a valid ID.
Stars and Stardust: Sidewalk Astronomy in the Neon Boneyard is scheduled from 6 to 9 p.m. Jan. 4. The event is a partnership with the Las Vegas Astronomical Society. The evening is set to begin with regular night tour lighting on, but the lights are set to be dimmed to afford a clearer view of the stars and Jupiter viewed through the society's telescopes. The event is free, but children must be accompanied by an adult.
Contact Paradise/Downtown View reporter F. Andrew Taylor at ataylor@viewnews.com or 702-380-4532.